We've been trying to move for 3 1/2 years (darn you, housing market!!) so I'm super excited that the time has finally come! I've been house hunting lately and seen the most amazing rooms that I just had to share with you. No these photos aren't from my house or a house that I've bought or even one single house but they do give me plenty of inspiration of ways to bring a boring room alive. We haven't bought a new house yet, but when I do, I will definitely reference these photos for decor ideas.
This past weekend I've shared many of the photos on our Instagram account but we know that not everyone is on Instagram. Whether you are house hunting, thinking about remodeling, wanting to spice up your decor or you just like to look, check out these amazing rooms below. Believe me, I wanted to move in every one of these places on the spot. Many of these are model homes that are decked out with so many upgrades that I wouldn't be able to duplicate it on my budget, but a girl can dream, right?!?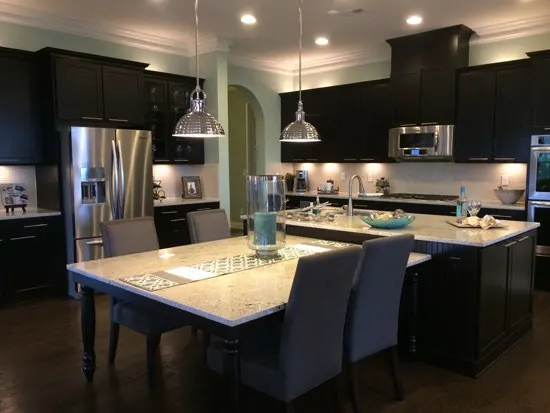 Even though I'm kind of into antique white cabinets right now, I'm in love with everything about this modern kitchen! That extended island is ahhh-mazing!!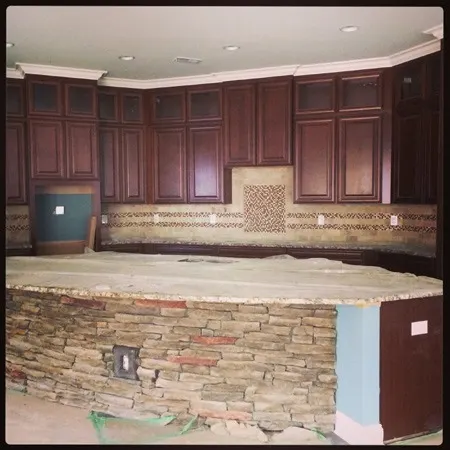 Another amazing kitchen and the stone work on the island is fabulous. I've seen this on Pinterest before and have heard it isn't too hard to do-it-yourself!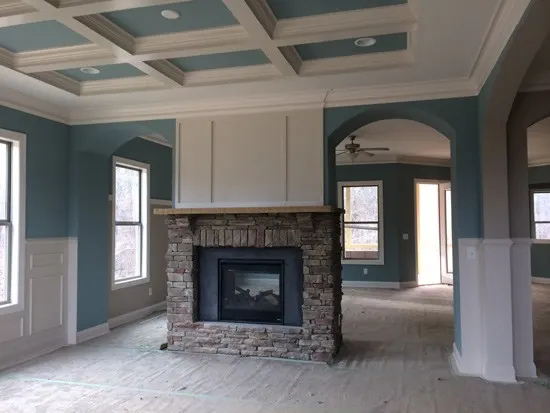 I'm kind of mad that I didn't ask what color blue this paint was because it's beautiful and I need it for my new house! This stone fireplace kind of breaks up the room but it totally worked for this space.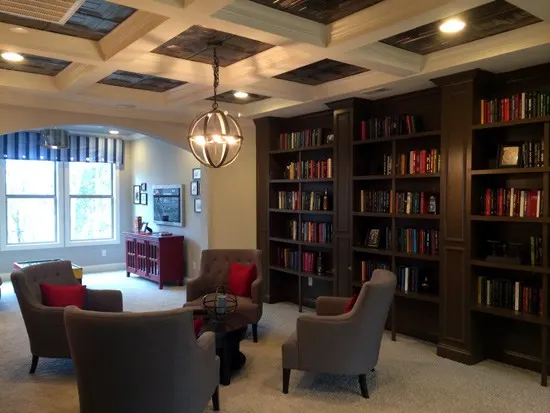 They turned the upstairs large landing/bonus room into an amazing library connected to a "kid's room". The tray ceiling, floor to ceiling built-in bookshelf and the funky light makes this room.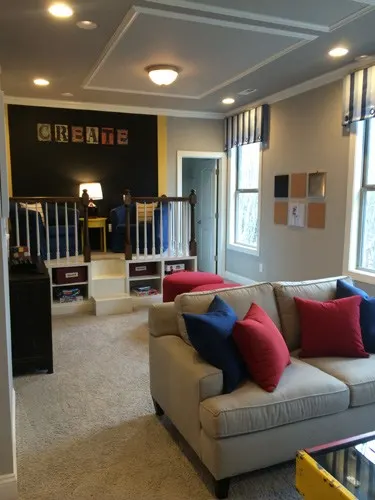 Around the corner from that amazing library is the kid room complete with an elevated reading nook, kid-sized furniture and a "Game Central".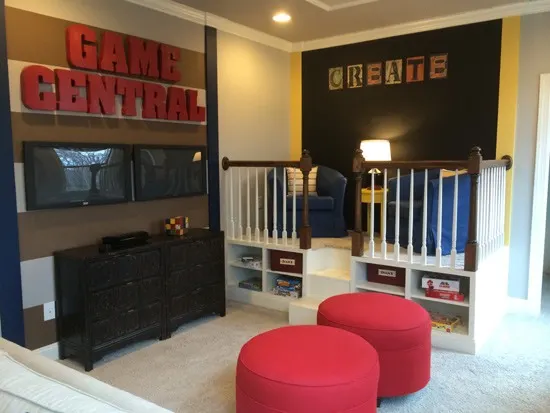 This is the Game Central. Does it really need two TVs on the wall?!? 😉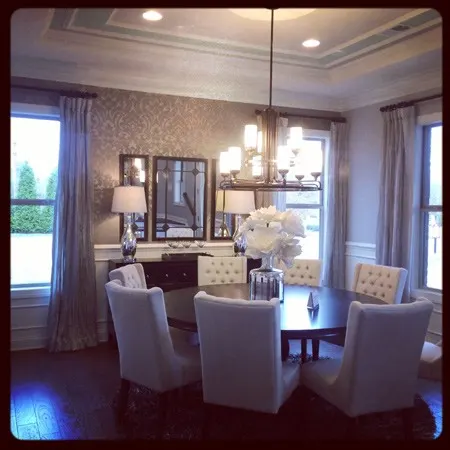 This dining room looks like it is right out of a Martha Stewart magazine. I'm in love with the round table so that there is no head of the table.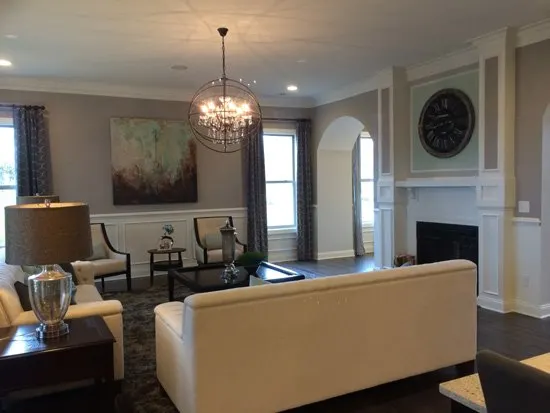 I'm kind of over the two-story family room that was so popular for so long. This living room is so much more comfy and inviting and it opens up into the kitchen.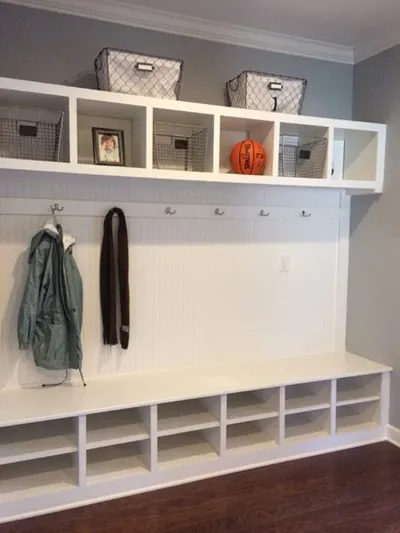 Now this is a locker for keeping your mudroom organized! Sure I only have three kids but I can assure you, we'd use every bit of this!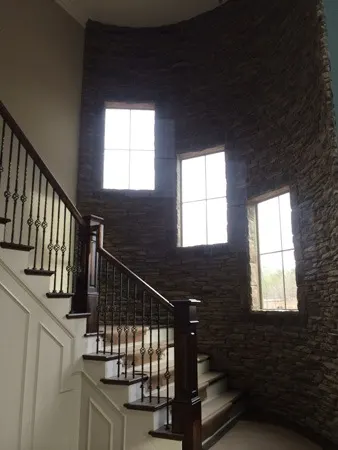 This stone wall is amaze-balls! After seeing this in a builder's model, they informed me that they don't even offer that inside stone option anymore. Ummm…tease!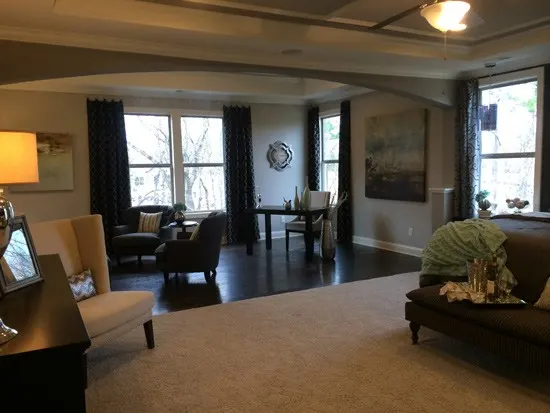 This bedroom has a mini living room/b0nus room attached with gorgeous wood floors and a fireplace! Now THAT is a master bedroom! I would never think to do two different type of flooring in a master – carpet and wood.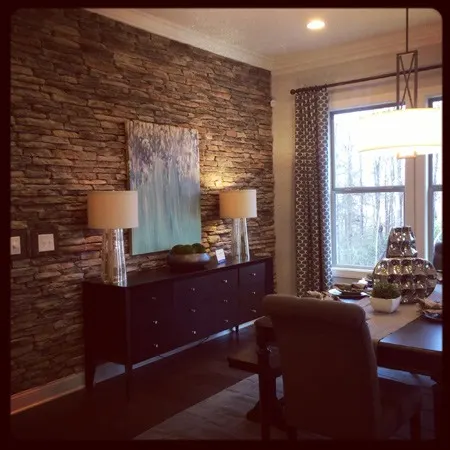 Stone walls are clearly popular right now! This one is an accent wall in a dining room.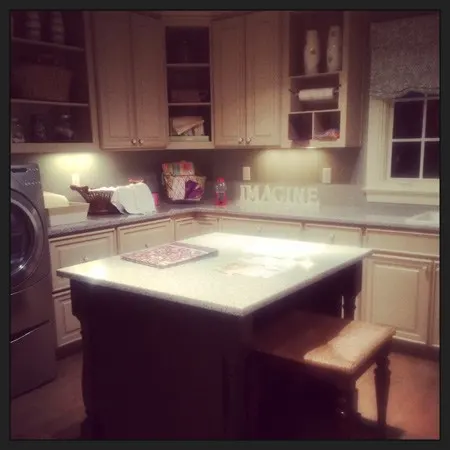 This is my dream laundry room! It is so big that it has an island! Enough said.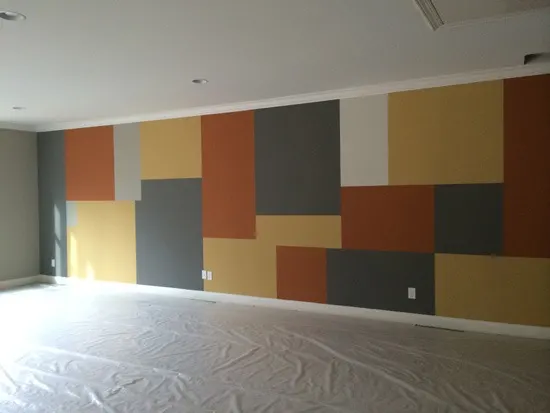 This color block wall was an accent wall in a huge upstairs bonus room.
So, what do you think? Did it give you any inspiration?