Do you make New Year's resolutions? Do you keep them? I've never been really big on resolutions mainly because I don't think you need to wait to make goals and good life changes until January 1st rolls around. With that being said, if they are positive things that will enhance your life and better the lives of those around you, then get writing! With January 1st soon approaching I thought it would be fun to write a post about New Year's resolutions to give you some ideas in case you are stumped on thinking of a resolution on your own.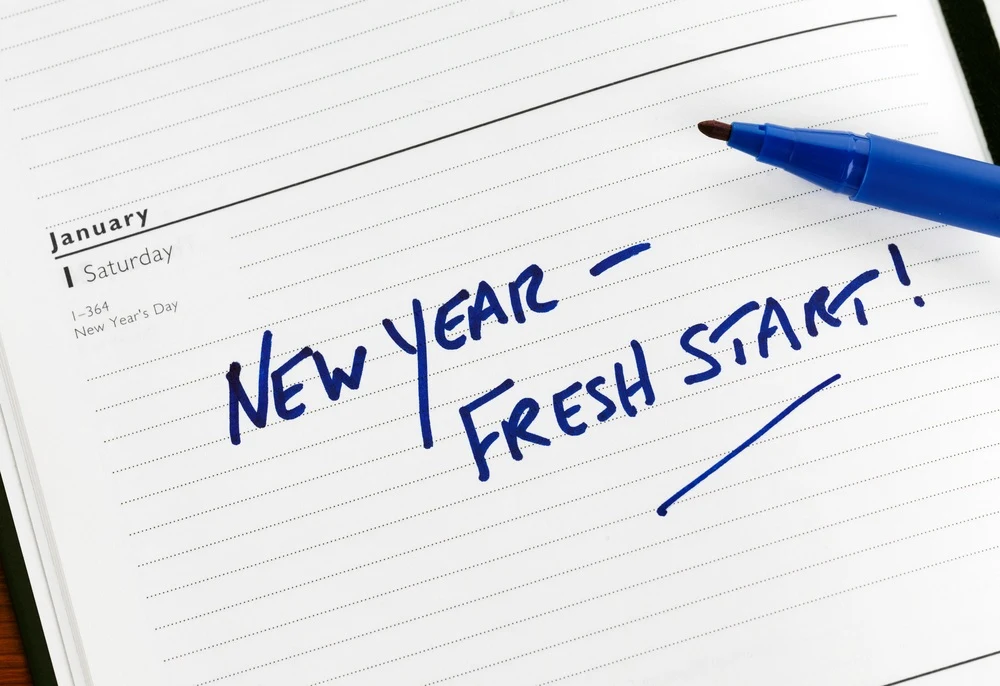 -Lose weight, feel great. I'm going to take a wild guess and say that weight loss is probably the number 1 resolution made at this time of year. Instead of just saying lose weight, how about making your goal to becoming a healthier version of yourself? Give yourself a specific target weight you want to hit or simply make a resolution to eat healthier! Eat three servings of veggies every day, skip snacks on the weekend, make it as easy or as hard as you'd like.
-Spend more time with your loved ones. A great idea for anyone, this resolution will please all the people around you.Make it a point to spend individual quality time with each of your children, even if it's just 15 minutes a day, but just spend it doing what they want to do. You'll see a difference in your connection with each other.
-Go hands free. This is a resolution I've made myself. Aim to be hands free once a week, every weekend, or every night. As little or as much as you want. Being without your phone glued to your hand is a resolution that will improve your family time and the one-on-one time you get with your kids.
-Donations. Make a resolution to give back more. Donate canned food once a month, bring a box of old clothes to Goodwill every month, donate to your favorite charity as often as you can. Making the resolution to give back to your community and the less fortunate is a resolution that will make you feel warm and fuzzy inside.
-Exercise. Take up jogging, hit the gym once a week, or start a yoga class. This resolution will help you find something you love and get fit while doing it. Find this one too tricky? Ask a friend to make the change with you, so you can help push each other when you're feeling tired.
-Get a new hobby. Make the resolution to find something you love. Start sewing, playing tennis, or bowling. Once you find something you like try to engage in your new hobby once a week or once a month.
-Save money. Another popular one. Start putting your spare change in a jar, and you'd be surprised at how much it works out to be at the end of the month! Make a goal to save a certain amount of money each week. Use the money for a vacation at the end of the year or to buy something your household really needs.
-Cut something out. Give up sugar, caffeine or soda. These are all addictive, but you can do it! If you've got a big sweet tooth for something and crave it often but have been meaning to give it up, now is the time to say goodbye!
-Cook or clean more. Are you guilty of getting take out for dinner far too often? Make the resolution of cooking a home made meal at least once a week. You just might surprise yourself and discover you love cooking and your family will really appreciate this one. The same goes for cleaning. Make a resolution of making one day a week cleaning day, or, another option is to clean for 15 minutes a day. This resolution will really help you stay on top of household chores.
-Be adventurous. Make the resolution of finally trying something you've always wanted to. Been wanting to sky dive? Have you always dreamed of rock climbing or snorkeling? Make it happen this year!
-Fashion forward. Make the resolution of revamping your wardrobe and becoming a more fashionable you! Make a goal of buying one new and adventurous piece each month, try trends you never would have before, and have fun experimenting.
-Watch less TV. Guilty of watching TV way too often? Is your DVR full to capacity? Make the goal of watching less TV!
-Read more. I used to read so many books and I'm ashamed to admit that I haven't read a single book in the three years since I've had my son. This year I'm going to try to change that and read more often! Why not start a small book club with other moms?
-Aim to be debt free. Got a credit card bill looming over your head? Cut up the card, and work at paying off that debt. Cut down in other areas like shopping and eating out, and get yourself debt free!
-Do good deeds. Do a random act of kindness each month, or better yet, every week! They can be as small or as big as you'd like. The point of this resolution is to do good deeds to those around you!
-Plan ahead. I love the idea of resolving to plan ahead. Make lists, stay organized, and be on top of things and ahead of the game. This year, try to have things lined up so that you can be less stressed and more worry free!
Now it's your turn! Do you make New Years resolutions? Is it easy to keep them all year long? What are some of your resolutions this year? Leave us a comment and let us know!