I'm a fan of ice cream all year round… as I'm sure you are, but this week is extra special for all us ice cream loving ladies because July 17th is National Ice Cream Day! Hooray! And we have homemade ice cream recipes to celebrate!
What better way to celebrate Nation Ice Cream Day than by hopping in the kitchen and mixing up some homemade ice cream. Of course, you can buy ice cream too, but on a national holiday like this I think it's a fun idea to take the opportunity to appreciate all the ever and love that goes into each scoop of ice cream goodness.
I've rounded up a handful of celebration worthy ice cream recipes and hope you find one that sounds delicious!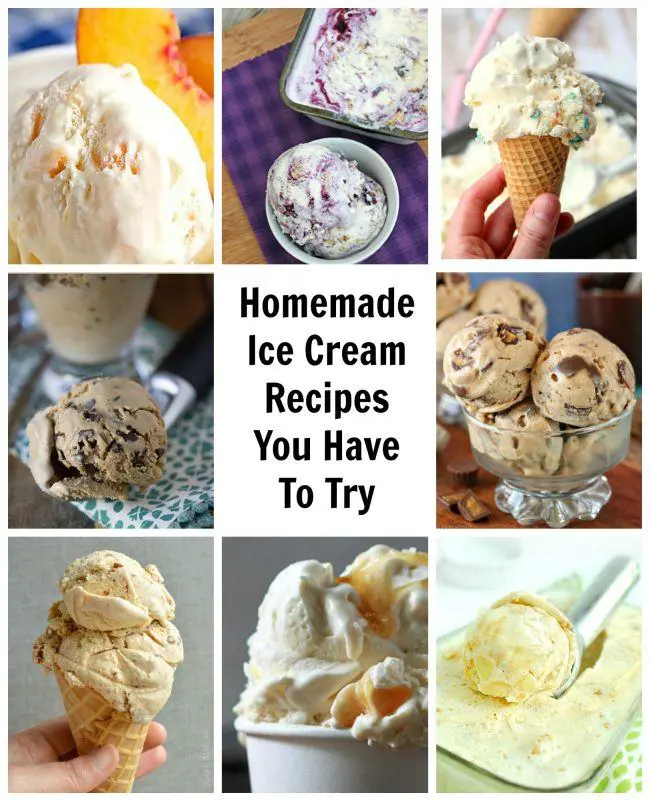 Blueberry Cheesecake Ice Cream by Jamie Cooks It Up – Cheesecake is a favorite of mine so why not through that delicious flavor into ice cream? Sounds like a match made it heaven to me!
Birthday Cake Crunch Ice Cream by Bitz and Giggles – Oh yes I did! Yum!
Espresso Chocolate Chip Ice Cream by Table For Two – The merging of my two favorite flavors … coffee and chocolate!
Peanut Butter Cup Ice Cream by Sugar Hero – My husband will forever love me if this recipe turns out!
Brown Sugar Cinnamon Ice Cream by Sugar Dish Me – This sounds like the perfect kind of ice cream to enjoy in the evening with a cup of decaf. Simple and smooth!
Sea Salt and Honey Ice Cream by Kitchen Treaty – Salt is the hidden wonder of ice cream creation, I promise!
Apple Crumble Ice Cream by Don't Waste the Crumbs – Pie + Ice Cream = Perfection!
Have you made ice cream at home before? If not, let this year be your year and give it a try in honor of National Ice Cream Day!
Looking for more ice cream recipes? We got you. Baby Gizmo Ice Cream Recipes.