This post is sponsored by Tyson.
The holiday season is starting and the kids are already counting down the days to Halloween. I'm not going to lie, the last three months of the year is my absolute favorite time. There are so many festivities, excitement and yummy things to make to celebrate. I love whipping up things in the kitchen and the holidays give me plenty of excuses to make the best foods.
Today, I'm sharing with you one of my favorite appetizer boards that I make for the kids for Halloween, the husbands for football Sundays, and the days leading up to Thanksgiving and Christmas when we have guests over. Yep, you guessed it – it's a CHARCUTERIE BOARD! And this one is special because it's my kids' favorite board filled with their favorite chicken – Tyson Crispy Chicken Tenders and Tyson Any'tizers® Hot Wings.
WHAT IS A CHARCUTERIE BOARD
Let's start with the basics – what exactly is a Charcuterie Board? A French word, charcuterie (pronounced "shahr-koo-tuh-ree") is the art of preparing and assembling cured meats and meat products. The definition is "cold cooked meats collectively" according to the Dictionary.
That being said, the term Charcuterie Board has taken on a new life of itself in social media. It's not limited to meat but you can make Charcuterie Board with desserts, appetizers, cheeses and basically any type of food that you'd like to gather onto a board (usually a fancy cutting board) and serve all together. It's like a smorgasbord of food, but even though charcuterie is usually meats and cheeses, the terms are now used interchangeably.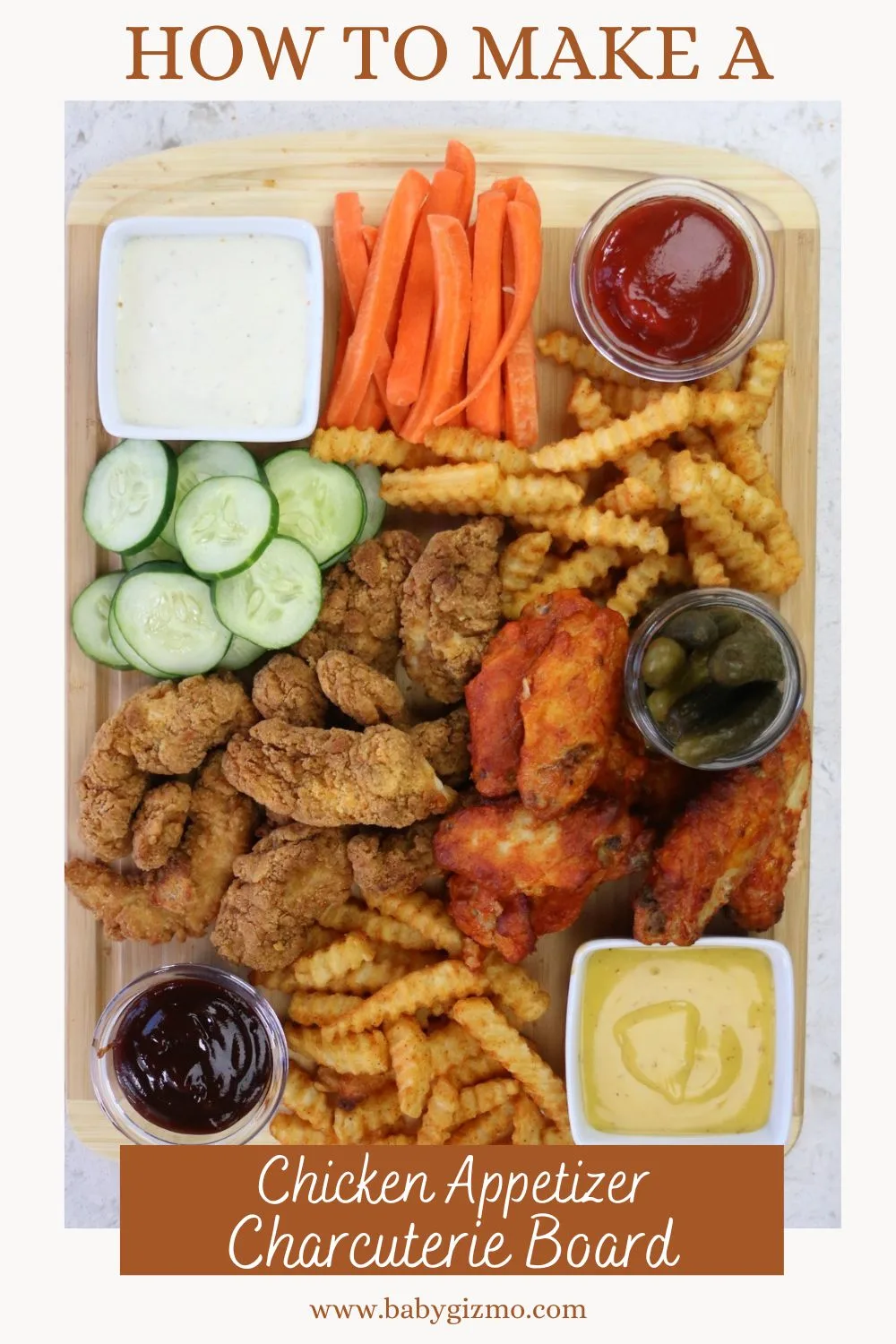 HOW TO MAKE A CHARCUTERIE BOARD
Since my kids (and husband!) could eat chicken tenders and chicken wings for every meal, this is my go-to for the main event in my Chicken Appetizer Charcuterie Board.
Let's start with the basics – you need a large cutting board or other large platter. I'm starting with my "fancy" cutting board that I received for Christmas that I don't actually let my family cut on (as not to scratch it) and use it solely for a Charcuterie Board.
PICK YOUR CHICKEN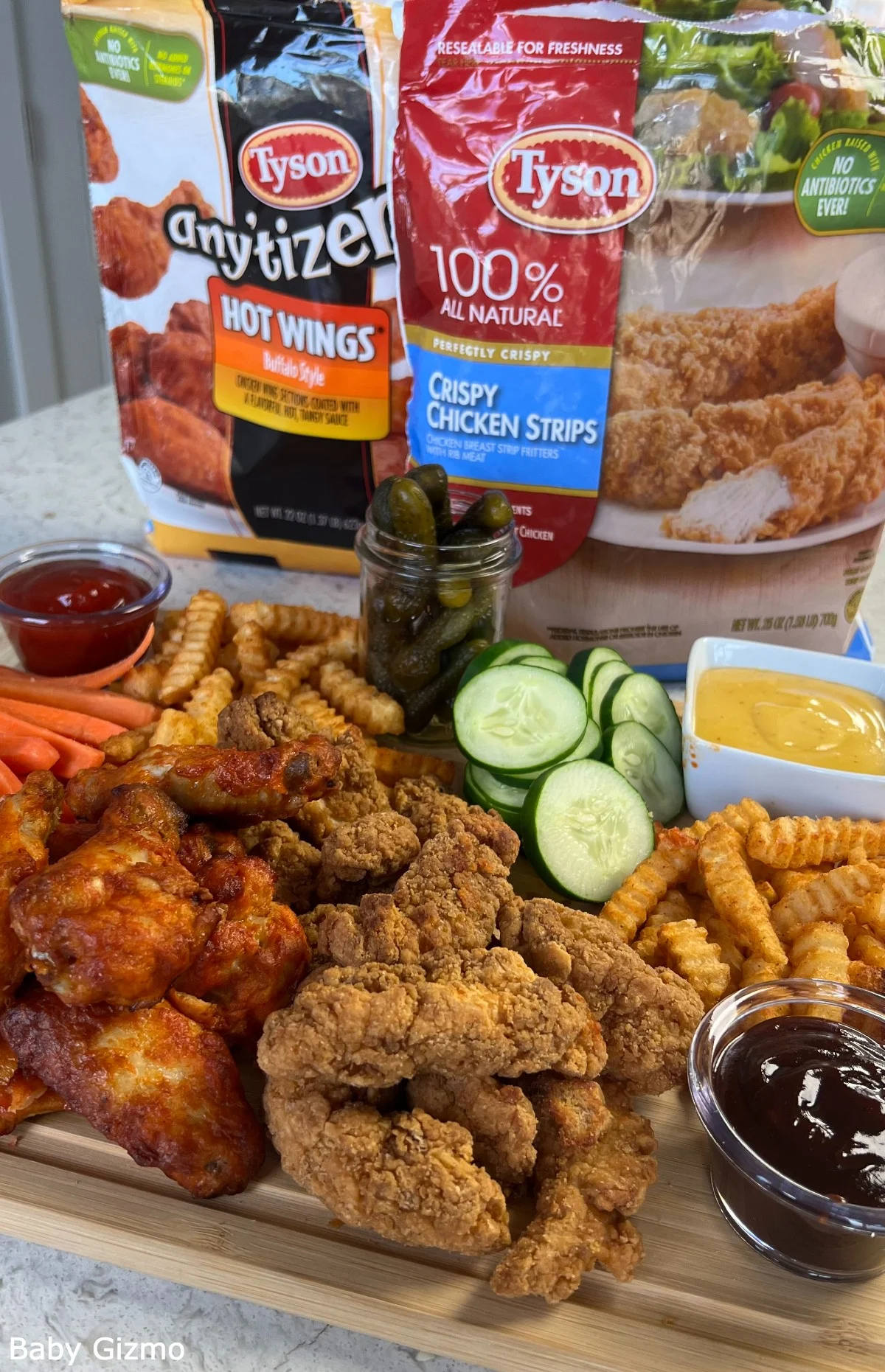 While Tyson has so many different options from chicken tenders to the variety of Tyson Any'tizers®, we chose the Tyson Crispy Chicken Tenders and Tyson Any'tizers® Hot Wings for this board. We are always able to find them at our local Walmart in the freezer section.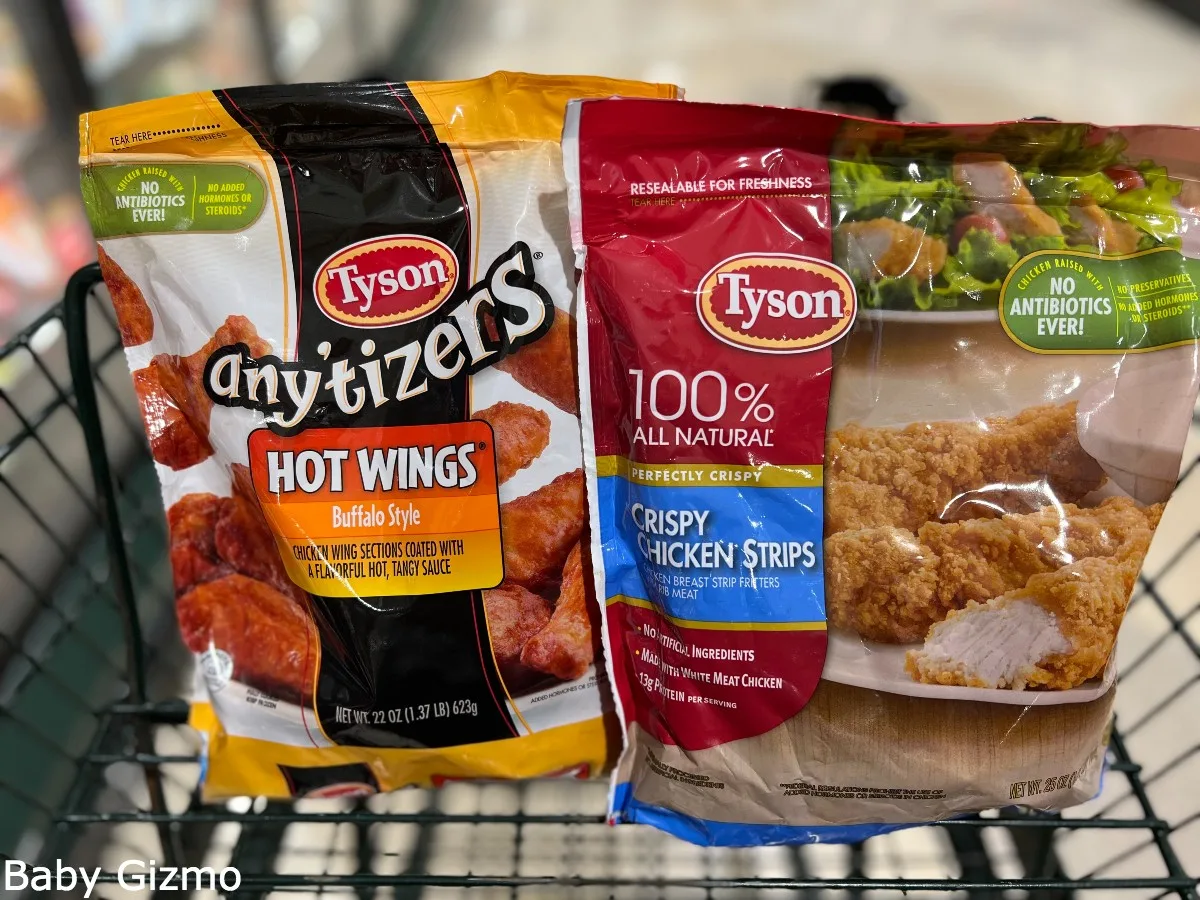 PICK YOUR SAUCES
There are so many different sauces that go deliciously with chicken so pick which ones you like but make sure you have a variety. Here are some sauce ideas to choose from:
Ranch
Bleu Cheese
BBQ
Honey Mustard
Cheese Sauce
Cajun Ranch
PICK YOUR SIDES
Cheeses, veggies, and potatoes are always a sure bet for the Chicken Appetizer Charcuterie Board. We always go with at least one type of potato whether it is french fries, tater tots or potato wedges. We also add in a few fruits or veggies like carrot sticks, celery, grapes, and cucumbers. Cheese cubes or thick slices are also a great addition to a chicken tender board. Here is a great list of ideas for sides:
French Fries
Tater Tots
Potato Wedges
Mac and Cheese
Potato Chips
Carrot Sticks
Celery Sticks
Grapes
Strawberries
Cucumbers
Radishes
Cheese Cubes
Cheese Slices
ASSEMBLING A CHARCUTERIE BOARD
1. Start with your blank canvas – your cutting board (or platter).
2. Add your selection of sauces in various containers and spread them out around the board.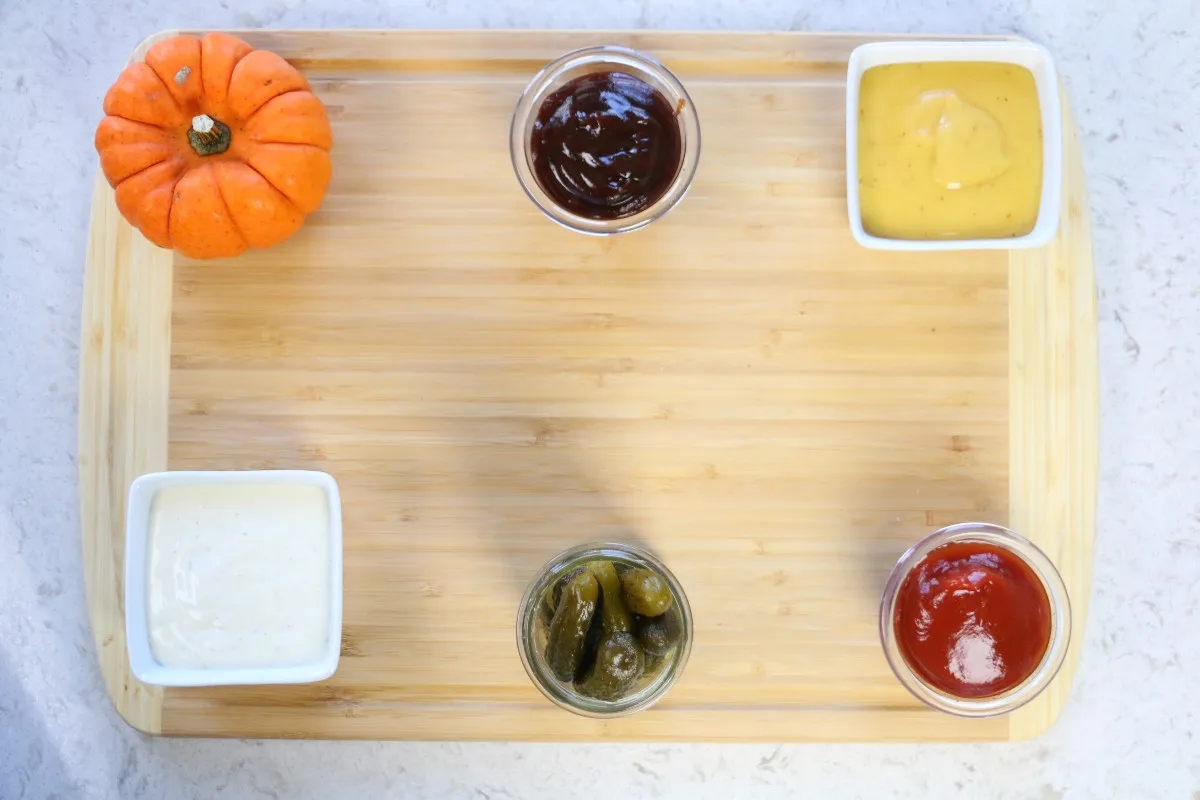 3. Add in your sides. Spread your veggies, cheeses and fruits around the board. The idea of a Charcuterie Board is that people can stand all around it and grab what they like. So, spread everything out.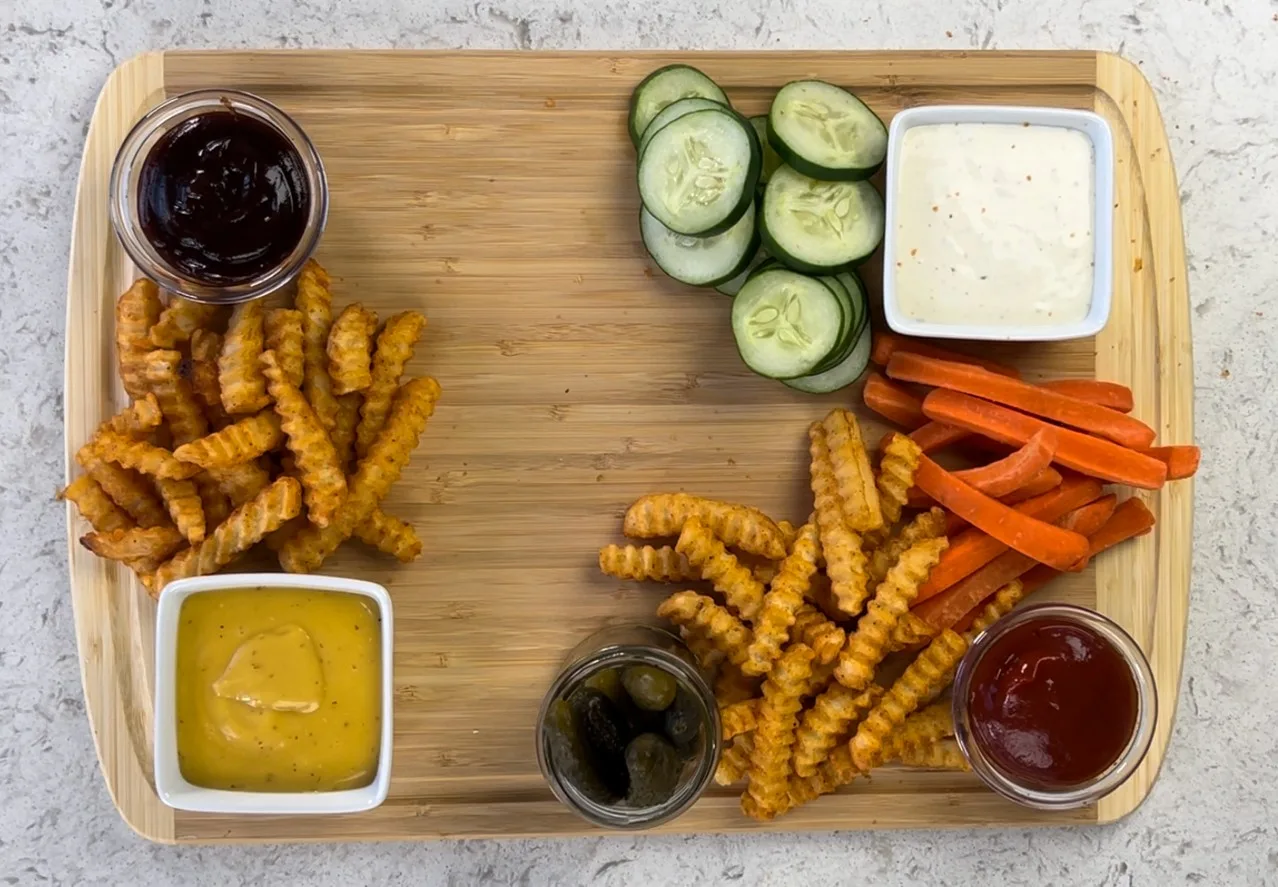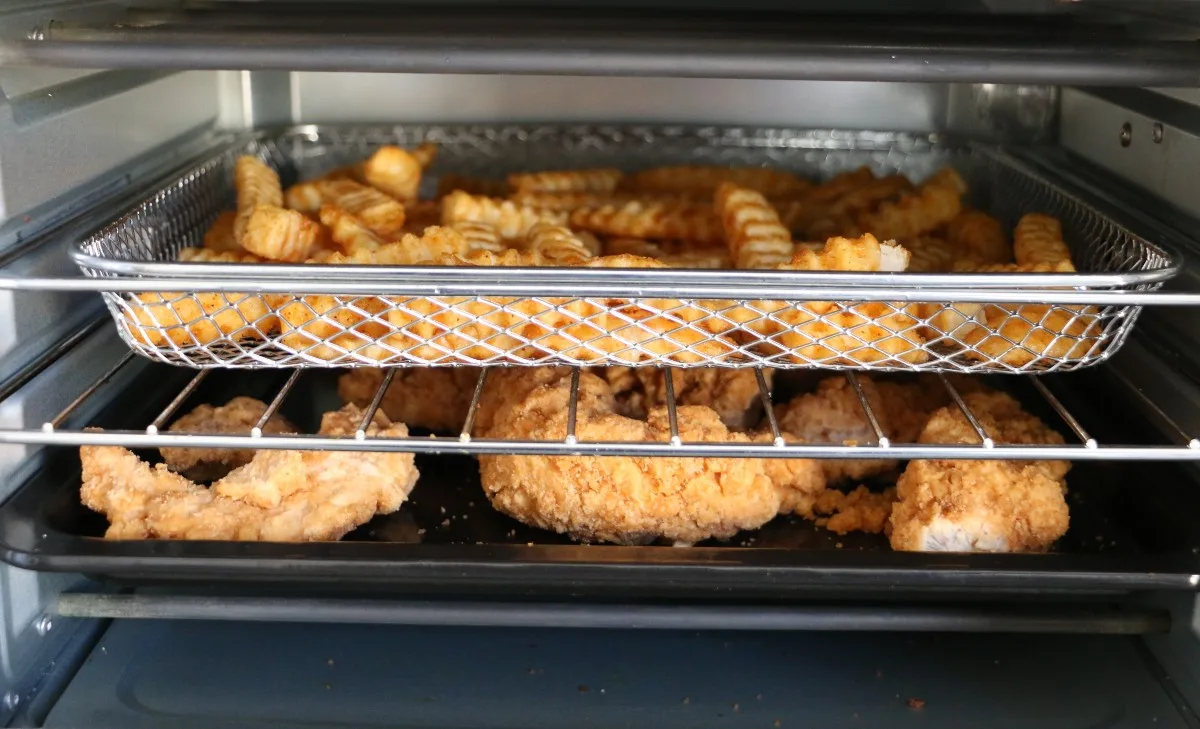 4. Add in your chicken. I always add my hot items last. On this Chicken Appetizer Charcuterie Board, I added Tyson Crispy Chicken Tenders and Tyson Any'tizers® Hot Wings that I picked up at Walmart. I always cook the Tyson Crispy Chicken Tenders in our air fryer and the Hot Wings in the oven and they both come out absolutely perfect every time.
That's it. That is how easy it is to make a Charcuterie Board. This particular Chicken Appetizer Charcuterie Board is perfect for Halloween night, Sunday football, busy weekday nights, the days before Thanksgiving and Christmas or pretty much any time.