It's getting cold outside, winter is here, and that means we need to start thinking of fun indoor activities for our kids! So I've put together a great list for you for the days that it's just too cold to go to the playground. Check these out!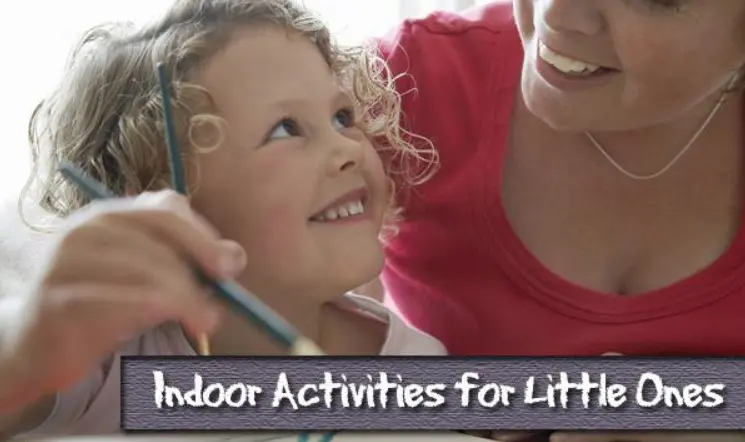 -Set up a playground in your own house! Use cardboard for a slide and set up pillows on the bottom for a soft and safe landing for fun indoor activities.
-Arts and crafts. Color, paint, make fruit loop and colored pasta necklaces. Get creative! If there's a fun craft you've been wanting to try, now is the time to get the kids involved and do it! Check out the FREE kid craft days at a Home Depot near you!
-Get in the kitchen! Have you been wanting to try a new recipe? Look online or go through your cookbooks to try some new things. Let your children choose things they would like to make and eat and let them help you!
-Explore new museums. Cold weather is the perfect time to leave the playground and head to a local museum. Be it an art museum, a natural history museum, whatever… This is a great educational opportunity for you and the kids! Most museums have free days once a month, so be sure to check those out!
-Have a tea party. Use juice for the tea and make tiny finger sandwiches and desserts. Let your kids bring their favorite toys to the tea party or better yet, let them invite some friends over! Stay out of the rain while you eat fancy food and have a blast!
-Marshmallow Tinkertoys. Did you know that a big bag of marshmallows and pretzel sticks make for the perfect edible tinkertoys? Help your kids build houses, teepees, and so many other masterpieces and then let them gobble down their creations afterwards.
-Sugar Cookie Pizzas. Even the most challenged chef can pull off this sweet and simple project! Slice several thick cookies from a roll of refrigerated cookie dough. Gently flatten them a bit and bake them. Next, your little sous chefs can decorate their pies with red icing for sauce, shredded coconut for cheese, and red M&M's for pepperoni. Genius, right? And delicious too. Here's another way to make your own, the possibilities are endless!
-Easy Indoor Bowling. Empty water bottles double for bowling pins and a rubber ball makes for a great bowling ball. Set up your "pins" and take turns knocking them down. If you're into competition, keep score! Winner gets a prize!
-Family Picnic. Change things up from serving a picnic at the park to serving it right in your house! Assemble some picnicky foods that the kids can pack themselves like juice boxes, string cheese, paper plates and napkins. Spread a blanket in the family room, put together some sandwiches, then unpack your basket and enjoy!
-Movie night. Movie night indoor activities. Make some popcorn, let everyone vote on what movie to watch, get into your pajamas, pass out blankets and pillows, and have a grand ol' time!
-Hit the library. Most libraries offer free story times every week for your little ones. When it gets cold out, pack up the kids and head to the library to pick out some new books! Bring them home and cuddle up and read!
What do you do when it's too cold to venture outside? Do you have some fun indoor activities you'd like to share with us? Leave us a comment and add to the list!