All our commitments this coming week are up in the air … snow is in the forecast! It kind of feels like Christmas is living on. We'll bundle up and play, drink cocoa (probably with leftover candy canes as our "spoons" to stir), and watch movies while crafting our hearts out. These pipe cleaner snowflakes are easy and oh so fun! They can be ornaments or you can hang them with small command strip hooks from the window to welcome the winter weather.
Supplies
White pipe cleaners (or silver if you want some sparkle!)
Scissors
Variety of white and blue beads
White or sheer ribbon
Directions
For each snowflake you will need 3 pipe cleaners and a handful of beads. We purchased all our supplies at Hobby Lobby and loved the the bead assortment there.
Take two pipe cleaners and cross them into an X. Twist twice to lock them together. Add the third pipe cleaner and twist again to create a star shape. Add one bead to each snowflake arm … or many. Let your creativity fly!
Cut each pipe cleaner to shorten and with the clipped piece twist on the end of each arm to lock the beads on and finalize the snowflake design.
Of course, every snowflake is unique so feel free to modify and design any kind you wish! We had many shapes, lots of bead patterns, and some extra pipe cleaner flair with ours.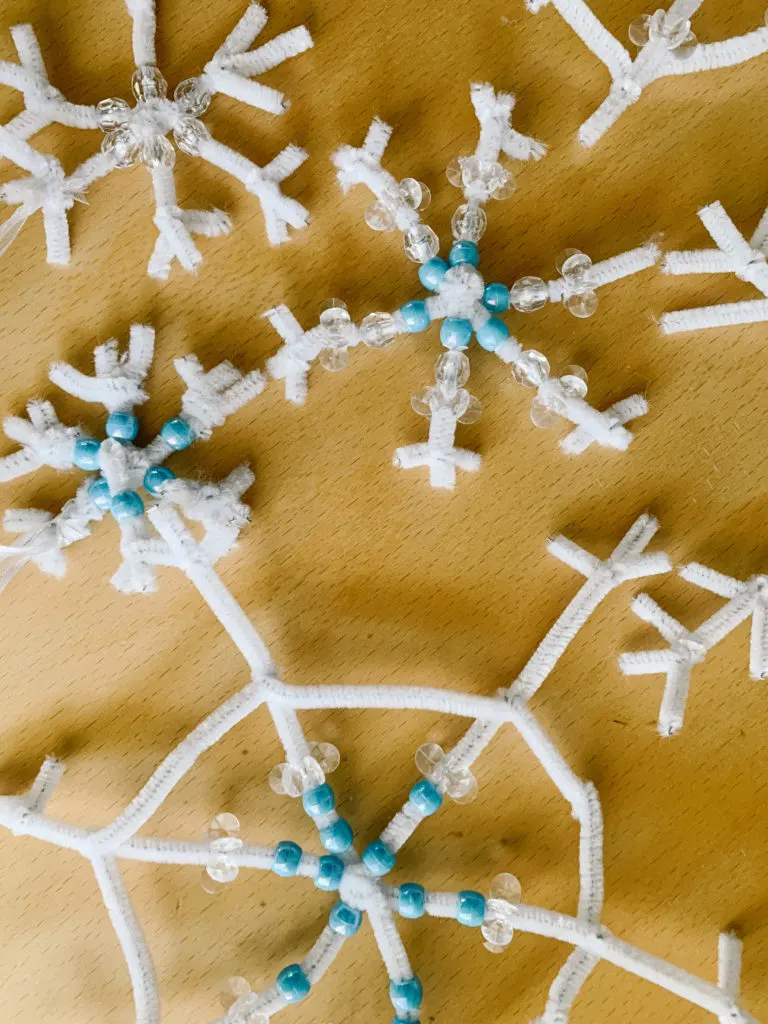 Before the magic of falling snow loses its luster, enjoy some of these winter inspired books after your craft project!
Looking for another Christmas Craft? Salt Dough DIY Ornaments or How to Mail a Hug