Involving Older Kids With the New Sibling
by our guest blogger Carly Kerby from Living the Scream
We just added to our house full of girls two months ago, another baby girl of course. She is adorable and lots of fun. Everyone told me my older girls would all act like little mothers to my newborn and oh my goodness they were right! I now do not go a moment in my day without out one of them asking to hold her, bathe her, change her or pick out her clothes and those are just few of the requests! My days have been a little stressful to say the least!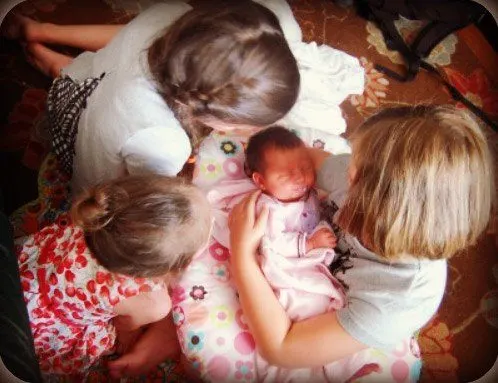 I really tried to prepare my older daughters ages nine, six, and three while I was pregnant on what our new life would be like with a brand new baby. What I did not think about was exactly how I would involve them with the day to day things that they would want to help with.
First I knew I would need to have some rules. I wanted them to feel like they were helping and getting to know the baby but I also wanted the baby to be safe. Some beginning rules were, no walking while holding the baby, especially up or down the stairs. No holding her without me present and that they needed to ask me before they did something with her. I did not want this to be a bad experience for them. I knew that they definitely needed to feel included and loved. There was no doubt how crazy they were about their new sibling. They love her so much and just want to help. Here are a few things I let them help me with every day:
Bathing. I bathe my baby in the kitchen sink. If my other girls want to help I have them pull up a chair to stand on. They love to wash her tummy, scrub her head and mostly love to brush her hair and style it when the bath is done. The baby faux hawk is their absolute favorite way to style her hair at the moment.
Burping her after she eats. I breastfeed so there is not a lot they can do to help me with that. Even though my 3 yr old insisted that she does in fact have a little milk that she could feed her. I do let them pat her back after I have fed her. They love this and laugh hysterically when they make her burp.
Changing diapers. I don't feel like my girls are quite old enough to do everything they need to when changing a diaper. But they love to pick her outfits if she needs a new one and they also don't mind getting me supplies when I need them.
Binky help. By far the thing that helps me the most is when the baby is fussy and sitting in her swing while I am attempting to straighten our house. My girls love to put her binky in her mouth. Especially my 3 yr old.
I really thought that after having a baby for a little while they would not ask to help as much, but the opposite has happened. They are doing great with her and I love having the help. The only thing I don't love is when they fight about who gets to hold her next or who she loves the most.
What things have you had your older kids help with when they have had a younger sibling?
♥ ♥ ♥ ♥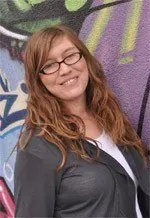 Carly Kerby is the owner of www.livingthescream.com. She has four daughters, is married to a teacher and they all live in a tiny Condo. So you can tell that her website name Living The scream is quite appropriate. She enjoys, shopping, cooking and eating chocolate to keep her sane. She loves writing about all the drama and craziness in her life and wouldn't have it any other way.