By Guest Author Hilary Smith
From the time that they are babies, children are attracted to jewelry, tugging and grabbing dangly earrings or long necklaces that moms wear. As they grow older and start to wear jewelry themselves, it's important for parents to know the basic safety guidelines that are in place to protect kids from harm.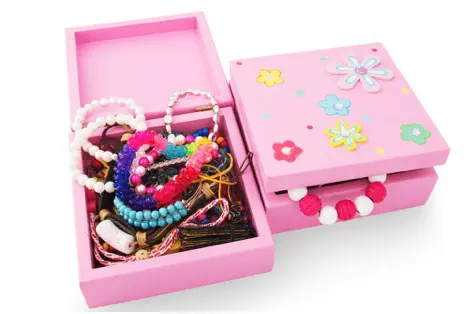 Is it Safe For Kids to Wear Jewelry?
Absolutely! Many trusted manufacturers design jewelry pieces that are safe for children to wear. However, there are a few risks that parents should be aware of when it comes to children's jewelry.
Toxic Metals
Lead is a toxic metal that can cause behavioral problems, learning disabilities, organ failure and even fatalities when consumed in large quantities. Because of this, new laws were enacted in 2009 that made it illegal to produce children's jewelry with more than 300 parts per million of lead. Despite this legislation, numerous manufacturers continue to use lead or an equally harmful metal known as cadmium. If kids ingest lead or cadmium by putting jewelry in their mouth, they could develop dangerous illnesses that in some cases could be fatal.
Choking Hazards
Children are naturally curious, so it's common for them to put items, including pieces of jewelry, in their mouths. When the jewelry contains small pieces that can easily break off, this poses a choking hazard to children.
Allergies
Many people, including both adults and children, have allergic reactions to nickel, a metal that is frequently used in children's costume jewelry to lower costs while maintaining the same desired look. Although the reaction is not serious, it can lead to a blotchy, itchy rash with blisters in extreme cases. If you are concerned about your child having a reaction to nickel, look for jewelry that is hypoallergenic, but don't panic if an allergic reaction does occur! Most are minor and can be treated with corticosteroid cream.
Scratches & Snags
Jewelry that is designed with large stones, sharp edges or clasps that can snag in children's hair poses a risk to little ones. It's always best to choose flat, smooth pieces of children's jewelry that can brush up against skin as they run and play without doing any damage.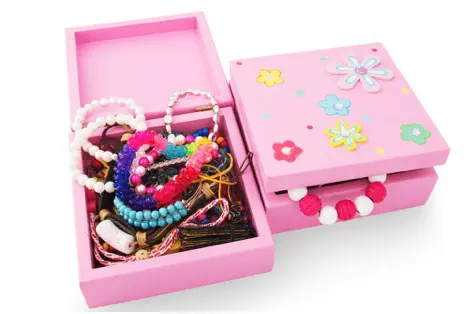 Tips to Keep Kids Safe
Be sure to keep a close eye on children while they are playing dress-up or wearing costume jewelry to make sure that they act responsibly and don't injure themselves.
When shopping for a baby's first pair of earrings, choose a style with a screw-post that is designed to stay in place and prevent the baby from ingesting it.
Avoid children's jewelry that contains magnets or batteries. Both of these items can be dangerous if ingested and in the case of batteries, fatal to children.
If you decide to buy jewelry with gemstones, make sure that it is specifically designed for children and meets all safety standards. Otherwise, the gemstones could come loose and pose a choking hazard to little ones.
Be sure to stay up-to-date with the latest recalls so you know if any items that are already in your home should be discarded.
Have children remove their jewelry before going to play or sleep. While playing, jewelry could catch on clothes, hair or skin. While children sleep, pieces such as long necklaces could be a strangulation hazard.
With these tips, parents will no longer have to stress over their children playing with jewelry!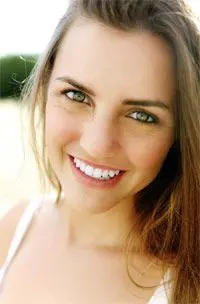 About the Author: Born and raised in Austin, TX, Hilary Smith is a free-lance journalist whose love of gadgets, technology and business has no bounds. After becoming a parent she now enjoys writing about family and parenting related topics.