The Joolz Aer lightweight stroller is the newest addition to the Joolz line of baby gear. Joining the Joolz Day, Geo and Hub strollers, the Aer is the lightest weight buggy of the collection which makes it superb for traveling. With a lightweight frame and incredibly easy, compact fold, the Joolz Aer is a stroller that needs to be considered for your next family trip.
STROLLER SEAT
The Joolz Aer seat is roomy measuring 15″ wide with a 22″ seat back and a measurement of 25″ from seat to canopy. It accommodates from 6 months up to 50 lbs. If you'd like to use the Aer with a newborn, just add the car seat adapters or the bassinet (both sold separately) and you'll be ready to go.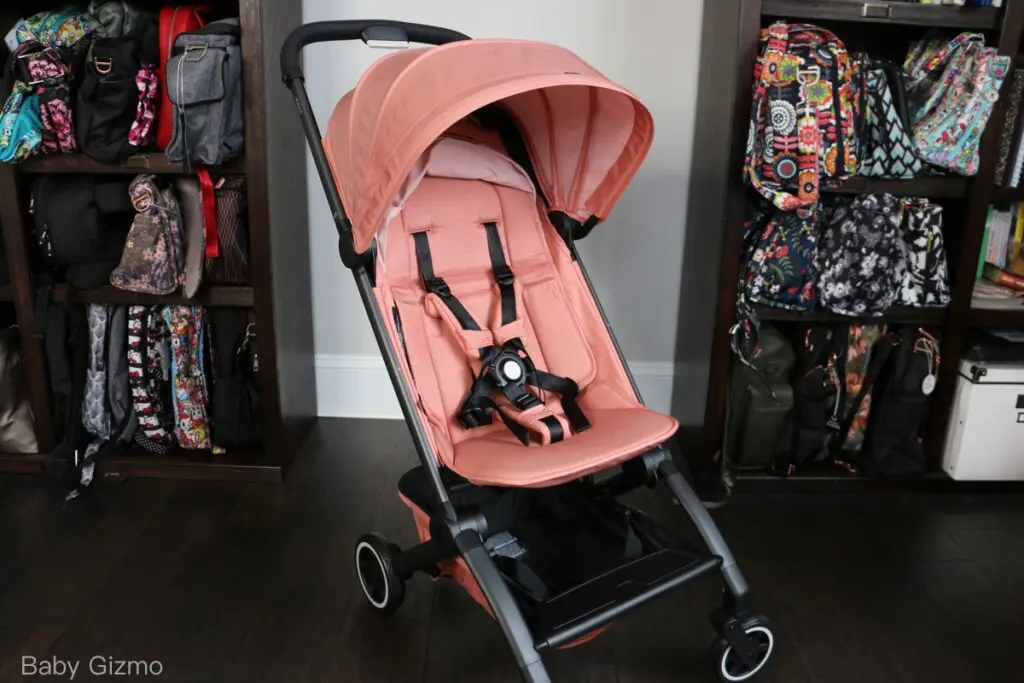 Comfort is quite high on Joolz list of features on the Aer because the seat is soft to the touch and has a patent pending "comfort seat". It is like a memory foam seat that is a nice welcome to some of the uncomfortable seats we have seen from stroller companies in the past.
The seat sports a padded, adjustable, 5-point harness for safety. It's not our favorite harness because it's super easy for mischievous toddlers to press the big white button to pop it open and escape the seat with little effort. While it's easy to open, the buckle is quite fiddly to close for parents as you have to feed FOUR different pieces into the buckle. Not a huge deal but not the most parent-friendly buckle on a stroller we've seen.
The seat has a stationary foot rest for older toddlers to set their feet. If you are looking for an adjustable or extended leg rest, you can purchase the Joolz leg rest separately.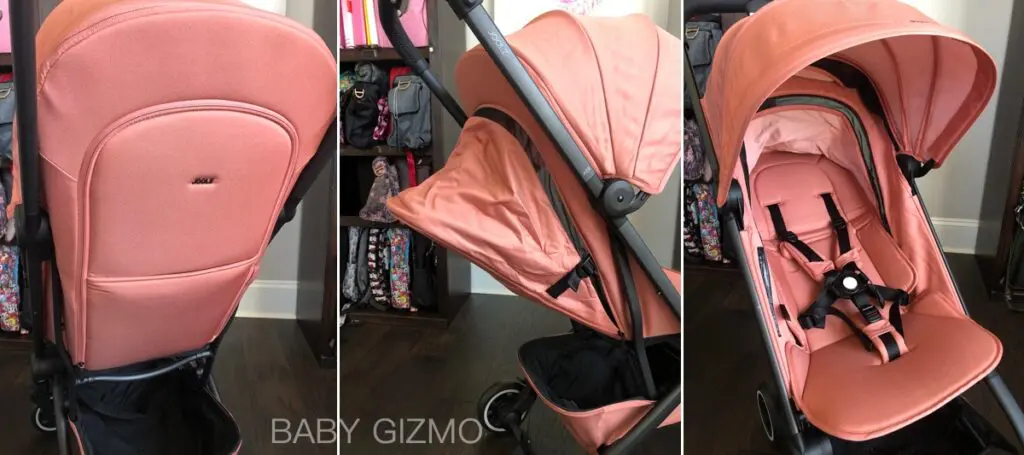 Babies like to nap on the go, so the seat has a recline to help them get comfy. The recline isn't close to flat (it's only half way back) and that is why Joolz recommends it for 6 months and up. It's a different recline as you have to unzip the entire back of the seat in a u-shape. There is then a black strap on one side to adjust the recline slightly. Again, not our favorite recline but not a deal breaker either.
HANDLE BAR
The handlebar on the stroller is not adjustable but is taller at 41″ from ground to handle. It should be good for taller and shorter parents alike. If you are SUPER tall, you might want to check it out first.
CANOPY
The three panel canopy isn't huge UNTIL you unzip the fourth hidden panel that extends it to even better coverage. We love that the fourth panel is mostly mesh to not only allow air to circulate through the stroller seat but to also double as a peek a boo window to keep an eye on your little rider.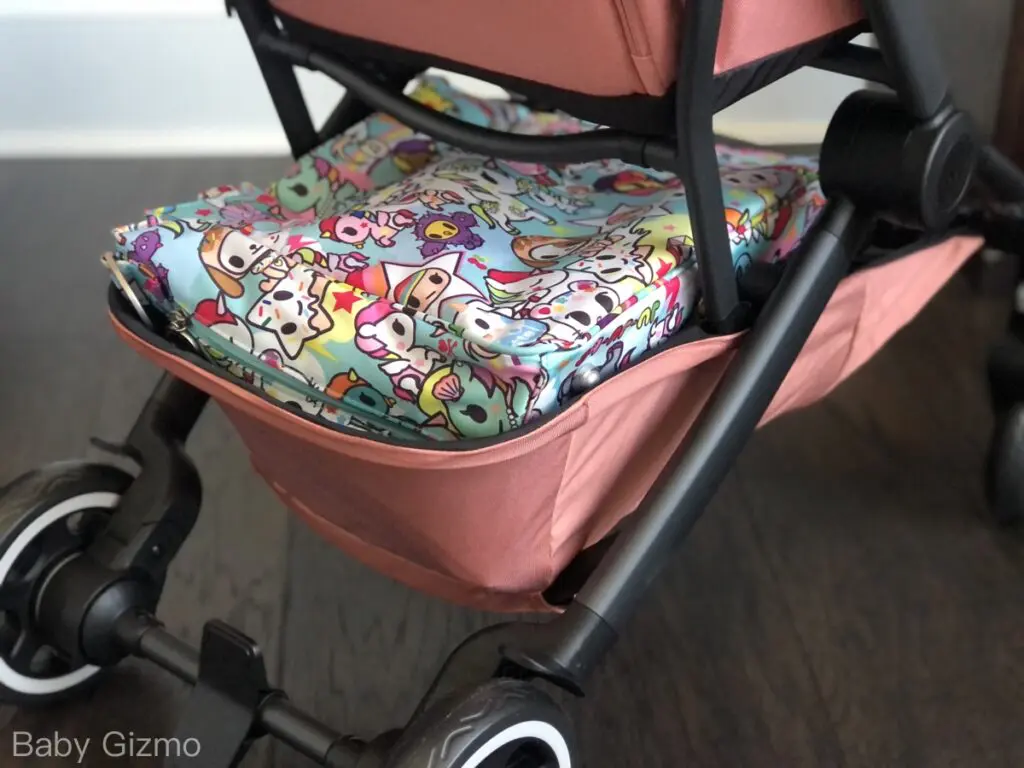 STORAGE
There is a medium size basket underneath the seat that can accommodate a medium-size diaper bag. We can easily fit a Ju-Ju-Be BFF or Be Classy in the basket but that is the biggest diaper bag that would comfortably fit. On the back of the seat you'll also find a deep pocket to throw flat things into like a cell phone, thin wallet or set of keys.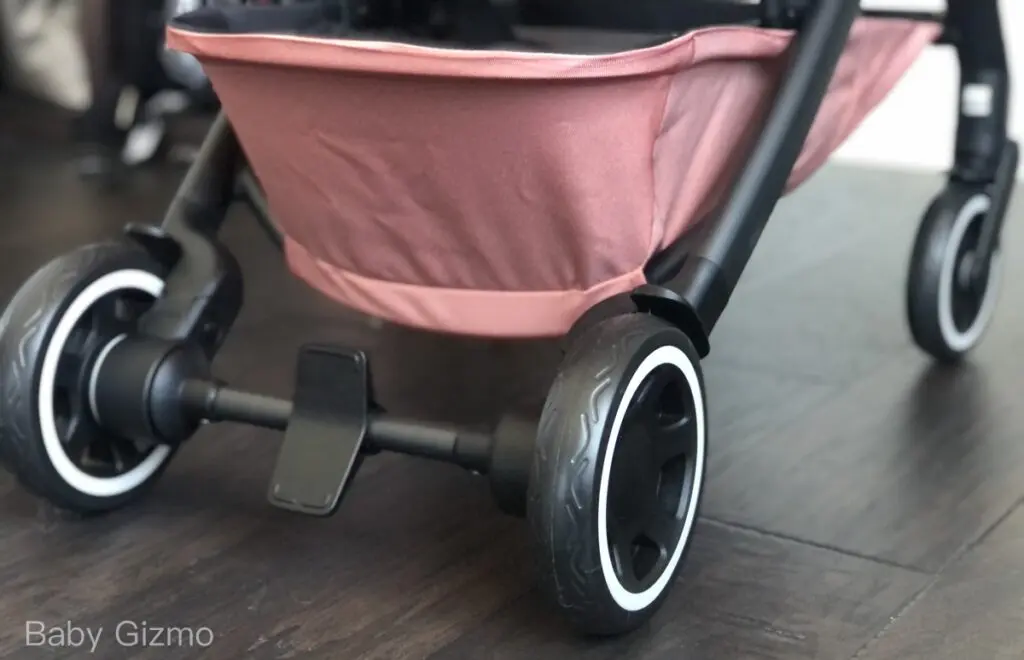 STROLLER WHEELS
The Joolz Aer rolls on 5″ hard rubber wheels in the front that swivel 360 degrees but have the ability to lock straight individually for tackling a bit more "mom terrain". The back wheels are 6″ hard rubber wheels and sport a one step, flip flop-friendly brake to lock the stroller into place.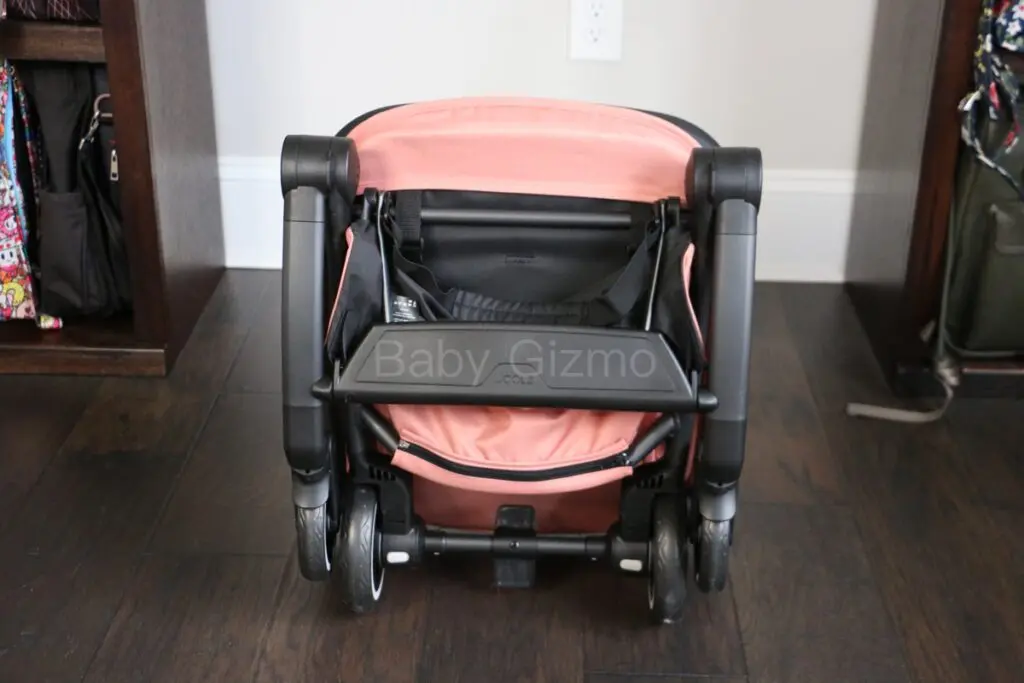 FOLD/UNFOLD
Now it's time to talk about the best feature on the Joolz Aer – the fold and unfold. This stroller is so easy to fold WITH ONE HAND, better yet, it has such a compact fold that it fits in the overhead compartment of an airplane. Yep, no need to check this stroller at the gate. Bring it on board with you! The unfold is just as easy with one hand, the push of a button and flick of the wrist.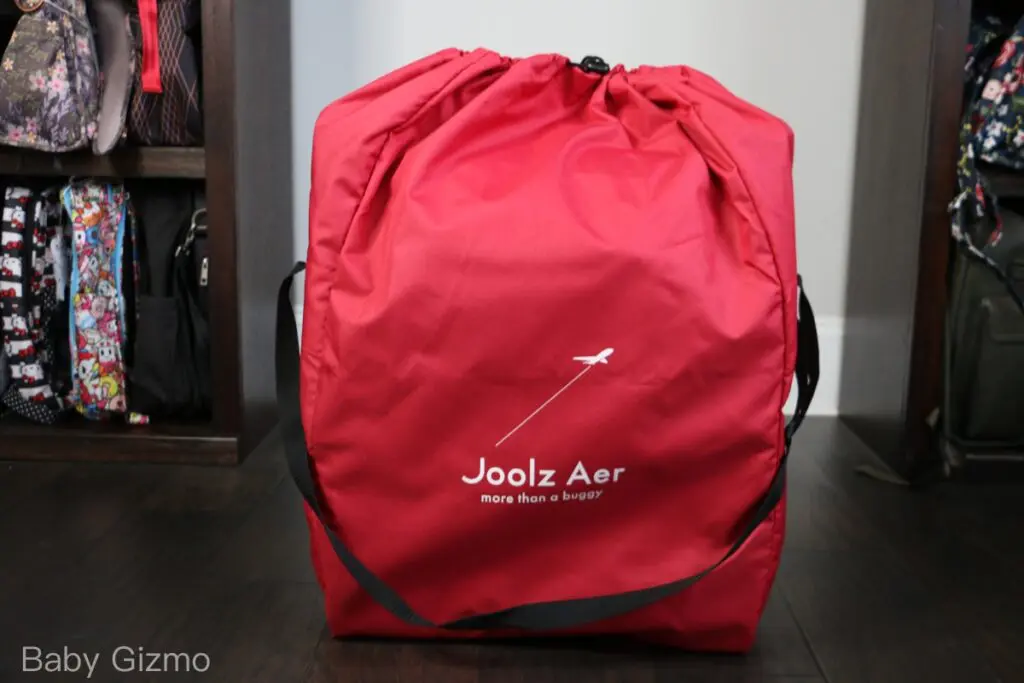 If that wasn't enough to make you happy, it has an elastic shoulder strap to make carrying this stroller super easy for parents with stairs or who take public transportation. That's not all, folks! It also comes with an INCLUDED storage/travel bag. The travel bag is great for keeping the stroller clean when you travel and is easy to use. The only addition that I would LOVE to see is adding backpack straps to the travel bag. Now that would be GOLD!
ACCESSORIES
As we mentioned earlier, there are car seat adapters and a bassinet sold separately to use the stroller with a newborn. You can also get the adjustable leg rest or a cup holder for the stroller which are sold separately. One thing you don't have to buy separately is the rain cover because that is INCLUDED with the stroller.
PRICE
All good things have a price, don't they? While this stroller is small it comes with a big price. It retails for $399 for the stroller or you can get the stroller + bassinet package for $598. It's a little on the pricey side but it depends on how much you value a good, sturdy, travel stroller that can also be a travel system or a pram.
WRAP UP
The Joolz Aer has some great features for both parents and babies. While we'd love to see a different buckle, an easier recline and added backpack straps to the travel bag, we LOVE the comfy seat and the easy, compact fold.