Monkey Bread – the ooey gooey dessert that brings out the inner monkey in us as we pull apart the caramelized cinnamon sugar goodness piece by piece. This version is topped off with a delectable cream cheese frosting, resulting in a marriage of cinnamon rolls and donut holes.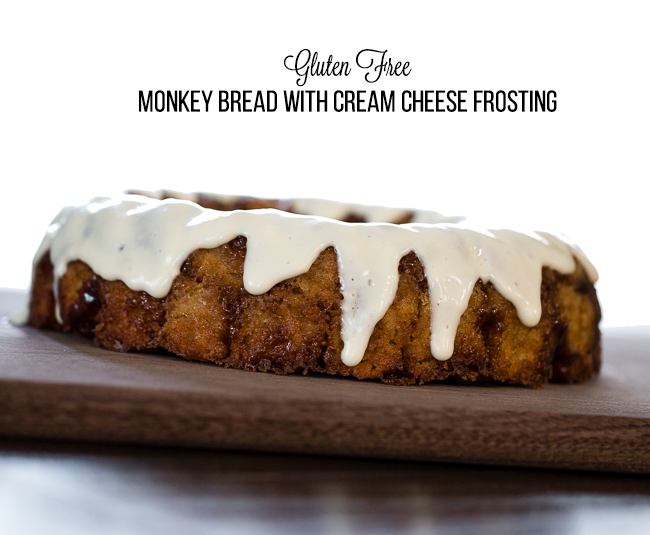 Monkey bread, also known as pull apart bread, is traditionally made from yeast dough which is cut and rolled into small pieces that are dipped in melted butter and then rolled in cinnamon sugar and finally layered into a bundt pan. The cinnamon sugar caramelizes and coats each piece of dough as it bakes creating moist little bite size morsels stuck together to form one big amazingly delicious dessert.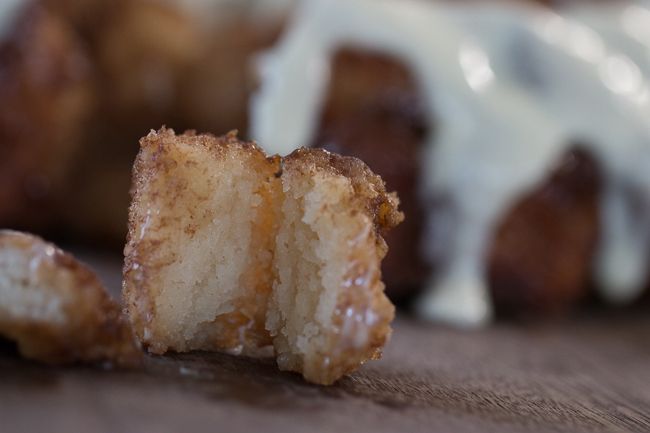 This is a fun baking project to do with children. My children had a blast with the assembly process and they loved the end product even more! It might take a bit more time to make and require some patience but the precious time spent with your children and the memories created make it all worth it.
This recipe is gluten free and tastes just like the real deal, however, I have included a non gluten-free variation as well. Although many recipes use ready made biscuit dough to save time, it is worth putting in the extra effort to make the dough from scratch. It doesn't require much more active prep time to make, but the entire process does take about 3-4 hours including the inactive time that it takes to proof the dough and bake. If you don't have a full 3-4 hours before serving time, you could prep the Monkey Bread the day before and let the dough proof overnight to have it ready to be baked the next morning. Enjoy!
Gluten Free Monkey Bread With Cream Cheese Frosting
*Slightly Adapted from Cook's Illustrated
Serves 8-12
Ingredients:
For the dough:
¼ cup granulated sugar
2 1/4 teaspoon or 1 package yeast (Cook's Illustrated suggested Instant, I used Active-Dry)
1/3 cup water, warm (about 110 degrees F)
4 tablespoons unsalted butter, divided, 2 tablespoons softened and 2 tablespoons melted
1 cup milk, warm (about 110 degrees F)
17 ounces ATK Gluten-Free Flour Blend * (Note: If you are not gluten free: 3¼ cups all-purpose flour, plus extra for work surface)
2 teaspoons salt
For the coating:
1 cup light brown sugar
2 teaspoons ground cinnamon
1 stick (1/2 cup) unsalted butter, melted
For the glaze:
3 oz cream cheese, softened
1 tablespoon unsalted butter, softened
1/4 cup powdered sugar
1 teaspoon vanilla
2 tablespoons milk
Directions:
Heat the oven to 200 degrees and then turn off the oven as soon as it reaches that temperature. This will be a warm proofing box for the dough, which will speed along the proofing time. Do not go to the next step until your oven is turned off.
Combine the warm water, sugar, and yeast in a small bowl and set aside for about a minute to dissolve.
Add the milk and 2 tablespoons of melted butter to the yeast mixture and stir together.
In the bowl of a stand mixer fitted with a paddle attachment, combine the flour and salt.
Turn the mixer on low and slowly add the milk mixture.
Increase the speed to medium and beat the dough until it is sticky and uniform. The dough will resemble cookie dough.
Place the dough in a bowl coated with non stick cooking spray and cover with plastic wrap. Place the dough in the turned-off oven until it doubles in size, for about 50-60 minutes.
While the dough is proofing, prepare your bundt pan by coating liberally with softened butter.
Mix the brown sugar and cinnamon in a small bowl.
Melt 1 stick of butter in a small bowl.
Once the dough is doubled in size, carefully scrape out the dough. Shape the dough into an 8-inch square and cut into 64 even sized pieces. Roll each piece into balls.
Dip the dough balls into the melted butter.
Then roll the dough ball in the cinnamon sugar mixture.
Layer the balls into the bundt pan staggering seams where the dough balls meet as you build layers.
Cover the bundt pan with plastic wrap and place in the turned-off oven for 50-7o minutes until the dough balls are puffy and have risen in size.(Note: If you would like to proof overnight, place the bundt pan in the refrigerator overnight. Remove it from the refrigerator and allow it to come to room temperature for about an hour before baking).
Meanwhile, prepare your frosting by mixing together all the ingredients.
Remove the pan from the oven (or refrigerator if you are proofing overnight) and heat the oven to 350 degrees. Remove the plastic wrap and bake until top is deep brown and the caramel begins to bubble around edges, 30 to 35 minutes.
Cool in pan for 3-5 minutes, then turn out on platter and drizzle with the cream cheese frosting, letting it drip down the sides of the Monkey Bread.
Allow to cool slightly, about 10 minutes. Enjoy!
About the author: Rubina Umarji is the owner and executive cake artist of Rubina's Cake Shoppe. After the birth of her son in 2009, she left her career in engineering to focus on her two passions: her family and her edible art. Since then, she's had the opportunity to showcase cakes and gourmet confections to thousands of dessert loving clients as well as over 100 of Hollywood's hottest stars and has had her cakes featured on television. Now her days are focused on teaching cake decorating classes to all ages. Her favorite students are her two children, ages 4 and 6. She frequently writes cake decorating tutorials and recipes on the Rubina's Cake Shoppe Blog.