Joovy is at it again with another new stroller this year! This new and improved
Joovy Zoom 360 Ultralight
lost some weight and gained better maneuverability with this 2.0 version.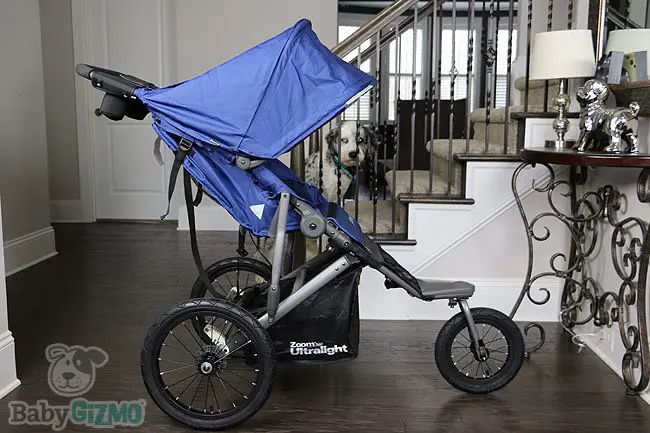 SEAT
The Zoom 260 Ultralight seat is roomy and accommodates up to 75 lbs. Our 6 1/2 year old fit comfortably in the seat which is important with a jogging stroller. The seat measures 14″ wide with a 22″ seat back and a measurement of 24″ from seat back to top of canopy back. (If you measure from seat back to middle of canopy, it is 27″).
The seat sports an adjustable, 5-point harness with an easy-to-do buckle and two side mesh pockets to hold a zippy cup, toys or snacks. There is no adjustable footrest, but the new footrest is now mesh, which was one reason that the Zoom 360 lost 10% of its weight.
The seat has a deep recline that is done with a two-handed strap system. It's not the smoothest recline in the world with the two straps, but it's not a deal-breaker.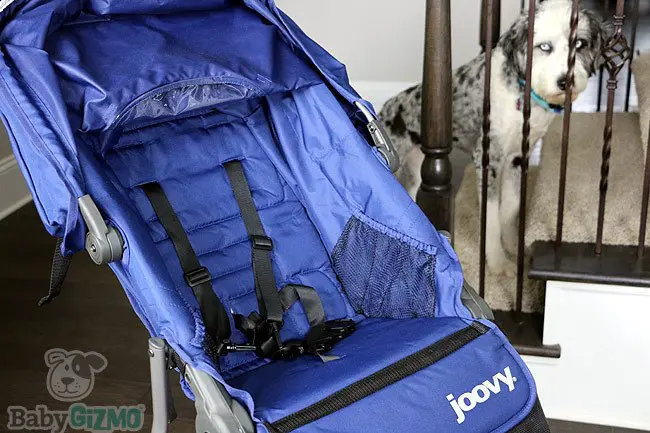 CANOPY
The huge, two-panel canopy is definitely full-coverage and sports a large peek-a-boo window to keep an eye on your little rider.
HANDLEBAR
The non-adjustable, foam-covered handlebar is 41″ from ground to handle and is perfect for my 5'5 frame. If you are much shorter than that, it may be too tall but the taller parents will definitely appreciate it.
There is a handy parent organizer (it's included!) that attaches to the handlebar that has two bottle holders and a zipper compartment for keys, a phone or a small wallet.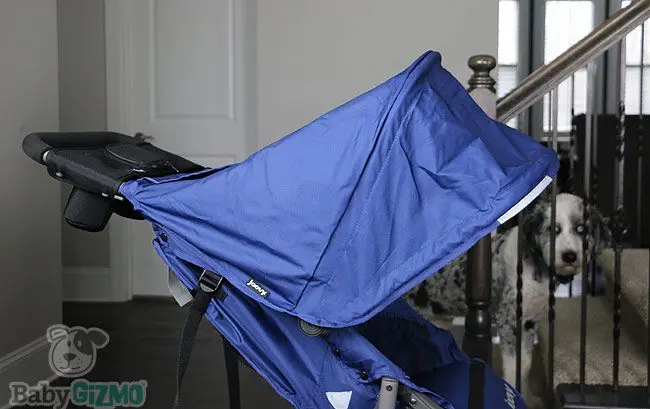 STORAGE
The basket is roomy and I can easily fit my Ju-Ju-Be BFF Diaper Bag in it along with other baby essentials. There is also a large mesh pocket on the back of the seat to hold parent essentials such as a wallet, phone, keys, etc.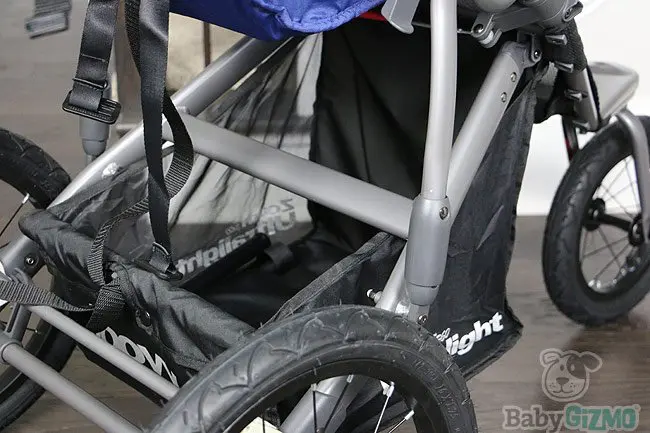 WHEELS
The Joovy Zoom 360 Ultralight rolls on 16″ rear, air-filled tires and a single 12″ air-filled tire in the front. The front wheel is a 360 degree swivel wheel that has the ability to lock straight for jogging and all-terrain. We love-love-love that Joovy included a tire pump with the stroller in case the tires ever need a little air.
A one-step brake bar locks the stroller into place and the suspension keeps the bumps at bay.
There is also a runaway strap for safety that is attached to the lower, rear wheel axle.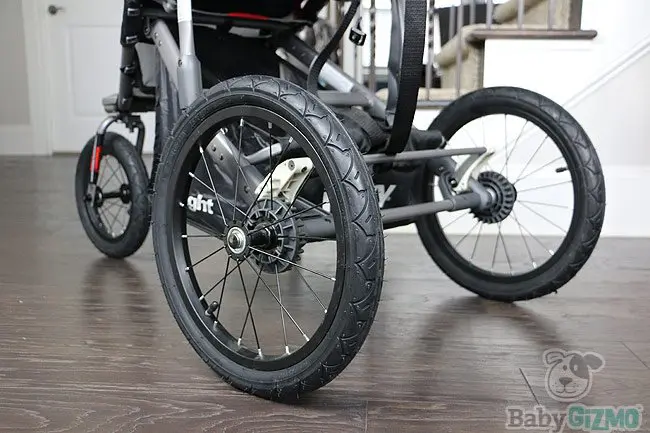 FOLD/UNFOLD
The Joovy Zoom 360 Ultralight is easy to fold and can be done with just one hand. If you lock the front wheel, it has a standing fold and also features an automatic lock. The rear wheels pop off easily and you can also remove the front wheel if you are looking for an even more compact package.
Despite the name "Ultralight", the Zoom 360 weighs in at a very average 25.7 lbs. That isn't necessarily lightweight in our book since it is on par with other competitive jogging strollers, but we understand that they gave it the name "Ultralight" since it lost a few lbs from the previous model. At just under 26 lbs, it has some weight to it (which is good for stability!) and we found it wasn't a big deal to lift it up into our vehicle's trunk.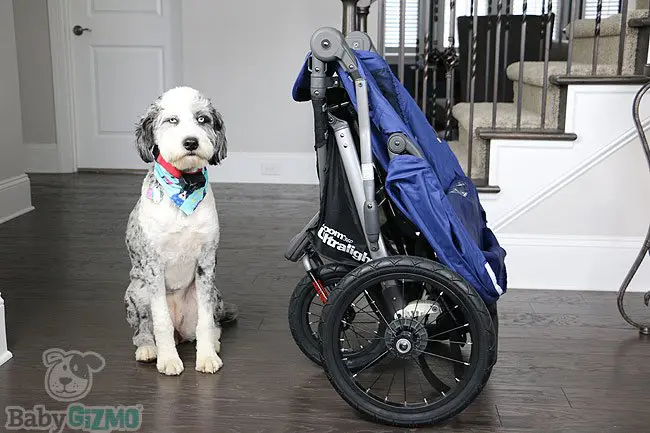 TRAVEL SYSTEM
The stroller seat is for 3 months and up but you could use it with a newborn if you purchased the car seat adapters and used it with an infant car seat. This will allow you to use the jogger for everyday use sooner but it's important to note that you should NEVER, EVER jog with a baby in an infant carrier or a baby under 6-8 months for that matter.
WRAP-UP
The Joovy Zoom 360 Ultralight is a great jogging stroller with a large seat, huge canopy, and big basket all for under $300. We like that it lost a little weight from the previous Zoom model making the weight competitive with other joggers. If you are looking for a quality jogging stroller that will accommodate bigger kids with ease and won't break the bank, we suggest taking a peek at the Joovy Zoom 360 Ultralight.
You can purchase the Joovy Zoom 360 Ultralight at Amazon.com.