A high chair is a must-have for most parents once a baby starts eating solids. With many high chairs on the market featuring all the bells and whistles, it may be hard to choose the one that you think will be best for your family. To help navigate your way through what is and isn't necessary, I always tell parents that my top three high chair features are:
1) Easy to clean
2) An easy-to-remove tray (and a snap-on tray liner is always a great bonus!)
3) If it will grow with your child without sacrificing quality, you have found gold.
Also, if you are a stylish mom and care about what your kitchen looks like and you don't necessarily want a big, garish high chair sticking out like a sore thumb, the right look is important.
If you are on the market for a new high chair and the above features are important to you, then I have a fantastic option to introduce you to.
The Keekaroo Right Height High Chair is a modern, wooden chair that is not only easy to clean, but will seriously grow with your child. The Keekaroo is suitable for babies 6 months and up, all the way up to 250 lbs. Yep, you read that right – 250 lbs! This isn't a chair you are going to banish to the basement after your little one turns 2 (or 3) because this will be used for years to come as your child grows. Heck, YOU can even use this chair!
This adjustable chair is made out of sustainable rubberwood and finished with a plant based lacquer finish. It comes in a variety of colors to match your kitchen decor and has a modern look that keeps your kitchen looking great.
As your child grows, the seat and foot plates can be adjusted to create the perfect, ergonomic seat for your little one.
The Keekaroo features a large tray with a removable, dishwasher-safe cover to make clean up a breeze. It's a two-handed, adjustable tray that has two positions, and we found that the closest position gets pretty near to your little one's belly to prevent all the food from dropping onto their lap.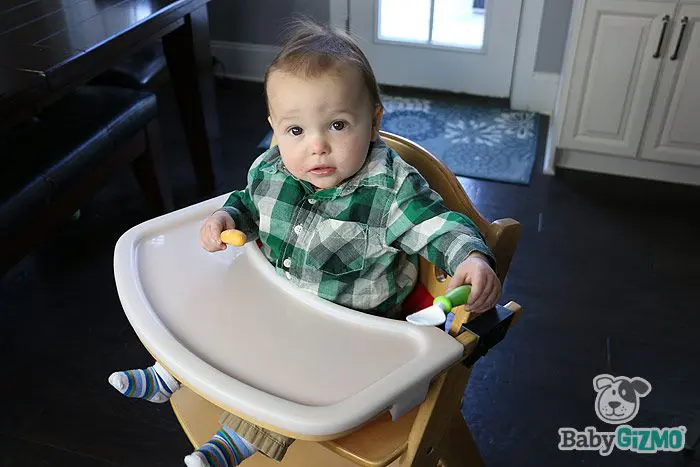 The ergonomic design of the backrest keeps your child comfy and the 3-point harness keeps them safely in the seat. (NOTE: Keekaroo recommends that the tray is always used with a baby or small toddler in the chair.)
One of our favorite features and what makes it stand apart from the rest of the wood high chairs on the market, is the Infant Insert. It is soft, comfortable and made out of the same material that is used in the medical and special needs market. It's soft to the touch and is water and tear-resistant. Since it is water-resistant, fluids cannot penetrate into the infant seat, stopping mold or deterioration.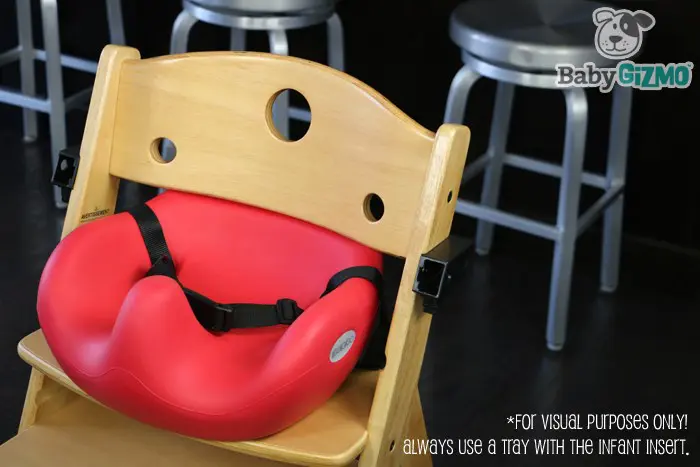 The insert was designed to offer a safe and comfortable seat for younger babies. It "hugs" not only the chair but your baby's bum and keep them comfortably in place. The insert is made to support small children by having a pommel in between the legs to keep them from scooting out and has higher sides to prevent the child from leaning to one side.
As your child grows, you can adjust the seat and footrest height and depth to create a perfect fit them. The Keekaroo is also ideal for not only keeping your preschooler off their knees like they would be on a regular dining room chair, but to also bring your child up to the table to dine with the rest of the family from an early age.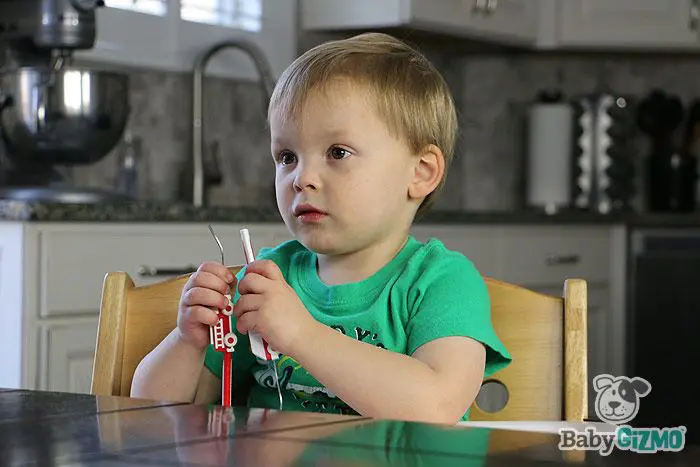 The Keekaroo Right Height High Chair is available in three colors and retails for $178-199 (chair only) or $239 with the infant insert.
If you are looking for a modern, high quality, wood high chair that is going to last for years to come, consider the Keekaroo Right Height High Chair.
Purchase a Keekaroo Right Height High Chair on Amazon.com
*Disclosure: Keekaroo provided us with a Right Heigh High Chair. As always, all thoughts, opinions and statements are our own.