My husband and children took me out for lunch on Mother's Day at the Border Grill in Santa Monica, Los Angeles owned by chef Susan Fenigar and Mary Sue Milliken who you may have seen on many shows on TV including Top Chef Master. Chef Susan Feniger was there greeting guests from table to table. She was so sweet and made an effort to make every diner feel welcome. I don't often get star struck but I consider great chefs as celebrities, so I was super excited.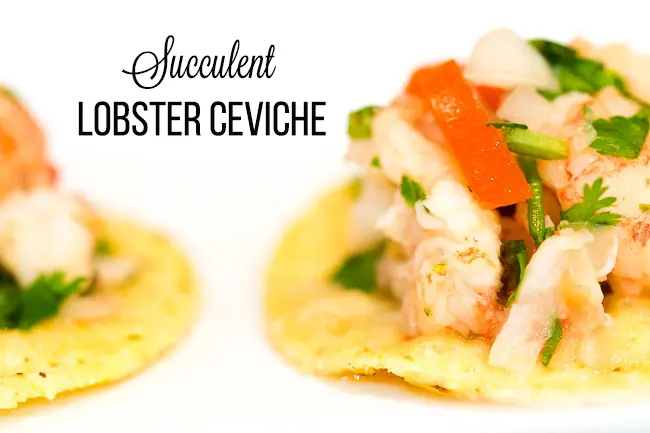 Everything was phenomenal but the Baja Ceviche especially stood out. Ceviche is a Latin American dish that is made with raw fish or seafood that is cooked/cured in lime juice and mixed with chopped tomatoes, jalapeños, cilantro, and onions. It was so delicious that I asked the hostess if the recipe was in any of the Chef Fenigar or Chef Milleken's cookbooks. It was not in print but she generously shared the recipe with me and I recreated the dish that same night. I've been crazy about ceviche ever since!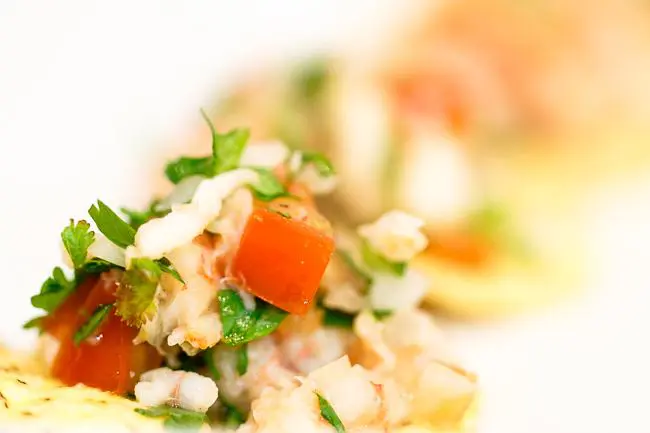 My husband recently brought home wild caught lobster, and of course, the first thing that came to my mind was to make a fresh lobster ceviche. I used the Border Grill's Baja Ceviche as inspiration and added a special ingredient, ketchup, that learned from my friend Ahlam who also makes amazing ceviche.
I used lobster in this recipe but you could use just about any fresh saltwater white fish or shelfish that you'd like. The key to making great ceviche is to getting the best quality and freshest seafood you can find because that's will be the star ingredient of the dish. The "cooking time" changes depending on the fish you use. If you use something like albacore tuna, you would let it sit in the lemon juice for a shorter time because albacore tuna is more enjoyable when its not all the way cooked through. On the other hand, some thing like mahi mahi would need to be marinated for about an hour. Although not traditional, if you are hesitant about this method of cooking, you can get pre cooked shrimp, lobster, or even imitation crab(another trick I learned from my friend Ahlam) and it will still be delicious!
Here is my recipe for Succulent Lobster Ceviche. It's amazing how you can make something so fresh and flavorful with such minimal ingredients.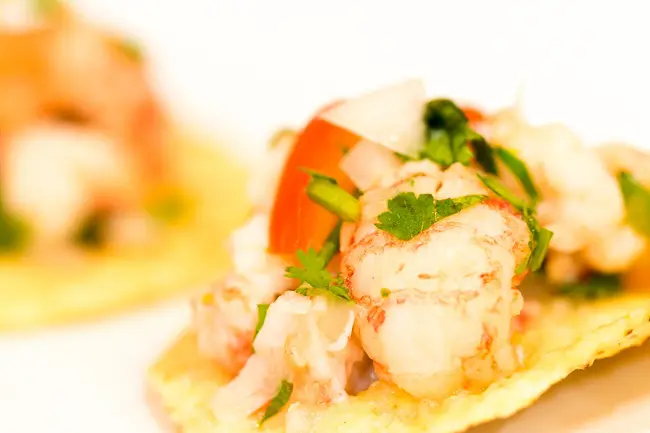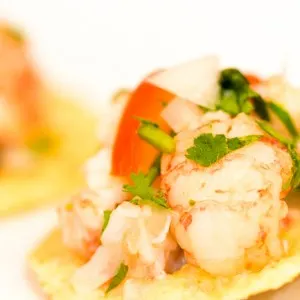 Lobster Ceviche
A Latin American dish that is made with raw lobster cooked/cured in lime juice mixed with chopped tomatoes, cilantro, onion, and jalapeño.
Ingredients
1

lb

lobster meat

cut into 1/4" cubes

1/2

cup

fresh lime juice

1

tomato

cored and fined chopped

1/2

jalapeno

stemmed, seeded and finely chopped

1/4

small red onion

finely chopped

1

tbsp

ketchup

kosher salt and pepper

to taste
Instructions
In a large bowl, combine lobster and lime juice. Allow to marinate for 30 minutes.

Add remaining ingredients, season to taste with salt and pepper, and stir gently to combine.

Refrigerate for 20 minutes.

To serve, mound the lobster ceviche on top of a crispy tostada or corn chip. Serve immediately.
Nutrition
Calories:
72
kcal
Carbohydrates:
4
g
Protein:
13
g
Fat:
1
g
Saturated Fat:
1
g
Trans Fat:
1
g
Cholesterol:
96
mg
Sodium:
344
mg
Potassium:
241
mg
Fiber:
1
g
Sugar:
2
g
Vitamin A:
209
IU
Vitamin C:
11
mg
Calcium:
70
mg
Iron:
1
mg
About the author: Rubina Umarji is the owner and executive cake artist of Rubina's Cake Shoppe. After the birth of her son in 2009, she left her career in engineering to focus on her two passions: her family and her edible art. Since then, she's had the opportunity to showcase cakes and gourmet confections to thousands of dessert loving clients as well as over 100 of Hollywood's hottest stars and has had her cakes featured on television. Now her days are focused on teaching cake decorating classes to all ages. Her favorite students are her two children, ages 3 and 5. She frequently writes cake decorating tutorials and recipes on the Rubina's Cake Shoppe Blog (www.rubinascakeshoppe.com/blog).