Let's be honest the internet is full of really dumb ideas and suggestions for kids. As parents, sometimes you can spot the super dumb things right away, and other times, you might not think the idea is that horrible (especially during a boring quarantine) until you see the result.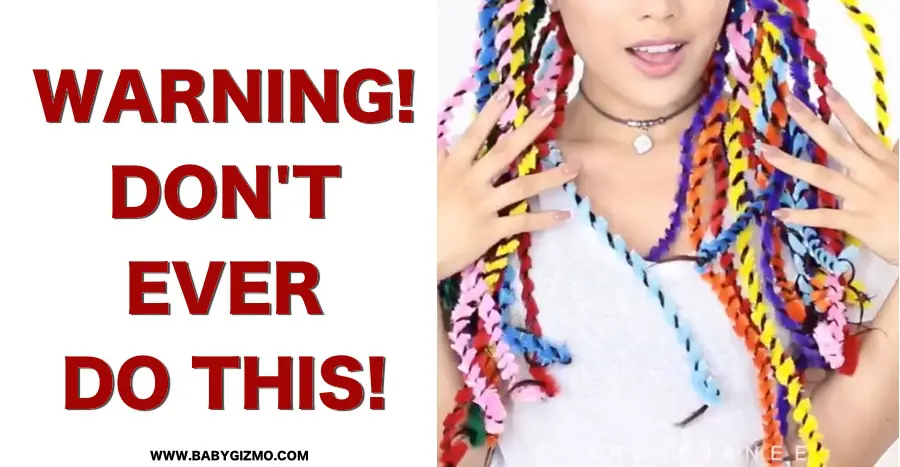 We are here to tell you that the viral "Pipe Cleaner Curls Hair Hack" is a bad idea. A VERY bad idea! And what makes it worse is that my teenage daughter saw it on Buzzfeed of all places!! Not the dark corners of TikTok (although it was there too!) but she found it on Buzzfeed. Do better, Buzzfeed!!
So let's get to what you should never let your kids do. My teen daughter has wavy, curly hair but thought it would be fun to get "pencil curls" with a quick pipe cleaner hair hack. Sounded easy.
Wrap small sections of your wet hair around pipe cleaners.
Leave them in overnight as you sleep so that the hair can dry.
Remove the pipe cleaners in the morning to reveal adorable pencil curls.
Yeah, not that easy. Not that simple. As a matter of fact, it turned out horribly, horribly wrong. So wrong, in fact, that we thought we might have to cut my daughter's long blonde hair all off into a pixie cut just to salvage what we could. (Spoiler alert: Luckily that didn't have to happen!)
So, take a peek at how this all went down…
Now that you know what happened to her hair, we couldn't leave you hanging with how we fixed it so we did a short follow up video…
The moral of the story is DO NOT LET YOUR KIDS DO THIS!! 🙂
Happy parenting!