I am ashamed to admit that I'm relatively new to the concept of a "one skillet meal" (or "one pot wonder"). They're all over blogs and Pinterest lately, it seems.
But then I realized- my absolute, most favorite meal of all times is something my mom made ALL THE TIME growing up. My mom was way ahead of her times, I guess. Here's her recipe that I make all the time- you're welcome in advance.
So anyway, there are two main awesome things about one skillet meals. The first- convenience. There is no need to use every pot and pan you own- everything cooks in one skillet. And the second, and more importantly- flavor. I find these pasta dishes to be so much more flavorful than a traditional pasta dish because the pasta is cooked in a sauce, not water.
Creamy Sausage and Tomato Pasta
As adapted from Kevin and Amanda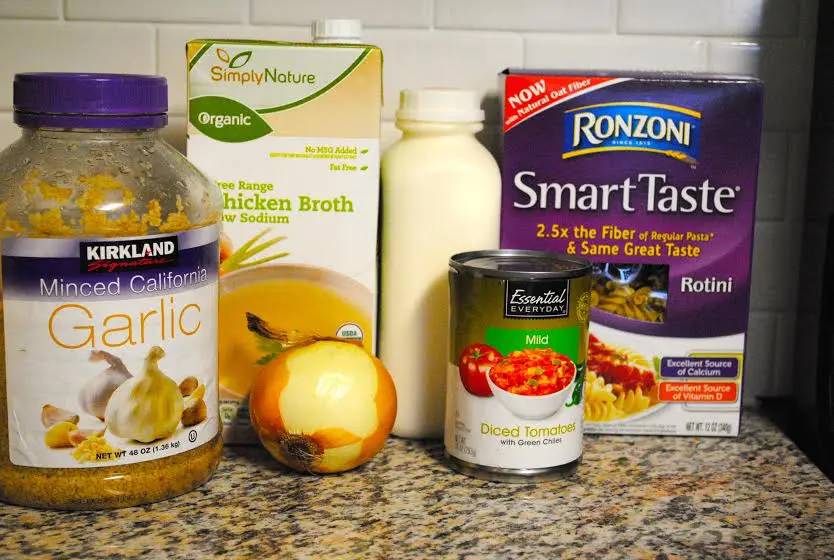 1 Tablespoon Olive Oil
1 lb Sausage*
1 ½ Cups Diced Onion
2 cloves Minced Garlic
2 Cups Organic Low-Sodium Chicken Broth
1 Can (10 oz) Ro-Tel Tomatoes and Green Chiles, Mild
½ Cup Heavy Cream
8oz pasta (I used rotini)
½ Teaspoon salt and pepper, each
1 Cup Monterey Jack cheese, shredded
1. Add olive oil to an oven-safe skillet over medium high heat until just smoking. Add sausage* and either fully cook or heat through. Add onions and sauté until brown, about two minutes . Add garlic and cook until fragrant, about 30 seconds.
2. Add the broth, tomatoes, cream, pasta, salt and pepper and stir. Bring to a boil, cover skillet, and reduce heat to medium-low. Simmer until pasta is tender, about 15 minutes. Be sure to stir every few minutes so it doesn't stick.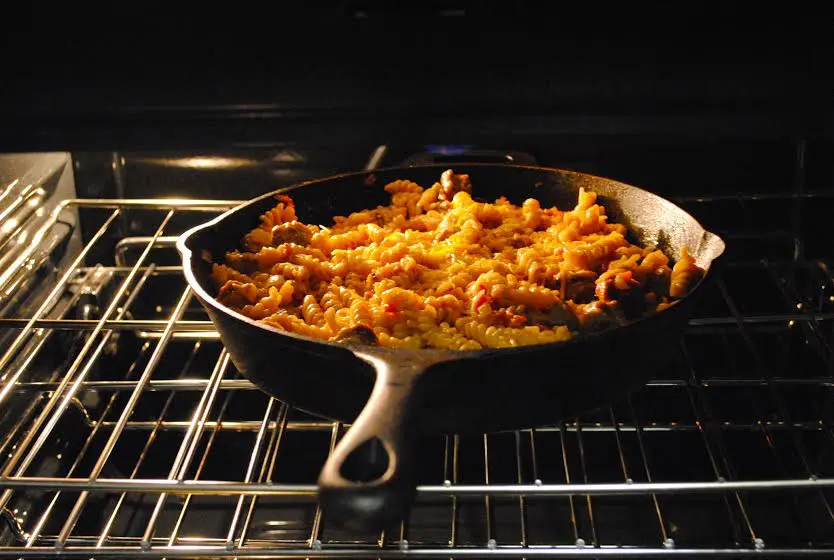 3. Remove skillet from heat and stir in 1/2 cup cheese. Top with any remaining cheese and broil until cheese is melted, spotty brown, and bubbly (about 3-5 minutes).
Makes 4 generous servings.
* I will note a few changes I made to the recipe, though. For starters, my husband is not a fan of smoked sausage in general. I tried this recipe once with the turkey smoked sausage as described in the original recipe. I then tried this on several other occasions- with chicken sausage and italian sausage (turkey and pork). All have came out equally delicious. So just something to consider if smoked sausage ain't your thang. (Note that most smoked sausage products are already cooked so you only need to heat them. If you go with an italian or traditional sausage, it's likely raw meat and needs to be fully cooked.)
I also cut way back on the shredded cheese. It is so creamy and rich without it, and I didn't miss it. I did use some cheese. Just way less.
All that said, I really recommend that you give this meal a shot. It uses very basic ingredients that are by no means healthy or clean. But the meal is delicious, and some days, that's all that matters. Treat yo' self!
Oh, and looking for another great one-pot dinner? This one is husband approved- Chicken Lo Mein from The Wholesome Dish.