When my family and I moved to Southern California last summer so that my husband could complete a yearlong fellowship, we knew we had to get bicycles to ride along the gorgeous beachfront bike paths. The question was, how could we take our 2-year-old twins along for the ride?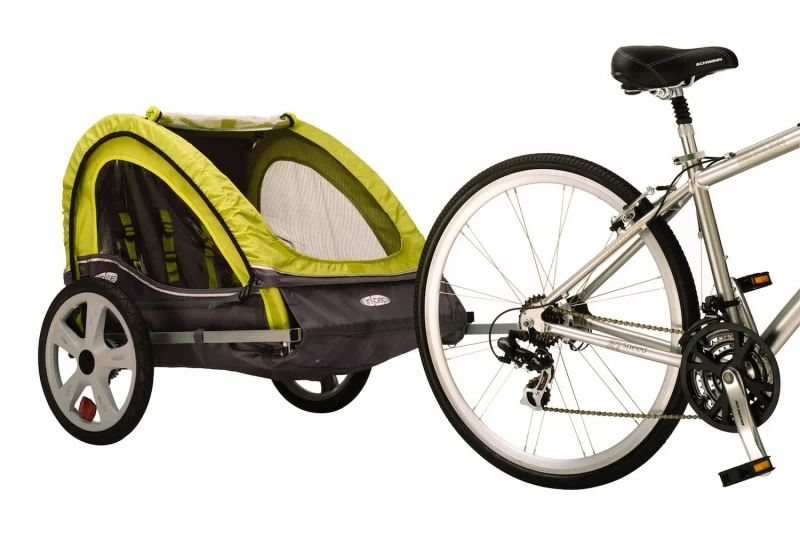 Options abound for toting toddlers on bike rides, from seats that sit on top of the bike (either in front of or behind the rider) to trailers that sit on the ground and attach to the back of the bike.
After doing a great deal of research, we finally decided upon the InStep Sierra Double Bicycle Trailer. We've taken the twins on several rides in it so far, and we couldn't be happier with our purchase! The Sierra is sturdy and very well-made. Our boys are each a little over 30 pounds and about 36 inches tall, and they fit comfortably in it. It is 32.5 inches wide, and the weight limit is 80 pounds, so we know we'll have lots of fun rides to come.
Let's start with the details. The InStep Sierra has the following features:
A 12-inch front tire and 16-inch rear pneumatic tires with molded rims for superior performance and durability
A 5-point harness with padded, adjustable shoulder straps and a padded seat to keep your kiddos safe and comfy
Pouches to hold your children's cups or small toys during rides
A small storage area behind the seat to hold small items such as a bike lock, a pump, a sweatshirt, etc.
A simple folding mechanism and quick-release wheels for easy storage
A 2-in-1 canopy with a bug screen and a weather shield that you can also choose to leave open
A tall, detachable bright-orange flag so that others can easily see your trailer
The trailer comes with a stroller kit with a swiveling front wheel and a handle bar so that you can push it like a stroller. This is great if you ride to town and then want to lock up your bikes while you stroll around! We've never done this, but we often see other parents pushing their Sierras, and it looks great. There's also a parking brake for extra safety while the trailer is in stroller mode.
The Sierra easily attaches to most bicycles with an included coupler. We have newer bicycles, so we simply take off the rear axle, place the coupler over the hub, and then slide the axle through the coupler. Attaching the trailer to an older bike takes a couple of extra steps, but the directions are clearly explained in the owner's manual.
At just over 33 pounds, the Sierra is relatively light and offers a very smooth ride. My boys beg to stay in it when our rides are over! My husband says it's easy for him to pull both boys. It is a bit more of a challenge for me, but still pretty simple. The trailer also handles turns very well!
The InStep Sierra and other bike trailers are meant for use with kids ages 12 months and older who can support the weight of their heads. Make sure to always put a bike helmet on your children when they are riding in a trailer!