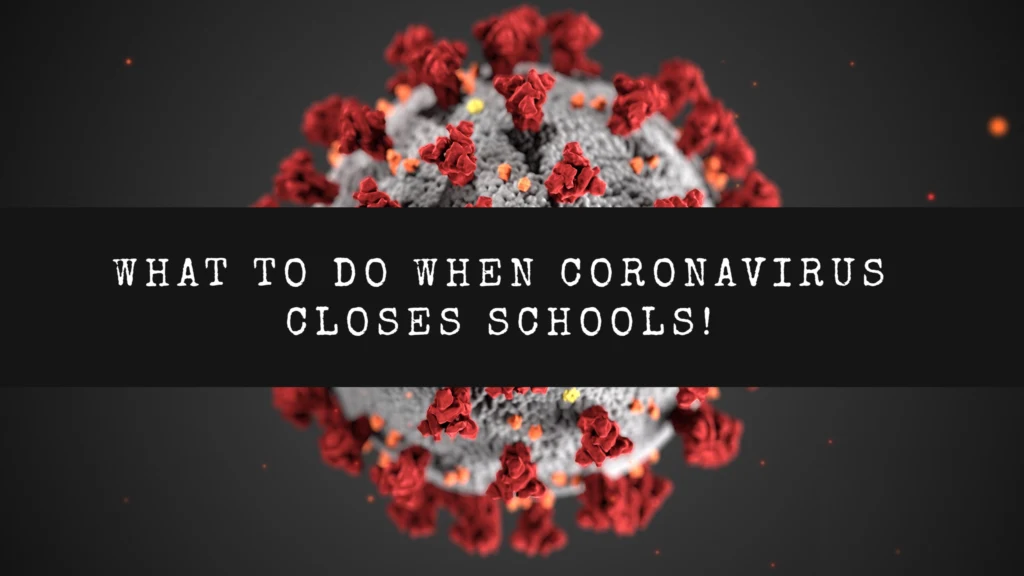 "Their school just closed. I have no idea what to do with my kids everyday. Help!"

This is something I'm hearing a lot from friends and family who are dealing with school closures due to COVID-19. After getting over the initial shock of not sending your children to school, think about how this time could be used in a positive way. Is there something you've been hoping to help your child with, but there just wasn't enough time?

Here are two other questions to consider:
Is there a certain subject at school your child is struggling in?
Does your child need any emotional help, such as gaining more confidence or being less hard on themselves?
This is our chance to spend a little extra time working on whatever they need help with. You don't have to be a teacher, you just have to be you! Because who knows a child better than their parent?
I'm not saying bring out worksheets and test prep books (but these are on Amazon, and they do help your child to remember things they've been learning in school), but to use the closures to help them with something they may be struggling with, so that both of you feel like it's been a good use of time. An added bonus? Doing things together (some things, not everything! No-one believes in perfect parenting) will allow you to reconnect, and that is probably something they need right now.
Keep in mind, while you're struggling with everything that's going on, your child has had their school close down, and they're most likely hearing words like "very sick," "hospital," and "death," so this can make it a scary time for them too. Our children, even the older ones, look to us for calm and guidance through any emotional storm. Let's do our best to be that for them.

Come together as a family and read, play games (we probably all have some board games that don't get used much when regular life is so busy), laugh together, let them create at home, and stay hopeful.

So here are some helpful resources that will hopefully make your time at home a little easier, and still full of fun learning.

Julie Bogart, Bravewriter- Language Arts
Julie is huge in the homeschooling world, and for good reason. Somehow she gets children, both the very young and the older ones, to just love writing! Julie is kindly offering a few of her educational resources on her website for free until April 30, 2020.

Scroll down this link to find great writing resources for all ages from Bravewriter

If you want to keep it simple, grab some snacks and a hot chocolate, download some poems, and have yourself a Poetry Teatime.

I will also add that her book, The Brave Learner, is a must read for all parents. You can even get the audio book here.

2. Khan Academy- Math
With many children struggling in math, Khan Academy, a non-profit organization, is free and offers practice exercises, instructional videos, and a personalized learning dashboard that empower learners to study at their own pace in and outside of the classroom. They tackle math, science, computer programming, history, art history, economics, and more.

Click here to create a Khan Academy parent account

3. Outschool.com– All subjects
Outschool.com is hugely popular throughout the world, as they have a class for virtually anything you can think of, for children from the ages of 3 to 18.

Better yet? Outschool just announced that they are offering free classes to those families affected by school closures.

"To get started taking Outschool classes for free, visit outschool.org, signup and enter the details of your school.

Outschool classes can be used to fill in gaps where school districts are unable to provide full-time remote schooling. Outschool teachers are background checked and classes are vetted to ensure they are safe, age-appropriate, objective and secular."

Their teachers are engaging, and I'm sure you will find something both you and your child love!

4. Amazon Prime Now and Netflix Educational Shows
Remember when we were kids, and we got so excited when our teacher wheeled in the tv with the video player to bless us with a 15 minute science show? We learned from them then, and kids learn from them now! So while we may not want our kids in front of the tv all day long, there are some brilliant shows that your children can learn a whole lot from.

You can find great Amazon Prime Shows here, and Netflix shows here.
5. Youtube Shows
Don't have access to Netflix or Amazon Prime Video? No problem, there is so much available on Youtube! Here are a few of our favorites:

SciShow Kids– A huge hit with kids, and you can think of a variety of ways to build on what they've watched. Make a poster about an endangered animal you want to save, or how to stop pollution!
Deep Look– Have an older child that is fascinated by bugs? This is the show for them!
Art for Kids Hub– With over 2.4 million subscribers, this amazing dad and his children show you how to draw a variety of characters and animals.
NatGeoKids– Explore the world with weird, wild and wacky videos!
Smithsonian Channel– There is an interesting video for every age on this channel.
Houston Zoo– Meet the animals there!
6. Podcasts
How lucky are our children growing up in a time of podcasts? Here are some that all ages can enjoy listening to:

7. Virtual Tours
It's 2020, and that means we can take a walk around various museums, in different parts of the world, right from the comfort of our homes! Check out this amazing museum tours link!

8. The Libby App
Since many libraries are also closing, did you know that they have thousands of ebooks and audiobooks that you can borrow for free, using just the device in your hand? Download the Libby app, or check out this link!

9. The Big Life Journal

Finally, if you would like to work on a growth mindset with your child, and help them as they struggle with confidence, failing at schoolwork, etc, the Big Life Journal is great for both children and the adults who help them. Sign up for their weekly printables, listen to the podcast, buy one of their PDF kits, and work together on your child's personal development. If you need more advice, join their Facebook group, and get the support of other parents.

These will help your child develop a resilient mindset so that they can face life's challenges, just like the one we're currently in.

Ladan Rashidi is a Family Liaison for Cabrillo Point Academy, a homeschool charter in Orange County, California. She has been homeschooling her children for almost 5 years.