Long before Wild Friends Nut Butters debuted on Shark Tank, I was a fan of their nut butters. Especially this one. Wild Friends began as Wild Squirrel, a simple peanut butter experiment between two college friends in Oregon that has boomed into a wonderful business. They've got talent, a delicious product and a business model that is inspirational. If you've seen Wild Friends on the peanut butter aisle and not yet tried it, it's time! I promise you won't be sorry!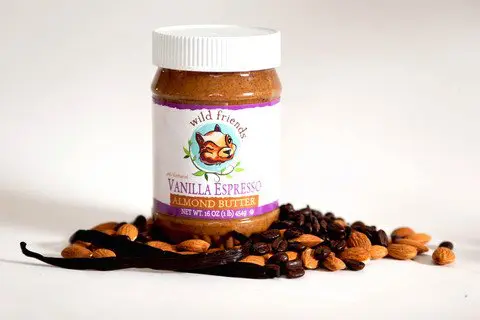 With the coming New Year, I'm sensing many of us are planning for some healthy food changes. Tossing the sweets and pastries and finding alternative snacks to fill the pantry. Wild Friends Nut Butters is at the top of my list. I love nothing more than a clean ingredient list that boasts exceptional flavor.

Best of all, Wild Friends has peanut, almond and sunflower butters, so whatever your preference or restriction – they've most likely got something you and your family can enjoy.

Use Wild Friends Nut Butters spread on toast, as an apple dip, mixed into oatmeal, baked into cookies or on a spoon! The recipes are endless! I've even shared one of my favorite ways to use the Chocolate Coconut Peanut Butter before – baked into bread!
Look for Wild Friends Nut Butters at your local grocery store, usually near the peanut butter or in the health food section. They range in price from $6..99-$11.99 and there are single-serve packs available too for easy lunch packing when school is back in session.
Follow Wild Friends on Facebook for updates and recipe ideas. You can #wildfriends when sharing your photos too!