Meet the new Safety 1st car seat! A car seat purchase is one of the most important purchases we will ever make- not only will it keep your child safe, but it is also the one piece of equipment that they will spend hours of their lives sitting, eating, drinking, sleeping, pooping, peeing, screaming. talking, whining, and crying in.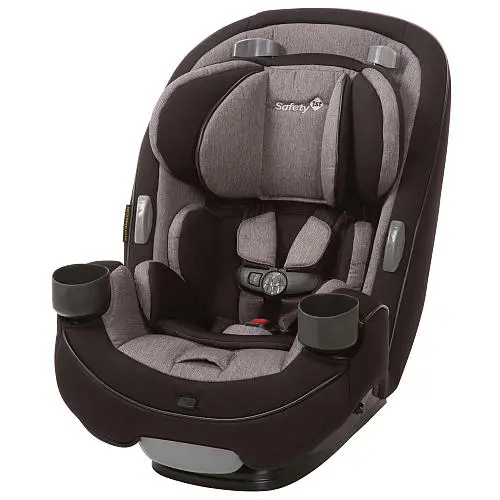 So my advice? Make it a good purchase.
We recently installed the Safety 1st Grow and Go car seat for our son who is almost 3, and although my husband's initial reaction was "Another baby thing?" my quick-thinking response of, "Yes, but this one lasts until ONE HUNDRED pounds! One hundred pounds! That's it buddy, we are DONE!" quickly brought a smile back on his tired Daddy face.
My little man loves this seat and so do I! Here are just some of its great features.
LONGEVITY
This car seat can be used from 5 to 100lbs, so this is it for your car seat buying days. You can use it rear facing to 40lbs, forward-facing from 22 to 65 lbs, and convert it to a booster seat for children who are 40 to 100 lbs.
COMFORT
I had to comment on this because my initial reaction was- "Your seat looks more cozy than my bed!" The seat is well padded, and you can remove the pillows as your child grows. We asked him if he wanted us to remove them, and it was a firm "No" every time. He likes his padding!
There are two cup holders (not an issue when your child is a baby, but really important when they're older!) which are so useful. We use one for water and one for toys or snacks. No more reaching in the back to pass him things- hooray!
EASE OF USE
"I love fishing around for a seatbelt!" said no parent ever. I'm so grateful that this seat comes with harness holders to keep the belts in place and make it easy to get your child in and out. I'm thinking that someone on the design team had a toddler who protested getting in their car seat! 😉 The 5-point harness can be loosened/tightened easily from the front, and with one quick step, you can adjust the height of the belt and headrest from the top. Easy peasy.
All parents of older kids know that car seats like to house every long lost food item and tons of sand, so the fact that the we can just remove the covers and wash them without needing to rethread the harness is also a big plus!
REAR FACING
Although we have not used this seat rear facing, I did want to mention two features that are important for new parents. The car seat has a 3 position recline, that adjusts with one hand, which is great when you're holding a baby and trying to change the recline at the same time! And secondly, they state "significantly improved rear facing installation – up to 7 more inches for the front seat." I remember my husband would always recline the driver's seat and bump into the car seat, so 7 more inches from the front seat is big deal!
All in all, we love this seat, but most importantly, our son does. Which is great because he's going to be in it for a very long time! 😀
The Safety 1st Grow and Go is available in three different colors and retails for $169.99 on Amazon.com
BUY The Safety 1st Grow and Go HERE
*Thank you to Safety 1st for sending us the Grow and Go car seat. As always, all thoughts, opinions and statements are our own.