If you have a baby (or more than one – bless your heart, all the mommies of multiples out there!), you may find yourself doing laundry all the time. Daily in many instances. It may not be a huge load of laundry, but there is always something to be washed when you have littles in the house.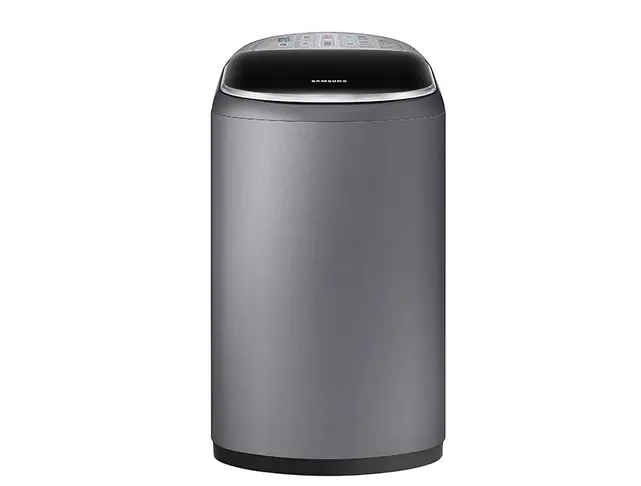 When I had my first baby, I thought if I bought more than seven onesies and seven bibs and basically seven of everything that I would only have to do laundry once a week. Ha!
"That's not how this works. It's not how any of this works," in my best Essurance old lady voice.
Babies just don't go through one of anything a day! It could be 5 bibs and 6 burp cloths in one day and more or less the next. And if you are a cloth diapering mama, your loads will increase.
So, back to the size of the laundry loads. They aren't always big, and many times you may wish you could just throw your baby's delicates into the wash with your husband's socks and underwear, but that is never a good idea for anyone. You probably want to keep them separate.
This is where the Samsung Baby Washer could come in handy, and there are other times, like if you lived in a small apartment without laundry facilities and you are forced to schlep the baby's laundry down to the complex's shared laundry or to an actual laundry mat.
This mini-washer is about the size of the mini-fridge you had in college but could be so much more useful if you do a lot of baby laundry. It has features such as a compact, modern design, a super-sanitize setting which uses water at 194 degrees to get your dirtiest cloth diapers clean. It also has soft close lids that keep in mind that some times loud noises may wake the baby.
VRT Technology that is so quiet most babies will sleep right through it and up to 6 rinse cycles to make sure there is no detergent residue anywhere near your baby's clothes, it can be used after the baby stage for smaller loads, athletic wear, or for those apartment dwellers.
The Samsung Baby Washer comes in two colors, White and Platinum, and is retailing for $599 (although it is on sale for $549 right now on Amazon).
SHOP the Samsung Baby Washer HERE
We've been testing this new Samsung Baby Washer out for a couple months and we tell you all about it in today's Baby Gizmo video below.
SAMSUNG BABY WASHER FEATURES:
Superior Rinsing – Powerful Double-Rinsing Technology
High Temperature Sanitization – Safeguard your Baby from Germs and Bacteria
Self Clean – Washer Self-Cleans Without the use of Harsh Detergents or Chemicals
Soft Close Lids – Easily Open and Close the Lid Without Making a Sound
*Disclosure: Samsung provided our BG mom with a unit for review consideration. As always, all our thoughts, opinions and statements are our own.