I've always been a breakfast girl. French toast, yes! Pancakes, even better! Toast with apricot jam, one of my favorite! But recently, I've come to realize that I feel much better throughout the day if I start it off with a protein rich breakfast. Hence, the birth of a Starbuck's copycat – the Sausage and Cheddar Classic Breakfast Sandwich which I have dubbed the breakfast sandwich of champions.
Now, I'm sure you're thinking, what's so special about making a breakfast sandwich. Who needs a recipe for that? Well, let me tell you, the surprise lays in the egg preparation …
SAUSAGE, EGG AND CHEESE BREAKFAST SANDWICH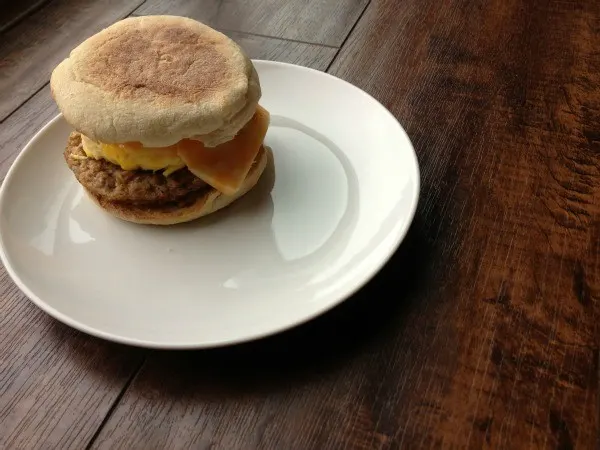 INGREDIENTS
1 egg
dash of milk
dash of salt & pepper
1 slice of cheese, Colby Jack is my preference
1 sausage patty
1 English muffin, toasted and buttered
DIRECTIONS
Toast your English muffin, butter and lay open on a plate.
Prepare sausage patty according to directions. I purchase Jimmy Dean patties at Costco and you can prepare them on a skillet or microwave them. Place on top of one side of the English muffin.
While your sausage patty is cooking, crack your egg into a coffee mug, add milk, salt and pepper and whisk. Microwave* for one minute. Add cheese on top of egg (while it's still in the mug) and microwave for another 15 seconds.
Scoop your egg out with a large spoon and place on top of your hot sausage patty. Top with the other side of the English muffin and dig into your protein rich breakfast!
*Every microwave is different. Play around with yours to get the perfect timing.