I've always struggled with preparing Asian recipes at home. I can't get enough of spring rolls, pad thai, and curry when I dine out, but for some reason those recipes never transpire quite right at home. I don't think I have enough patience or perhaps knowledge of the right ingredients. But, I keep trying and occasionally I have an Asian inspired dinner win. This slow cooker recipe for honey garlic chicken is one of them! A real crowd pleaser too – my kids love it!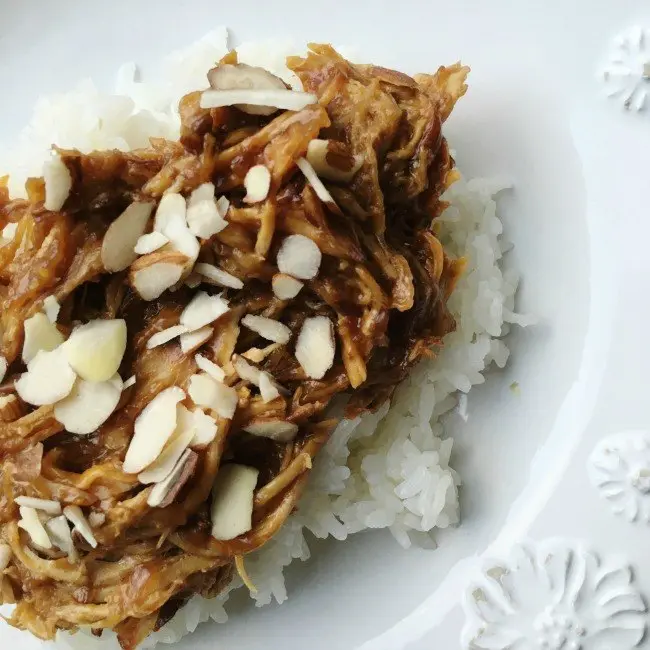 Ingredients
3 large chicken breasts, boneless and skinless
1/2 cup honey
1/2 cup soy sauce (or coconut aminos if you prefer a gluten free version of this meal)
1/4 cup blackberry jam
1/4 cup hoisin sauce
2 tablespoons olive oil
3 cloves garlic, minced
1/2 cup onions, diced
1/4 teaspoon chili powder
1 tablespoon cornstarch
Optional: Sliced green onions, slivered almonds, or sesame seeds for garnish
Directions
In the bottom of your slow cooker, arrange the chicken breast so they are not overlapping.
Next, make the sauce. In a medium bowl, mix together honey, soy sauce, jam, hoisin, olive oil, garlic, onion, and chili powder. Pour over chicken breasts and cook on low for 4 hours.
Remove the chicken from the slow cooker and shred. Pour all the liquid in the slower cooker into a saucepan. In a separate bowl, make a slurry with the corn starch and 3 tablespoons of cold water. Pour the corn starch slurry into the saucepan and whisk well over medium heat. This will thicken the sauce. Place your shredded chicken back into the slow cooker, pour thickened sauce on top and gently toss.
Prepare rice in a rice cooker (this is my new favorite all in one kitchen item!) and when it's done plate your meal – rice, honey garlic chicken, and a sprinkle of garnish if you choose!