I'm the kind of cook who has grand aspirations and fails about half the time. Especially when it comes to a healthy and filling breakfast. Those cookies from the previous night are just so tempting some times, but definitely not an appropriate breakfast! I've learned my lesson with this recently while trying to explain to my 3 year old why mommy is eating a cookies at 8am, ha! No good reason there!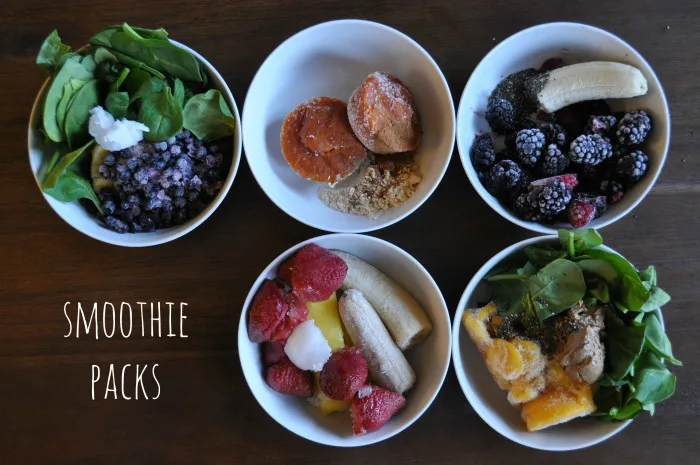 BENEFITS OF DRINKING SMOOTHIES
Smoothies are delicious and nutritious beverages that can help you meet your daily fruit and vegetable needs. By blending fresh or frozen produce with liquids like water, juice, milk, or yogurt, you can create a smoothie that suits your taste and dietary preferences.
Smoothies offer many health benefits, such as increasing your fiber intake, boosting your vitamin C levels, and promoting satiety. They may also help lower blood pressure and improve blood sugar control by including ingredients like leafy greens, berries, nuts, seeds, and protein sources. Drinking a smoothie every day can be an easy and enjoyable way to improve your wellness and vitality.
SMOOTHIE INGREDIENTS AND BENEFITS
Berries: Berries are rich in antioxidants, fiber, and vitamin C. They can help lower inflammation, protect against oxidative stress, and support immune health.
Leafy greens: Leafy greens like kale, spinach, and arugula are loaded with vitamins A, C, and K, as well as minerals like iron, calcium, and magnesium. They can help lower blood pressure, improve blood sugar control, and boost eye health.
Nuts and seeds: Nuts and seeds like almonds, walnuts, chia seeds, and hemp hearts are excellent sources of healthy fats, protein, and fiber. They can help promote satiety, lower cholesterol levels, and support brain function.
Greek yogurt: Greek yogurt is a high-protein dairy product that can help build muscle, strengthen bones, and improve gut health. It also adds creaminess and tanginess to smoothies.
Beets: Beets are root vegetables that have a vibrant color and a sweet earthy flavor. They are rich in nitrates, which can help improve blood flow, lower blood pressure, and enhance exercise performance.
Ginger: Ginger is a spicy root that has anti-inflammatory, antibacterial, and antiviral properties. It can help soothe nausea, aid digestion, and fight infections.
So, a few weeks ago I decided to start prepping smoothie packs to eliminate the "what can I grab quick for breakfast?" conundrum. It took me all of 10 minutes to fill a handful of bowls with a variety of my favorite smoothie ingredients. Here's my top 5: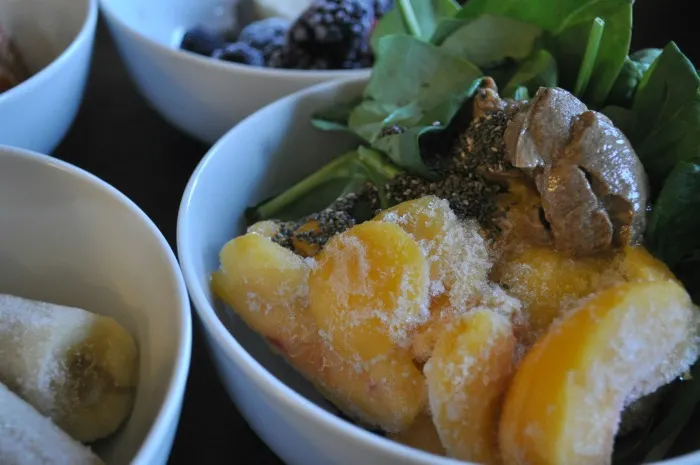 Hidden Greens – bunch of spinach, cup of frozen blueberries, slice or two of frozen mango, heaping tablespoon of coconut oil, half a frozen banana.
Protein Pumpkin Pie – 2 frozen muffin tin scoops of pumpkin pie mix (this is a perfect way to save that 1/2 a can that always seems to be leftover from various recipes), scoop of protein powder <— my favorite.
Berry Blast – 2 big scoops of frozen blackberry and raspberry (marionberries if you have them!), 2 teaspoons chia seeds and 1 frozen banana.
Pine-Straw-Banana – 2 spears of frozen pineapple, 1 big scoop of strawberries, 1 frozen banana and a heaping tablespon of coconut oil.
Peachy Green – 10 slices of frozen peaches, 1 big handful of spinach, a few chunks of frozen mango, 1/2 a frozen banana, dash of chia seeds and scoop of almond butter.
From here, I dumped each bowl into a freezer baggie and placed them in the freezer. Done! Now, with one quick dump I have all my ingredients in the blender and add just enough liquid to get it spinning well. My liquid choice alternates between almond milk, whatever juice we have on hand or my favorite, Naked Juice Mighty Mango … whatever seems to match the best. It's that easy to have quick smoothies ready to go!
A side note on ingredient sources – I pick and prep like crazy during the summer months to stock up on fresh, local produce. For things like mango and pineapple (not even close to being available locally) I'll watch for a good sale on and then stock up and freeze. Organic spinach, coconut oil, almond butter and bananas all come from Costco. Because, well, Costco pretty much owns me 🙂
And, I can't say enough good things about our Vitamix. It's a billion years old (bought it at a garage sale and the label definitely looks like it's from the 80's) and it still works amazingly well. Then again, if the price point of the Vitamix isn't up your alley, I can vouch (via my sister) that the Ninja does a good job too.