With out and about entertainment limited we've been making the most of our days at home. There has 100% been an increase in screen time between school Zoom calls and general "mama needs a little break" TV time, but there has also been an increase in music. We've been rockin' and rollin' to Disney singalongs, classics, and my very favorite collection of songs >>> this at home playlist.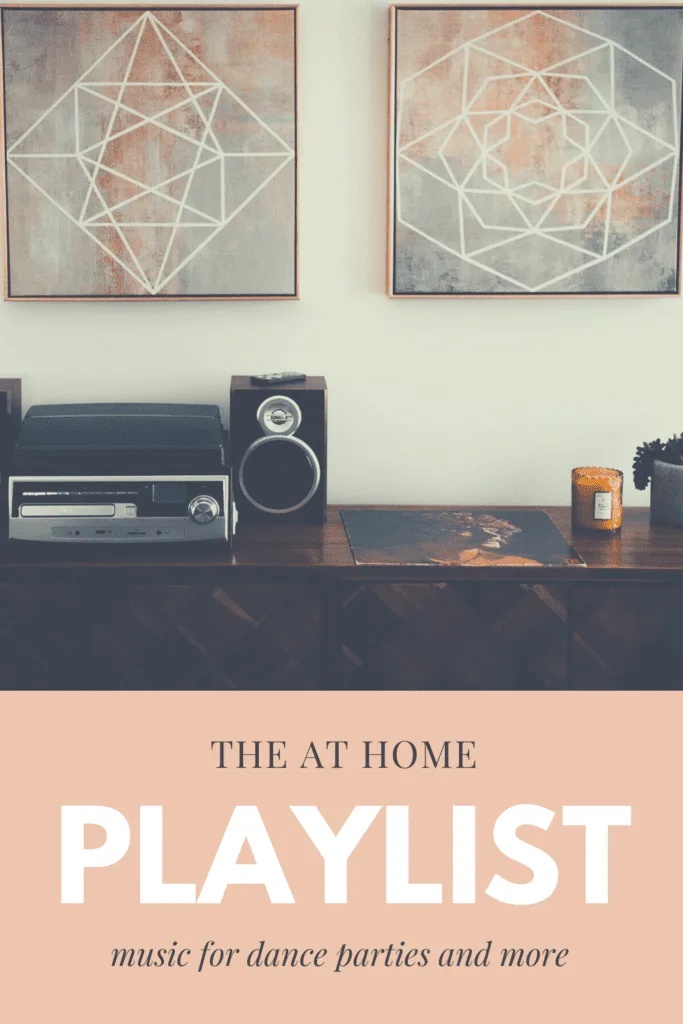 Take a listen on Spotify or add these fun tunes to your own playlist to make the days at home a little more upbeat.
When Can I See You Again? by Owl City — My daughter has declared this the theme song of our "stay home, stay healthy" season of life.
I Love You Forever by Donna Lewis — Talk about a classic. I love crooning "I love you near and far, always forever …" to my kids!
The Greatest by Sia — She sings, "Don't give up, I won't give up, Don't give up, no no no" … it's a good thing to believe these days!
Back Home by Andy Grammer — Even when we can go, we'll always come back home!
Better Place by Rachel Platten — I love singing this to my kids, "It's a better place since you came along" … it's so true!
Trampoline by SHAED — I mean, aren't we all jumping as often as we can?
Mom by Meghan Trainor — Every kid needs to know the mom song!
Home by Phillip Phillips — Truly, home is a wonderful place to be and this song croons that truth.
Into the Uknown by Idana Menzel, AURORA — Feels like we're running into the unknown right now, doesn't it? Elsa gets it!
Don't Stop Believin' by Journey — Another classic that brings out all the feels!
I Wanna Dance With Somebody by Whitney Houston — A perfect kitchen dancing song, grab a kid or sibling and singalong!
Livin' On a Prayer by Bon Jovi — Love this one! And now my kids do too!
Manic Monday by The Bangles — The perfect song to begin each week with … or any other day that feels like a Monday.
Under Pressure by Queen, David Bowie — Kinda feels this way lately, doesn't it?
Good Time by Owl City, Carly Rae Jepsen — The perfect reminder that we can make the most of any day, at home or not!
What other songs does this playlist need?
Would love to hear your at home favorites!