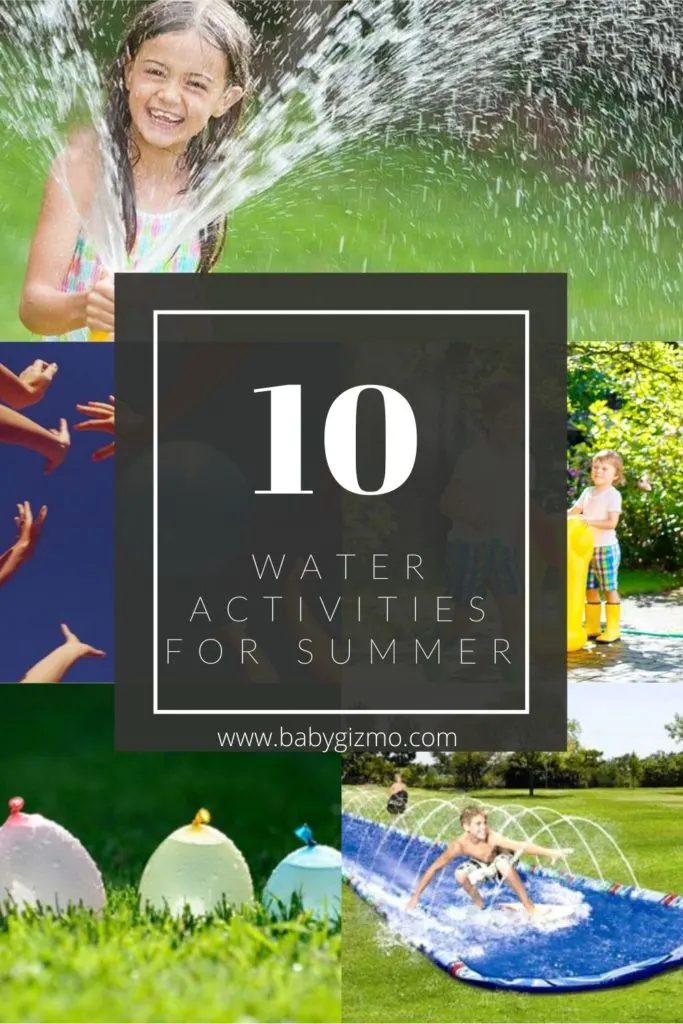 I don't know about you but all my son wants to do during summer is be in the water. Honestly, when it's hot outside, that's about all I want to do too. So here are 20 fun water activities to try this summer!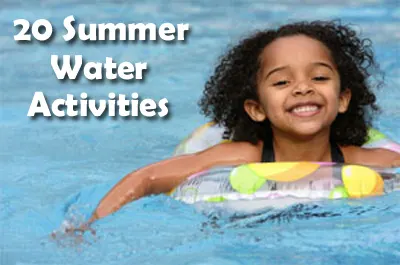 1. Liquid limbo. Use the stream from a water hose as the stick for a high stakes game of limbo!
2. Backyard bath. Take advantage of a warm summer evening by bathing your baby outdoors in a kiddie pool!
3. Hose fun. Get the hose out and let the kids play. Simple as that!
4. Water balloons. Play a good round of water balloons! Catch them, throw them, have a blast!
5. Water guns. Nothing beats having a good ole fashioned water gun fight!
6. Freeze toy. Place plastic toys in ice cube trays, add water, and freeze. Let the prize melt in your child's hands! Got a big enough freezer? Place toys in a container full of water, freeze it, and have your older kids do their best to get the toys!
7. Sponge fun. Let your kids play with sponges and water buckets. They can have races with them, throw them, or just get soaked!
8. Pool throw. Float an inner tube in the center of the pool and toss a bunch of balls in the water. Kids who know how to swim unassisted can jump in, retrieve he balls, and try to toss them in the tube.
9. Fun noodles. You can get these for $1 at the Dollar Tree and kids love floating on them and playing with them in the pool!
10. Water plants. Use the hose or spray bottles to water the plants this summer.
11. Slip and slide. I don't know anyone who doesn't love a good ole fashioned slip an slide on a hot summer day!
12. Water baseball. Practice batting with water balloons! So much more fun.
13. Chalk paint. Add water to sidewalk chalk for a cool paint combo like this.
14. Doll bath. Reuse your old baby bath for doll bathing. Kids will love giving their own baby dolls a bath outside.
15. Knock Em Down. Fill bottles with colored water, grab a ball and try to knock them all down.
16. Waterfall. Make a waterfall from a pool noodle. Just poke some holes in it, close one end and hang it up, as described here!
17. Water relay and games. Have a water relay with some cups and buckets. There are so many different water relays you could do!
18. Ice cube painting. Paint with colored ice cubes for a cool crafty activity. This tutorial will show you how!
19. Spray fight. Use spray bottles as makeshift water guns and let your kids go to town!
20. Can't get to the beach? Make you own ocean in a bottle using a few supplies like this one!