During our visit to the Wilderness Hotel and Golf Resort in the Wisconsin Dells, I witnessed a procedure that I think is complete brilliant.
Have you ever been concerned at a pool or water resort that the lifeguards aren't truly paying attention? I know I do all the time. Lifeguards are usually young and since their job is to just sit and watch the water, I just think they get easily distracted. I've seen lifeguards gazing at the sky, messing with their nails, zoning out and just overall not paying attention 100% of the time.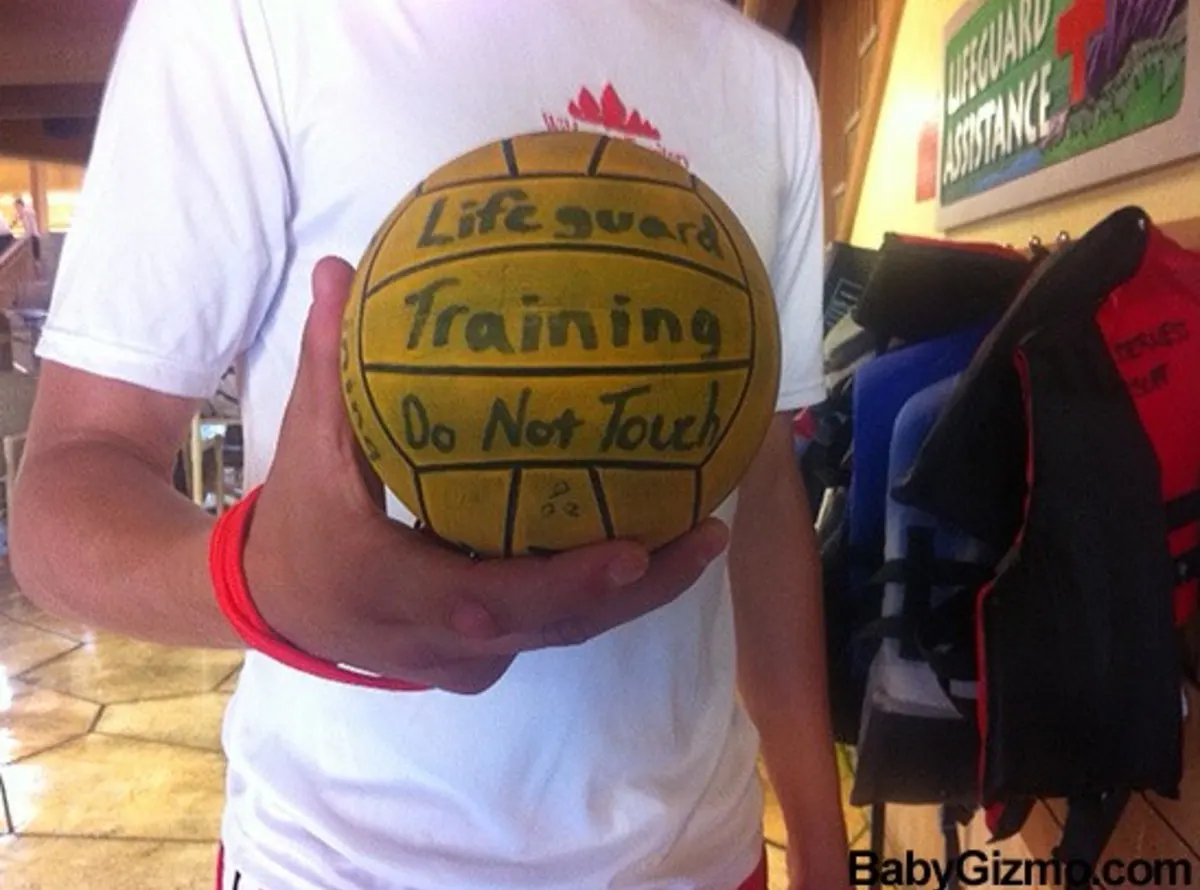 I did not see any of this at the Wilderness Resort. All the lifeguards really seemed on their toes and I soon found out why.
As we were sitting in our chairs poolside, we witnessed a small ball the size of a miniature basketball get tossed in the water right in front of us. The ball toss was so unobtrusive that we barely noticed it. We didn't even see where it came from at first. All of a sudden the lifeguard sprang into action. Within just a few seconds, he blew his whistle, pointed directly to the ball and then jumped in the water to retrieve it. All this took less than 10 seconds. We still didn't know where the ball came from until we saw the lifeguard looking at a man approaching him with a red shirt.
Still not entirely sure what happened, I had to investigate. That lifeguard was clearly "saving" that ball for a reason. What I learned about this event impressed me so much about how Wilderness runs things that I had to share it with you.
That ball toss was a lifeguard test – a pop quiz if you will. The man in the red shirt was one of the lifeguard supervisors. This test is a way that Wilderness keeps their lifeguards on their toes and in my eyes one of the most kid-friendly resorts I have been to in a while.
A water park, resort pool or any public pool area can be a scary place with kids. Drownings can happen in a matter of seconds, with no warning and usually with no sound. It's scary. While I whole heartedly believe that parents should always be watching their own kids, things happen.
A parent turns their back, toddler missteps and ends up falling in, a young child mistakenly believes they can swim. The list is long of what could happen. Plus, public pool areas can be crazy busy making it even more scary. Lifeguards are there to be an extra precaution. A person hired with the sole job of watching the water in case something goes wrong on the water.
I'm sure it can be a very boring job because there is no socializing, texting, facebooking or even daydreaming on the job because it could be a matter of life and death. But let's face it – it's their job. How do you make sure they are doing it and doing it well?
Wilderness has figured it out. At least one time during every shift in each of the water parks on the property, a lifeguard is tested. A ball is tossed in the water with no warning by a supervisor. And to really make sure they are paying attention, the supervisor may recruit a "helper" to toss the ball so the lifeguard isn't always looking for the supervisor's red shirt. While it is required that at least one lifeguard per shift per waterpark on the property is tested, there is always a possibility that there could be more.
How Does the Lifeguard Training Ball Work?
The lifeguard had 10 seconds to see the ball. They have to immediately point to the ball, blow their whistle and scan the room to find the supervisor who tossed the ball. Even is a ball tosser was recruited, the supervisor will always be nearby. The lifeguard then waits to see a sign from the supervisor if they should retrieve the ball. The lifeguard then has 20 seconds to retrieve the ball.
The ball is to signify a possible drowning toddler. There is no warning and action has to be taken quickly.
Brilliant.
I have never seen this happen anywhere else. There is a good chance that many other hotels and busy resorts do it and I just haven't seen it but I am seriously so impressed by it. I am so impressed that Wilderness Hotel and Golf Resort has this procedure in place because a child's safety is #1 in my book. That's why I think this makes Wilderness one of the best kid-friendly resorts in the Midwest!
Watch the lifeguard test in action in our Baby Gizmo Video Spotlight below:
If you are looking for a super fun, kid-friendly resort in the Wisconsin Dells definitely check out the Wilderness Hotel & Golf Resort! Stay tuned for our full review (including video!) of the resort!