Earlier in the year, we reviewed the Thule Urban Glide single stroller for all those sporty parents looking for a quality jogging or sport stroller. Now it's time to focus on those parents with more than one kid, whether they have twins or two children close in age. Just because you have more than one child doesn't mean your sporty days are over. It just means that you need a double stroller in order to hit the open road with both kids in tow.
That is where the Thule Urban Glide 2 comes in. This full-featured jogging stroller sports large, air-filled tires, independent reclining seats and large canopies, and an easy, one-handed fold.
THULE URBAN GLIDE 2 VIDEO
SEAT
The Urban Glide 2 has a weight capacity of up to 100 lbs. Each seat measures 13″ wide with a 20″ seat back and a measurement of 22″ from back of seat to canopy. There are padded, 5-point harnesses to keep your babies safely in the seat. We love that the harness buckles are easy for mom to do but impossible for mischievous toddlers to master. The seats have individual deep reclines, and the mesh pockets on the inside and on the back of each of the seats is great for extra storage.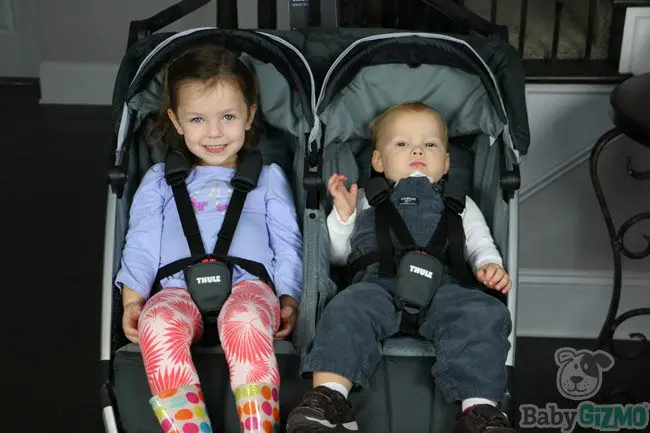 BASKET
Under the seat is a large cargo container with a water-resistant, zippered lid. It's not only great for keeping your belongings dry, but also contained and out of sight.
CANOPIES
The dual, independent canopies are large and sport a pop-out sun visor to shade your children from the sun and elements. Each canopy has a peek-a-boo window that sports a cover with magnetic closures.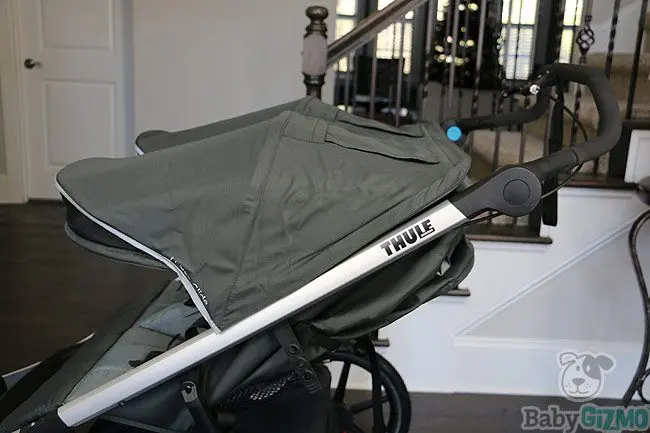 HANDLE
The one-piece, ergonomic handle is foam covered and adjustable up and down from 30″ from ground to handle to 44″. It sports a hand brake that activates rear disc drum brakes to slow the stroller down while running hills.
THULE URBAN GLIDE WHEELS
The Thule Urban Glide 2 rolls on 16″ rear and 12″ front air-filled tires. The front wheel is a 360 degree swivel wheel for excellent maneuverability but has the ability to lock straight for sport use. There is also a tracking control to keep the stroller rolling straight. The rear wheel suspension absorbs some of the bumps so that you are kids aren't tossed around too much and the one-step, rear brake locks the stroller into place.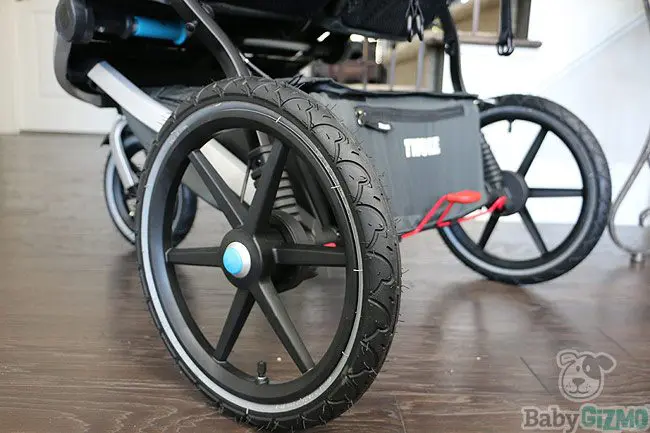 FOLD/UNFOLD
Folding and unfolding the stroller is easy to do and the fold can even be done with one hand. Under the calf rest is a blue handle that just needs to be slid over and turned with your hand to fold the stroller down. It's not the most compact folded package in the world (which we expect from a jogging stroller!), but if you remove the rear wheels, it becomes smaller. We do like that the Urban Glide 2 has a standing fold.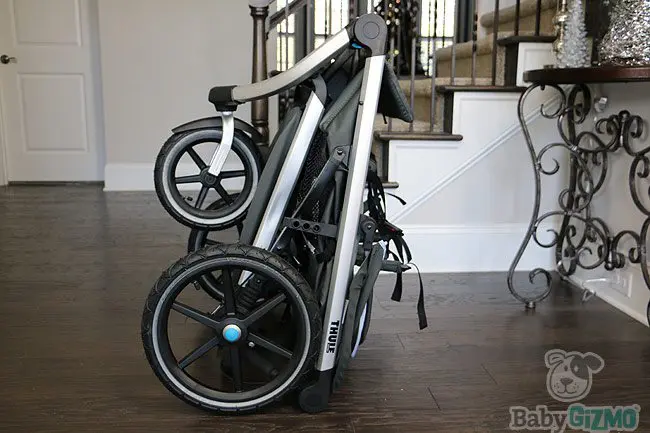 THULE URBAN GLIDE ACCESSORIES
There are a few accessories sold separately for the Thule Urban Glide 2 stroller that you definitely want to look at including a snack tray, handlebar console, rain cover and mesh cover.
WRAP-UP
The Thule Urban Glide 2 isn't a cheap purchase retailing at $649.99 (it's on sale for $599 on Amazon right now!) but it's on par with other quality double jogging strollers. If you are looking for a sports stroller with a sturdy, quality frame, easy maneuverability and great storage, you may want to consider the Thule Urban Glide 2.
SHOP the Thule Urban Glide 2 Stroller on Amazon.com