My son recently had his 18 month well check up and the older he gets, the harder the doctor visits get. He is old enough now to know that shots are coming but too young to communicate and see the whole picture. I've been trying to get creative and find ways to help his visits go smooth to keep him happy and wanted to share some tips with you today!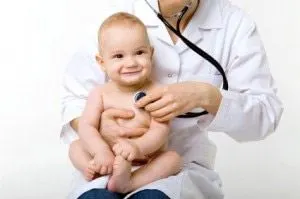 1. Keep your little one busy the whole time. From the moment we step foot in the doctors office I keep my son occupied and happy. We play with all the toys and read all the books they have.
2. Make sure your child knows the Doctor is a friend and not the enemy. When the Doctor comes in I greet him, shake his hand, and make sure I have a big smile on my face. This helps my son to see that mommy likes the doctor so he doesn't need to be scared.
3. Dress your child in loose fitting clothes that are easy to take on and off. Since my son needs to get undressed for his appointments down to his diaper, I find it helps to keep the ball rolling if he's in clothes I can get on and off really fast.
4. Bring candy. Hey, it works. When it comes time for shots I remind my son that he can have a treat when he's finished. A few M&M's go a long way.
5. Ask the nurse administering the shots if she can have another nurse help to do all the shots all at once. Sometimes your child may need a good three or four shots and when they think it's all over, the shots keep coming. Sure it's going to hurt, but it's over so much quicker and my son is back to being himself sooner.
Wishing everyone healthy and happy doctor visits in the future! Stash those diaper bags with treats and good luck!
If you have any tips that work for your child in the doctor's office, I'd love for you to share them in a comment.