Did you and your littles participate in your local summer reading program?
We did! It was a wonderful weekly commitment to: visit our library, find new books, chart our reading adventures, listen to story time, do crafts, and scoop up some great coupons for local businesses after completing each week. Our library really went above and beyond in making reading fun for my toddler and preschooler – it's no wonder they're becoming book lovers!
Of course, it helps that there are hundreds of amazing books in their favorite genres. This summer we had a hefty dose of ballerina, princess and mermaid books as well as dinosaurs and farm animals. Those seemed to be among our favorite stories and we turned page after page together anticipating the bright artwork, silly songs and funny characters. Yes, reading did us well this summer.
We also discovered audio books. WHERE HAVE THESE BEEN ALL MY PARENTING LIFE? Children's audio books have become a lifesaver when winding down for nap and even road trips! There is nothing sweeter than looking in my daughter's room and seeing her quietly perched on her bed waiting for the "ding" to turn the page in her favorite story. The green sticker books (how our library designates an enclosed CD for listening) are like finding treasure!
Going into fall, I'm sure many of us mamas are hoping to continue the reading love so I thought I'd corral and share our top 10 library books from our summer reading program experience. Here they are …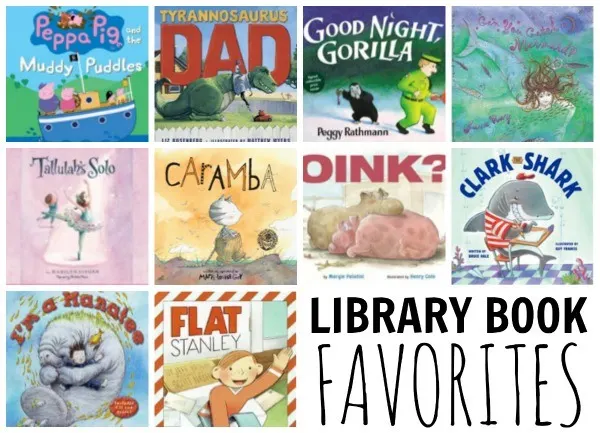 Peppa Pig and the Muddy Puddle by Neville Astley

My kiddos love this show and therefore loved the book too – especially when their Daddy makes funny pig sounds!

Tyrannosaurus Dad by Liz Rosenburg

Ever imagined what it would be like to have a T-Rex for a Dad? This book will give you an idea!

Good Night, Gorilla by Peggy Rathmann

Classic! Few words, which leaves room for many questions and storytelling by your little one.

Can You Catch a Mermaid? by Jane Ray

We've renewed this one a few times because my daughter just can't get enough of the thought of having a mermaid for a real friend!

Tallulah's Solo by Marilyn Singer

This one has officially graduated to my daughter's birthday wish list. We may have even shed tears when we had to "give it back to the library for another little girl to checkout." It quickly went back on our hold list and is safely back on my daughter's nightstand. There are 3 other Tallulah books too!

Caramba by Marie-Louise Gay

Authored by the fun and famous Stella & Sam creator, Caramba is another winner!

Oink? by Marge Palatini

Peppa Pig inspired us to find more pig books – apparently my little ones have a favorite farm animal!

Clark the Shark by Bruce Hale

Another one on our shopping list. Clark is definitely our favorite shark out there!

I'm a Manatee by John Lithgow

Great rhymes with one of my personal favorite animals!

Flat Stanley by Jeff Brown

Who would have ever thought being flat could be so much fun?
What books has your family fallen in love with this summer? Leave us a comment and let us know!