Of course, the day that the kids try to sleep in past 8am, I have to wake them to get ready to go on a port excursion. I think that is part of Murphy's Law or something. It is Day 4 of our Carnival Freedom cruise and it was another port day. Today we docked in La Romana, Dominican Republic. We had a "Bayahibe Beach Break" shore excursion lined up that took us to a 5 star resort for a little sun, fun and relaxation.
So far I love that the ports on this cruise have been walk-off instead of waiting in line for a tender. We boarded a large, air-conditioned bus (I was happy about that part!) for a 30 minute ride to the resort. We arrived at the Be Live Resort and were greeted with drinks in huge coconuts.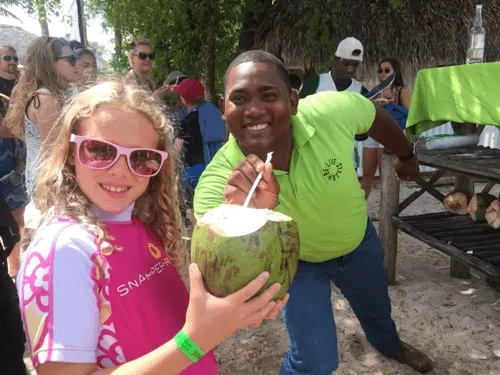 We grabbed our drinks and headed right to the beach. I was super happy to see another beautiful white sand beach but I was a little disappointed at the rockiness of the entry into the water. Again, it didn't bother the kids one bit because they jumped right in with their goggles on their hunt for fish.
After an hour or so at the beach, we beelined for the pools. The pools were gorgeous and the kids couldn't get enough. There were other things to do at the resort such as sand volleyball but the kids just wanted to stay in the pool. It was a laid back excursion but exactly what we needed for our 4th day on the cruise.
After we returned to the boat, even though the kids must have been tired, they insisted on heading to Camp Ocean to make sure they didn't miss anything "awesome." We dropped them off and headed to the fitness center. I'm glad I returned to the gym not only to work off some of the food that I've been devouring, but it also showed me that the fitness center isn't always as busy as the first day we went. We were at the gym at 4pm which meant that everyone was back on board, but the gym wasn't crowded at all. I guess everyone was just eager little beavers at the beginning of the cruise with big expectations to stay in shape over a week of non-stop eating, but just like all those New Year's resolutions that are abandoned so quickly, people dropped their daily visit to the cruise gym early this week.

The pools weren't nearly as crowded today either. I'm guessing that those first two days people were so eager to do everything on board and absorb the sunshine that they all headed to the pool at the same time. Now, everything has settled down a bit and people have found other things to do on board.
Tonight's dinner was in the Sun King Restaurant on board that is a steakhouse that has a $35 fee per person, but you are pretty much treated like a king with their food. Luckily our steakhouse dinner coincided with Camp Ocean offering to take the kids to dinner, so it was an adults-only dinner! Woot! Woot!
I know you must be judging me by now that I'm putting my kids in Camp Ocean a lot but they truly love it and beg to go. They want to be with their new found friends and after hanging out with old mom and dad all morning and early afternoon, they are ready to ditch us for some kid fun.
The Sun King Restaurant was amazing! I had french onion soup and a salad as starters and followed that up with a delicious surf and turf dinner entree.

Everything was cooked to perfection and I was actually able to eat it when it was hot since I wasn't cutting up my 4 year old's chicken tenders or asking my 7 year old to keep his rear in his seat for the 10th time during dinner.

The meal included wine and the most amazing dessert selections. I chose the Chocolate Sampler, which was divine, but the cheesecake looked fantastic and was pretty much the size of my head. Not a disappointing food choice tonight!

If you take a Carnival Cruise, I highly recommend making a reservation at the Sun King Restaurant but leave the kids at Camp Ocean to get the most out of it.

By the time dinner was done and we made a quick stop at the casino to play a little Jackpot Party slots, we didn't get the kids back to the room until 10pm again. Damn. Again. We seriously need to be better about this but there is just so much to do and we don't want to miss any of it. Oh well, there is always tomorrow to sleep in. But I'm sure they will be up at 7:30am since we have no place to be in the morning.