Valentine's Day is less than a week away. If you're still looking for a sweet way to say "I love you" to the special people in your life, nothing says it better than beautifully decorated Valentine's Day Rose Cupcakes. The sugar crystals and gold pearls take it up a notch adding that elegant touch.
Here is how you can dazzle your loved ones with these delicious rose cupcakes: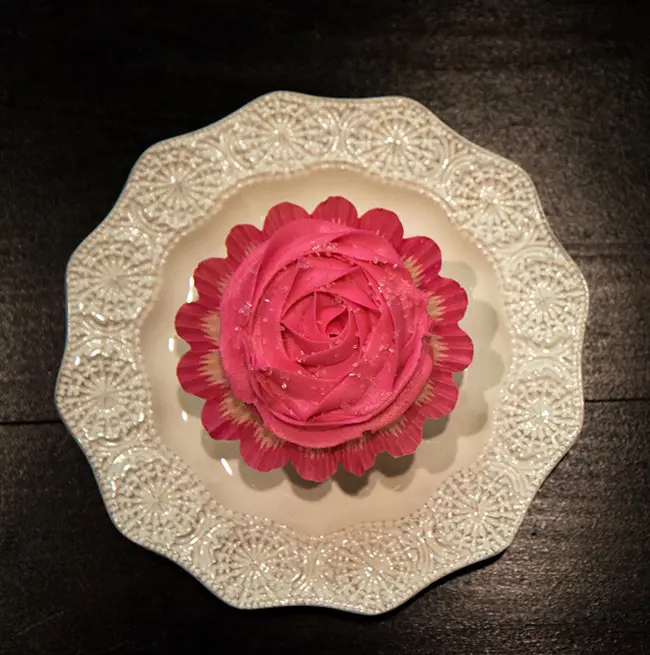 Directions:
Fill a piping bag fitted with the #1M tip with pink frosting.
Hold the piping bag at a 90 degree angle over the center of your cupcake.
Give the bag a gently squeeze while keeping a steady pressure begin swirling around that center dot in a clockwise direction, working your way out to the outer edge of the cupcake.
Release pressure when you get to the edge of the cupcake.
Sprinkle with white sugar crystals and gold sugar pearls.
Voila! You have a beautiful rose!
Let us know if you make these Valentine's Day Rose Cupcakes in a comment.
Would you like more Valentine's Day recipes? We got you. Valentine's Day Recipes.
About the author: Rubina Umarji is the owner and executive cake artist of Rubina's Cake Shoppe. After the birth of her son in 2009, she left her career in engineering to focus on her two passions: her family and her edible art. Since then, she's had the opportunity to showcase cakes and gourmet confections to thousands of dessert loving clients as well as over 100 of Hollywood's hottest stars and has had her cakes featured on television. Now her days are focused on teaching cake decorating classes to all ages. Her favorite students are her two children, ages 3 and 5. She frequently writes cake decorating tutorials and recipes on the Rubina's Cake Shoppe Blog (www.rubinascakeshoppe.com/blog).