Remember the scones I mentioned last week when I was reminiscing about my baby shower? Well, I figured your mouth was watering (mine was!) so I whipped up a batch. I so wish I could sit down with you, a scone and a cup of decaf … meeting new mama friends is one of my favorite things! But, since it just isn't realistic for us all to gather and chit chat about not sleeping, cute babies and our latest baby gadget finds I suppose sharing the scones in recipe form will have to do.
So, here it is … it's absolutely divine! I hope you'll manage to not eat the whole batch 🙂 I'll be trying to resist myself!
VANILLA BEAN SCONES

Dry Ingredients
2 cup all-purpose flour
2 tsp baking powder
1/2 tsp baking soda
1/2 tsp salt
1/2 cup sugar
5 TBSP unsalted butter, cold, cut into pieces
3-5 vanilla beans stalks, split and with inner beans reserved (Heilala Vanilla has great ones!)
Wet Ingredients
1 cup regular full-fat sour cream
1 large egg yolk
2 tsp vanilla extract
Glaze
1 1/2 cups powdered sugar
Water, as needed
Directions
Preheat oven to 400 degrees.
Whisk together dry ingredients in a medium bowl. To prepare vanilla beans – score each bean and gently scrape out beans with a knife. Heilala Vanilla makes some of the best quality vanilla beans! (You can find Heilala vanilla products at Bristol Farms stores, select Whole Foods and Dean & Deluca locations.)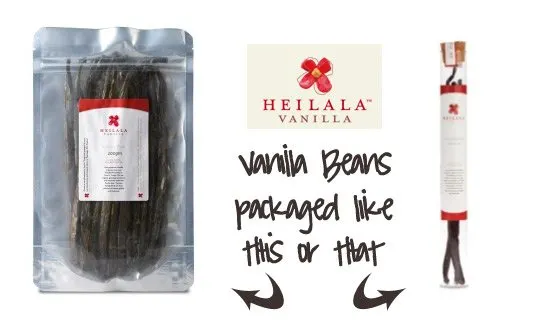 Cut the cold butter into the dry ingredients with a pastry blender until flour resembles coarse meal.
In a separate bowl, whisk together the sour cream, egg yolk and vanilla extract until blended. Add to the flour-butter mixture and stir with a fork until dough forms a cohesive ball. Use a spatula to get the dry bits fully incorporated. (It may not seem to have enough liquid at first, but the dough will eventually come together).
Place the sticky dough onto a parchment-lined (or un-greased) baking sheet and pat into a disk about 1-inch in height. Score the dough into wedges taking care not to cut all the way through.
Bake for 15 minutes or until golden brown on top.
PREPARE GLAZE WHILE SCONES ARE BAKING. Place powdered sugar in a medium bowl, and add water one teaspoon at a time, mixing vigorously until smooth and runny.
Use a pastry brush to apply a thin layer of glaze over the hot scones. Brushing rather than drizzling gives a smoother appearance and requires less glaze.
Ready to plan a play date at your house and serve these scrumptious scones? I hope so. Enjoy that mama chit chat! Wish I could be there!