I seem prone to prepare veggie dishes more in the summer when the market is open. Something about the fresh vegetables inspire me to mimic that freshness in my cooking. Obviously, we still need a hefty dose of greens and goods in the winter months which is why I'm super in love with this veggie-based comfort dish. Because if pasta doesn't scream "comfort", I don't know what does!
Vegetariana Pasta was inspired by a meal I had in a Portland cafe and I wish I could perfectly replicate it. I've gotten pretty close, but if you ever visit Portland, be sure to stop by La Buca! They have a delicious menu and great kid options.
VEGETARIANA PASTA
Ingredients
5 tablespoons lemon infused olive oil
2 zucchini, sliced
2 Roma tomoatoes, diced
5 ounces of jarred red/yellow peppers in oil, sliced (my favorites come from Trader Joe's)
1/2 cup pine nuts
1-16 oz box of pasta
1 lemon, sliced
1/2 cup Parmesan cheese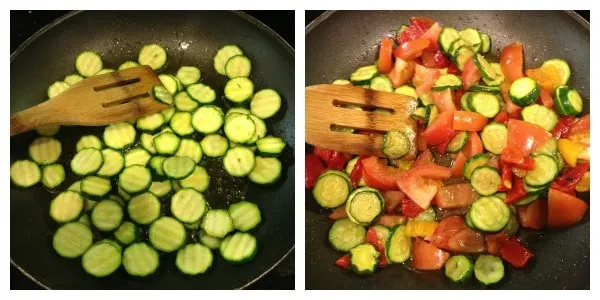 Directions
Heat oil in a nonstick or cast iron pan and slice, dice and measure vegetables while pasta is cooked according to box directions.
Cook vegetables in order of firmness – first zucchini, then tomatoes, then peppers.
Drain pasta and add to vegetable blend. Toss until thoroughly combined.
Portion into bowls sprinkle with pine nuts and Parmesan and serve with a slice of lemon ready to squeeze on top before enjoying.
The sky is the limit with this dish … don't like zucchini? Swap it out for broccoli. Not a fan of pine nuts? Walnuts are a great substitution. And, if you are like me and have a hubby who starts poking his fork around looking for meat, don't hesitate to pan fry a chicken breast in same lemon olive oil!
Enjoy this winter garden dish … I'm having the leftovers for lunch tomorrow and couldn't be happier 🙂