Flu and cold season are here with no signs of leaving soon, so I thought this would be a good time to share my homemade chicken noodle soup recipe. I usually make a large batch of chicken stock from scratch and keep it in the freezer for when a little one gets sick. This weekend two of my loves got sick – the hubby and my daughter. I made a large pot of chicken noodle soup for them to eat all weekend.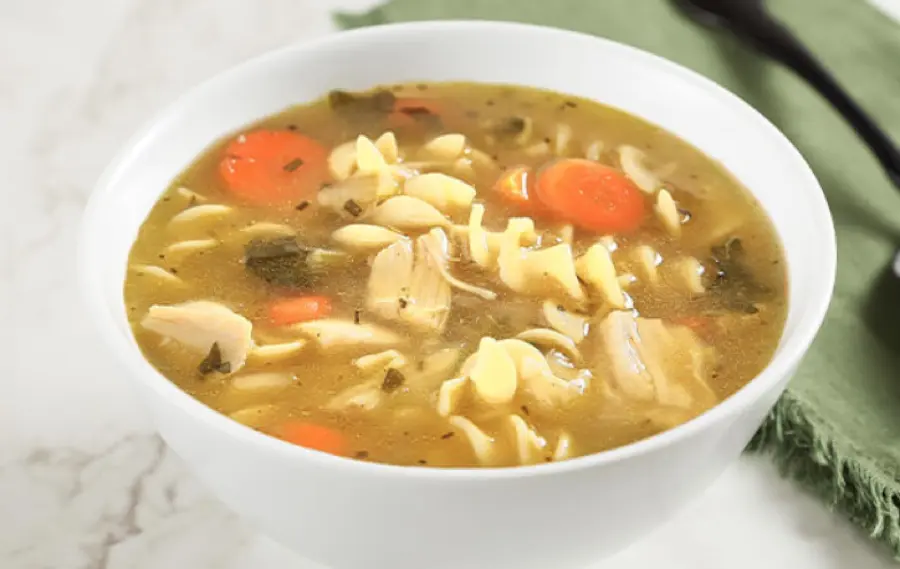 I usually make the stock with chicken and vegetables separate from the noodles. I find the noodles get too soggy if you cook it all together. By separating the soup and the noodles it gives you more soup options. You can add noodles and make chicken noodle soup or add rice and make chicken and rice soup.
The weekend consisted of sleep, soup, cuddling and movies (love those lazy weekends). The secret ingredient to my soup is adding the juice of a freshly squeezed lemon right before serving. Lemons are high in vitamin c and have virus and bacteria fighting properties. After several bowls of mommy's healing soup my sickies are making a turn for the better. Stay healthy this winter season and keep this recipe handy in case your love ones get sick this winter!
Homemade Chicken Stock
This recipe calls for chicken stock so we thought we'd include a recipe for homemade chicken stock if you are interested. It's easy to make and
Chicken stock:
10 cups of water
2 chicken breast w/skin and bones
4 carrots
4 celery
2 garlic cloves
1 onion cut in half
Sprig of fresh parsley, thyme and rosemary
2 bay leafs
1 tablespoon of salt and pepper
Simmer all the ingredients in a large pot with a lid under low flame for 1:30 hours. When the vegetables are tender and the chicken is cooked strain the broth to remove the vegetables and herbs. Remove the chicken from the bone and skin and dice into bite size pieces.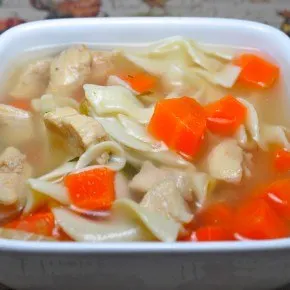 Homemade Chicken Soup
An easy to make Homemade Chicken Soup recipe.
Ingredients
5

cups

chicken stock

2

chicken breasts

1 1/2

cups

egg noodles

4

carrots

diced

3

stalks

celery

diced

1

lemon

juice
Instructions
Place diced up chicken, carrots, and celery and stock in a big pot and boil under low-medium heat for 30-45 minutes with a lid until chicken is cooked and vegetables are tender.

In a separate pot cook egg noodles for 6-8 minutes until done.

Add lemon juice to chicken soup.

Place some egg noodles in a bowl then ladle chicken soup over noodles or rice.
Notes
* Makes about 6 bowls of soup
* Optional sprinkle parmesan cheese on top
Nutrition
Calories:
219
kcal
Carbohydrates:
20
g
Protein:
23
g
Fat:
5
g
Saturated Fat:
1
g
Trans Fat:
1
g
Cholesterol:
62
mg
Sodium:
420
mg
Potassium:
719
mg
Fiber:
2
g
Sugar:
6
g
Vitamin A:
6922
IU
Vitamin C:
14
mg
Calcium:
39
mg
Iron:
1
mg