See this magic?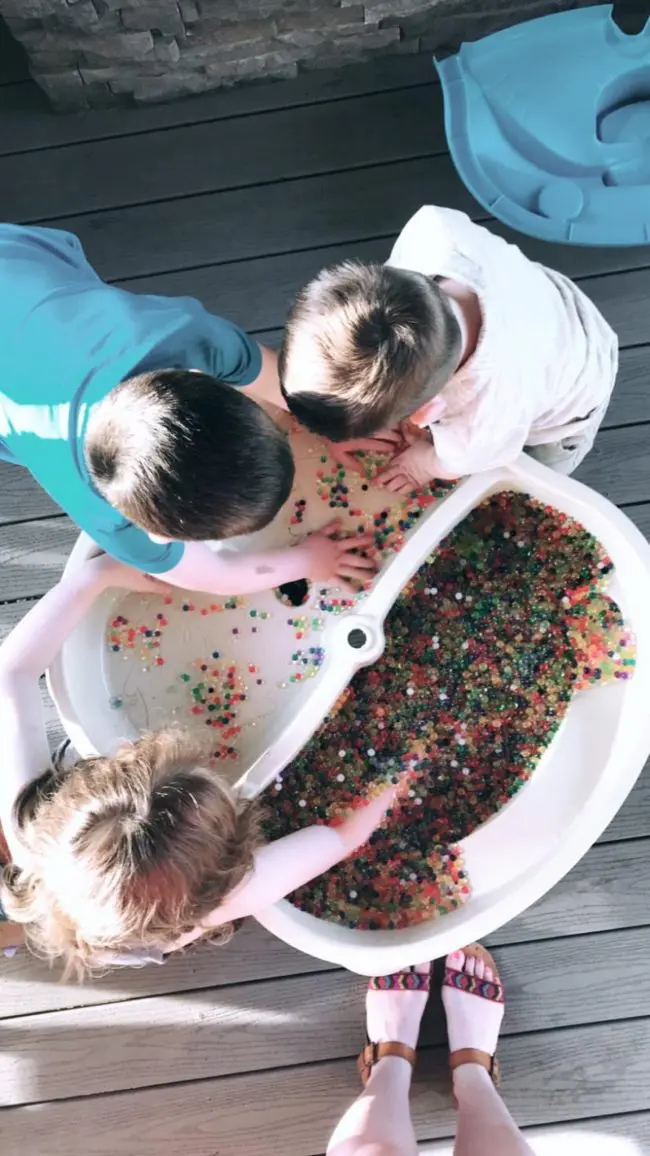 Three siblings, happily playing together outside in the fresh air… FOR OVER AN HOUR!
This is the magic of water beads. I love them. My kids love them. And even though we've had some bounce across the deck, my husband is loving them too.
Magic Water Beads (yes, that's what they're technically called) are non-toxic, reusable, and bio-degradable. I used about 1/4 of the $9 jar to fill our outdoor water table. That means that for just $3, I got an hour of peace and quiet! Talk about cheap fun! Here's the thing though, my kids have used the initial round of water beads multiple times. We just scoop them all to one side of the water table when they're not in use and cover it for the day/night. Occasionally I'll add more water to for the beads to absorb, but overall, this activity is a no stress, no mess game changer!
Sensory activities like water beads are great for kids and we've had some fun conversations about them too. Things like, "Can you guess how many water beads are here?" and for my 2 year old, "Show me your favorite colors".
Definitely add Magic Water Beads to your next Amazon order! I think they'd make a really fun birthday gift for little friends too!
Here's a few things to keep in mind before you start your water bead play:
Although they're non-toxic, make sure your children are old enough to know that water beads are not for eating.
On that note, keep away from pets.
Start with less, they do expand and you can always add more 🙂
These water beads take 2-4 hours to fully expand, so plan accordingly.
I hope this little tub of magic gives you ample quiet time in the coming weeks! Enjoy!