I recently wrote a post about questions to ask a potential nanny or babysitter. But how and where can you find possible caregivers to interview? Here are five ideas. Be sure to interview and get references for candidates you don't know before hiring them!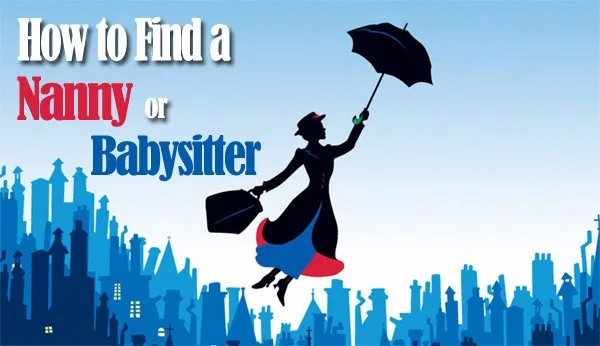 1. Ask friends, family, neighbors, etc:
Spread the word that you are looking for someone to care for your child. The best people to ask, of course, are other parents! (Just be sure not to "steal" anyone's sitter.) When I started looking for a part-time nanny for my twins while living in Colorado, a friend and her family were getting ready to move. They loved their nanny, so I asked for her phone number—and ended up hiring her! I also asked friends if their teenage daughters would be willing to babysit on evenings and weekends, and found a couple of great sitters that way.
2. Use a caregiver website:
The two biggest websites for finding caregivers are care.com and sittercity.com. On each site, you can sign up for a membership and create a profile to search for caregivers in your area and to post a job opening. You can search for candidates for free on both sites, but will need to pay a small monthly fee to actually contact candidates. (Fees vary, so check the sites for more details.) Each site gives you access to candidates' profiles, references and reviews, availability, and more. You can also run background checks on the candidates through the sites. We found our current nanny through care.com and had an excellent experience. We absolutely love her!
3. Check local colleges and universities:
College students are a great option for babysitting and part-time nannying because they tend to have some extra time on their hands. You can even find someone who is majoring in education or early childhood development and is looking to gain experience with kids. Most colleges and universities have job boards on which you can post your child care opening. Call them to find out how to do so!
4. Consider an au pair:
Au pairs are young women, typically from foreign countries, who live with a family for a set amount of time (generally at least six months) and help with child care and housework in exchange for room and board and a small salary. An au pair can be a great option for families in which both parents work or are frequently out of the home. There are several credible au pair matching websites that can help you find an au pair. Try greataupair.com or findaupair.com.
5. Use a nanny placement agency:
Agencies are expensive, but can be a good choice for families that don't have a lot of time to devote to their search. Agencies prescreen nannies, interview families, and then match families with candidates who would be a good fit for them. An agency will also help you prepare an employment offer and work agreement. The agency's fee will be about 10 to 15 percent of the nanny's annual salary. To find a credible nanny placement agency, search NannyNetwork.com. Be sure any agency you use is a member of a national organization such as the International Nanny Association or the Alliance of Premier Nanny Agencies.