Since Easter is literally just around the corner I wanted to share ten fun Easter ideas for the kids with you today. Regardless of what you have planned, any of these ideas would be easy and fun to add in to your day and your kids will love it!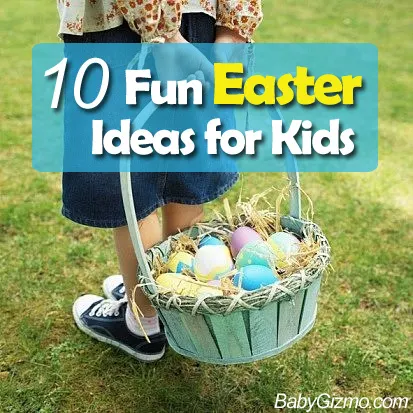 1. Easter egg hunt
Totally traditional but totally fun. Fill Easter eggs with prizes and hide them in your backyard, the park, or in your house for your kids to find!
2. Candy hunt
Growing up, my mom would always get fun Easter candy and hide it all around our house. She would provide us each with an Easter basket and let us know how many of each candy we should find so we all had an equal amount and everything was fair. Of course we were supposed to spread eating our candy out for weeks but that didn't always happen.
3. Easter Decorating
Get your kids involved with the Easter decorating this year. Make a sign welcoming the Easter Bunny, make Easter appropriate place settings for the guests at your Easter dinner, and decorate some Easter eggs as a centerpiece.
4. Flower Fun
Go to a local farmers market before the big day and choose some gorgeous flowers. Let your kids help you make some bouquets to give to guests or arrange simple centerpieces for your dinner table. If you're going elsewhere for Easter, you could give flowers to your host as a nice gift.
5. Easter Morning Yarn Maze
When your kids wake up they will find the Easter Bunny's maze winding through the entire house. He has tied a different color of yarn to each of your children's bedposts, and your kids have to follow their color yarn around the house until they find their Easter basket hiding at the end of it. Such a cool and neat activity for kids to do Easter morning.
6. Get them in the kitchen
Preparing Easter dinner or bringing a side dish to a friends house? Make sure you involve your kids and let them help with the simple tasks!
7. Get online
Check out internet printables for your kids to color, find some craft ideas, and get a neat recipe for Easter bunny cupcakes.
8. Share the wealth
Do something kind this Easter and drop off an Easter basket of food to a local food pantry or homeless shelter. Needy families will be so grateful of this act of kindness and it's a great way to show your children that you should always give back.
9. Easter Cards
Spend the week leading up to Easter helping your kids create one-of-a-kind homemade Easter cards for their friends and loved ones! Send them out in the mail or pair them with a fun Easter chocolate and drop them off at the recipient's houses!
10. Easter Parade
Get your kids together and invite the neighbors or friends if you want, too. Have everyone dress up in homemade Easter bonnets, Easter bunny ears and tails, anything holiday appropriate and enjoy having a mini Easter Day parade in the backyard or around the neighborhood. Be sure to take lots of photos! Hand out candy or Easter cards and coloring books at the end to all the super stars who participated!
Happy Easter to everyone celebrating! I hope you have a day full of fun and laughter with those you love most! Leave us a comment below and let us know how you plan to celebrate!