When it comes to gifting for the holidays I prefer a balance of what my kids wish for, what they need, and what they can use. This year, the "use" category is full of arts and crafts! Because who doesn't love that!
I'm excited to share some crafty projects and supplies my kids have loved as well as a few we haven't tried yet but are looking forward to testing out in the coming year. Some are perfect as a stand alone gift and others will tuck perfectly in stockings. I hope you find a thing or two that your little artists will love!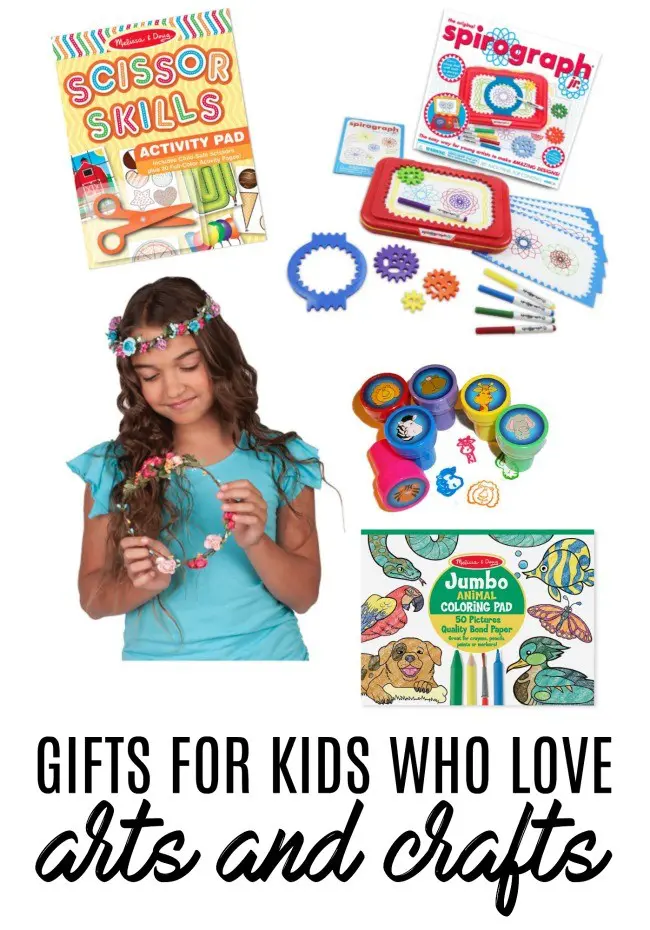 Flower Crowns ($13) — My mom bought this for my daughter last year and they were so fun to create. Plus, they make a darling addition to her dress up box!
Perler Bead Set ($12) — A 5000 piece set featuring pets and tons of beads! If your kids have the focus for LEGOS, they'll love perler beads.
Scratch Art ($8) — Who wants to get a Christmas thank you note on these? Too cute!
Scissor Skills Activity Pad ($5) — Scissor skills are not only important, but now, they're fun!
Create Your Own Puzzle ($13) — Um, how awesome is this?!?
Spirograph Junior ($18) — You can live vicariously through your child with this great kit, remember it from when your were young? My daughter LOVES hers.
Star Wars Thumb Doodle Set ($14) — We gifted this to a friend for their birthday this year and their mom has sent numerous texts saying how well loved it is.
Jumbo Coloring Pad ($5) — Coloring books are great, but everything is better when it's bigger!
Sunprints ($7) — This is such a calm and creative craft, one my preschoolers have thoroughly enjoyed.
When it comes to stuffing stockings remember all the little things that kids use often — crayons, markers, paint, google-y eyes, pipe cleaners, stamps/stamp pads, glitter (if you dare!), glue sticks, and construction paper. Be smart and use the holidays as a way to freshen up the craft cupboard with new supplies!