My husband is in the military, which means life can get pretty crazy! Since our twins were born, we've lived thousands of miles away from family. That means that at the ripe old age of 25 months, our boys are already frequent flyers. In fact, they have taken nine round-trip flights since they were two months old. Seven of those flights were over four hours long. It hasn't always been smooth sailing (er, flying), but along the way, we've learned a lot of tips and tricks that have made airline travel with young kids a whole lot easier. Here are 10 of them: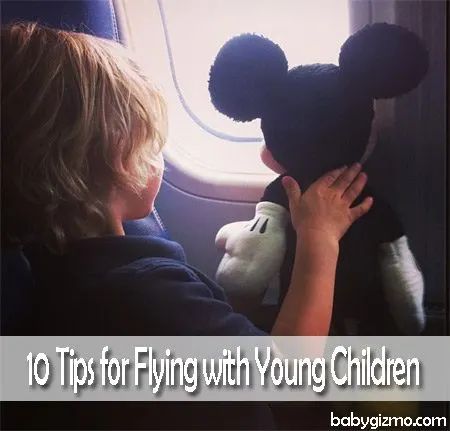 1. Check your stroller at the gate, not at baggage check.
We had two strollers destroyed after we checked them in at baggage check before we finally smartened up! (Airlines are usually not liable for stroller damage, so we just had to suck up the loss—ugh.) Since then, we've always taken our strollers all the way to the gate and checked them as we boarded the plane—and we've never had a problem again! Plus, as the boys have gotten bigger, it's been helpful to have the stroller with us to get them—and all our stuff—through the airport. And when we arrive at our destination, the stroller is waiting for us as we de-board the plane. Just make sure you know how to quickly fold and lock the stroller!
2. Look into renting a car seat at your destination.
Once your little ones have moved up from car-seat carriers to regular car seats, it gets really hard to lug the seats through the airport and down the airplane aisle! Consider my husband and I trying to carry two toddlers, four carry-on bags, and two car seats down a narrow aisle without knocking into all of the other passengers. It's nearly impossible! Luckily, you can rent car seats through rental car companies—which is exactly what we started doing. Not only did we lighten our travel load, we also didn't have the hassle of removing the boys' car seats from our car and then reinstalling them when we got home.
3. If you do bring the car seat, get a GoGo Babyz Travelmate.
It attaches to the back of the car seat so that you can wheel your child through the airport the same way you do your luggage—and it's ingenious. Your arms and back will thank you!
4. Consider buying a seat for your toddler.
Children are allowed to fly free on an adult's lap until they are 2. But after about age 1, it gets a little tricky. My boys sat on our laps with little problems when they were infants: They slept, ate, drank, and happily looked at board books or swatted at toys. But once they started walking, all they wanted to do was get down. Since they weren't restrained in seats, they didn't understand why they couldn't get down, so they'd cry. Even when they were content, it was harder for them to get comfortable with so little room, so they'd fidget a lot. (I felt so bad for whoever was sitting in front of us and had to endure their seat being kicked the entire flight. Thankfully most people were good sports!) And, because kids tend to stop sleeping as much—if at all—on planes as they get older, it really is difficult to entertain them when you've got so little room to move.
My advice? If you are taking a flight that's longer than two hours or so, and you can swing it, buy your child a seat. Trust me—it makes a world of difference! Once it got too difficult for us to have both boys on our laps the entire flight, we started buying a third seat and having the boys take turns sitting in the car seat.Now that they are 2, they each get their own seat. The flights are now so much easier! The boys are simply more comfortable in their car seats, and because know they have to stay seated when they are in them, they never once ask to get down. Plus, my husband and I have more room under the seats for all of our paraphernalia, and more room to reach down and get things we need out of our bags. Everyone is happy!
5. Think about paying extra for seats with more leg room.
My boys are not the tallest kids in the world, but when they are in their car seats in a regular airplane row, there is still hardly any room for their feet. That means they ultimately end up kicking the seat in front of them throughout the flight, earning you glares and sighs from the poor person sitting in the seat. Plus, you usually won't be able to bring your child's tray table all the way down. But the one flight for which we paid for the extra-legroom seats (not willingly, but that's a whole other story—see number 7), we didn't have any of those problems, and everyone was much happier!
6. If you're traveling with more than one lap child, book the aisle and middle seats in rows across from each other.
Airlines do not allow more than one lap child in a row. On our very first flight, when the twins were only two months old, we did not know that and selected one entire row, plus the aisle seat across from it. The airline caught our error before the flight, but unfortunately, there were no more seats available in rows across from each other. We had to spend the first 10 minutes after boarding begging people to switch seats with us. As if the stress of traveling with two tiny babies wasn't enough!
7. That being said, know that your seats are not guaranteed.
You book your flight, select your seats, and confirm the purchase. You're good to go—or so you thought. My husband and I have learned the hard way that your seats are never final until your butts are actually sitting in them. Airlines now offer passengers the option to purchase an aisle seat for an extra fee, or they'll take care of their most valued flyers by giving them the best seats. That sometimes means taking seats away from people who have already selected them.
Every day, families are being split up on planes because of this. When we checked in the day before our last flight, we were horrified to see that we were assigned four separate seats scattered all throughout the plane! Yes—they had 2-year-olds sitting alone. When my husband called, he was told the only way we could guarantee seats together was to pay an additional fee ($180 total, to be exact) for extra-legroom seats. Otherwise, we'd be at the mercy of fellow passengers. We're pretty sure people would have switched with us, but we didn't want to go through the hassle of it, so we just paid the extra money.
8. When the beverage service comes, get water, and only water!
If you've got an infant or toddler on your lap, think twice before you take the chance of juggling a plastic cup of soda or juice and your child. If water spills everywhere, it's just water. If anything else spills, you've got a sticky mess on your hands!
9. Don't be afraid to accept help.
While you will inevitably encounter a mean passenger here and there, you'll generally find that most people are willing to help. Let them! A flight is not the time to try to be Supermom. We've had passengers help us with everything from carrying a bag to holding a child for us while we got settled, and it's really made things easier!
10. And when people do help, show your appreciation!
When a fellow passenger has gone out of his or her way to help us, or has agreed to switch seats so that we could sit together, we've asked the flight attendant to offer them a snack or alcoholic beverage on us. Not all of them have accepted, but they've all truly appreciated the gesture. Trust me—when you're flying with a squirmy, whiny child, ingratiating yourself to your fellow passengers is the best thing you can do. Happy flying!
Do you have any other tips on flying with young children? Please leave a comment and share them with us!