Part of the fun of holidays is going to holiday parties! Miss Manners and Emily Post both agree that expressing one's thanks with something tangible in addition to your written or verbal thank-you can be a kind gesture. And it's the holidays, so presents for everybody! Yay! Check out this gift guide for hosts to get some ideas on what you can bring as a thank-you to the host of your next party.
Giving Plate: While the poem may be a wee bit cheesy, I absolutely love the idea of a giving plate as a host gift. Whether you're attending a potluck and contributing to the meal, or you are bringing a plate of cookies for your hosts to enjoy later, you can serve them in a giving plate. When they're done using it, your hosts can then fill the plate and pass it along to another friend. Bonus: no one has to worry about the dish getting back to its original owner at the end of the night!
Succulents: Flowers are a traditional host gift. My husband really, really dislikes giving cut flowers for any occasion, though, because they die. The obvious solution is to give a living plant, but that comes with obligations to keep it alive. Enter succulents, which need very little attention (and even less gardening ability).
Chocolate Stirrers: Help your hosts relax after a successful party with a gift box of flavored stirrers for coffee, hot chocolate, or cocktails. If you're an overnight guest, maybe you'll get lucky and they'll share!
Bath products: Beautiful guest soaps are another traditional hostess gift, but since most people are afraid to use fancy guest soap, people either end up not putting it out, or putting out soap that no one touches (ew). So let's modernize the soap thing and go for fancy bath products instead. LUSH is one of my absolute favorite bath product companies and with a wide range of gift options, they're sure to have something that's perfect for your hosts.
Towels: Okay, this may sound (and look) a little bit boring, but hear me out. One of the tough things about host gifts—especially if you're visiting someone you don't know particularly well—is picking out something that fits their taste. You can't go wrong with high-quality kitchen towels in basic white. They're useful, go with everything, and—thanks to the fact that they can be bleached—easy to clean.
Stationery: Whether your host uses it for thank-you notes of their own later in the season or simply to keep in touch with friends (I mean, yeah it's old-school, but who doesn't love getting actual mail?!), whimsical stationery is sure to please.
Microwave Popcorn Popper: Okay, this is so silly, but so fun! Popcorn goes hand-in-hand with the holidays: curling up in front of the fire to read, settling in to watch a good movie on a cold night, making popcorn garlands to decorate with—so fun! And while I love how healthy my air popper is, it's loud (no sneaking popcorn after the kid's in bed) and it takes longer than a microwave bag. The solution is, of course, the microwave popper. Pop your own kernels without added butter or oil. To complete the gift, add some gourmet popcorn kernels and flavorings.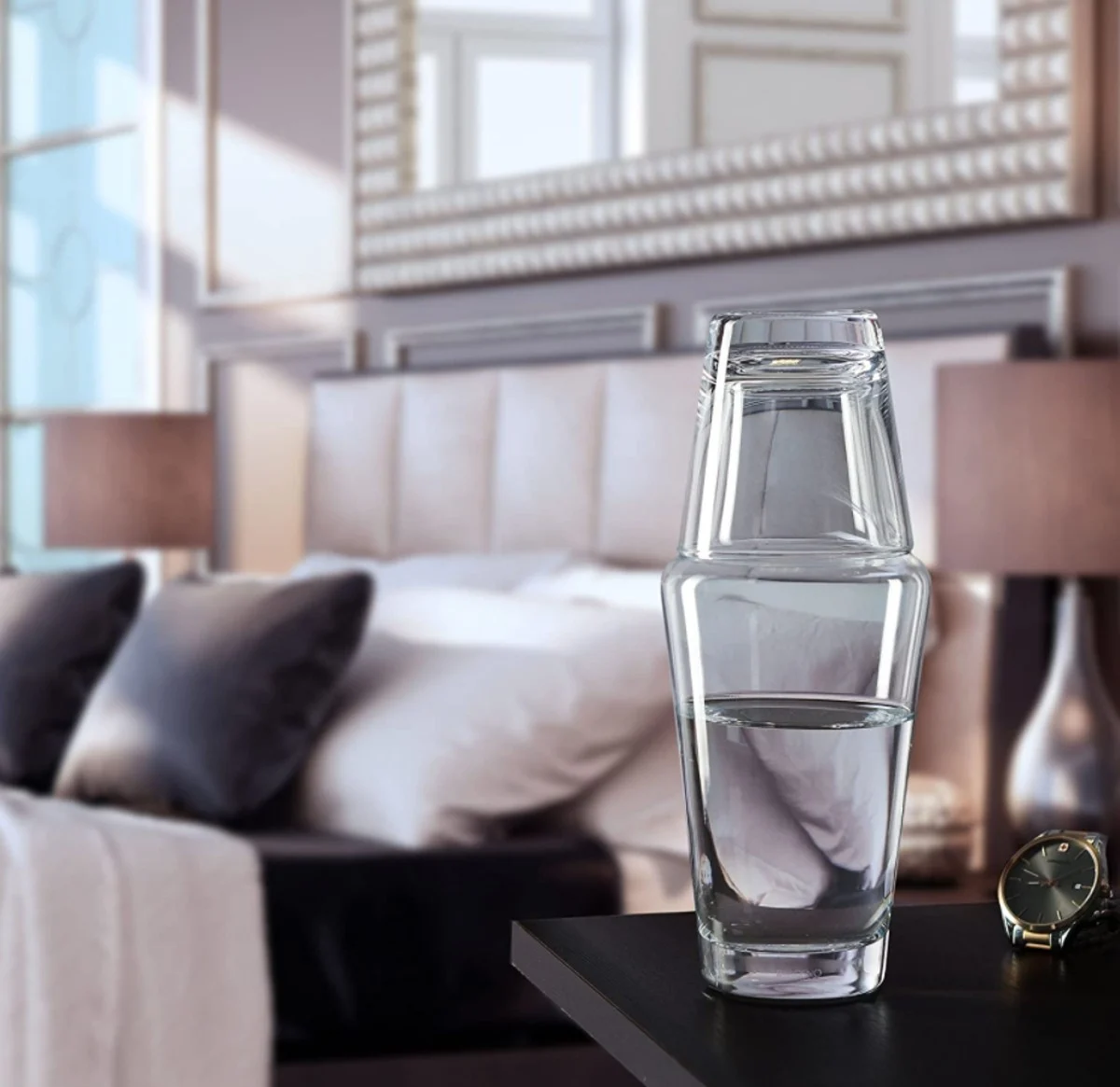 Water Carafe: We have a couple of these in my house and they are genius. A combination carafe and tumbler; the tumbler serves as a lid for the carafe. They're great on a guestroom bedside table, or on the host's own nightstand.
Personalized Grocery Tote: Clearly, your hosts know their way around the local market, right? Give them a simple yet attractive personalized reusable tote to carry their grocery store haul home. And as any parent knows, you can't overestimate the value of a good tote bag.
Wine Bag: Finally, if you're planning to give wine as a host gift, don't show up with a naked bottle. Slap that sucker in this (faux) brown paper bag! Keep your bottle at the proper temperature while also sharing a laugh with your hosts.
I hope you enjoy your upcoming holiday plans. And feel free to invite me, too—clearly, I'm good for a gift!