4 Library Books We Loved So Much We Bought
We are library people. Both the kids and I. We constantly have a big ol' pile of children's books, CDs, novels and homeschool books at our fingertips. And, if I may take a moment to brag, it's already May and we have $0 in overdue fees! That's got to be a record for us!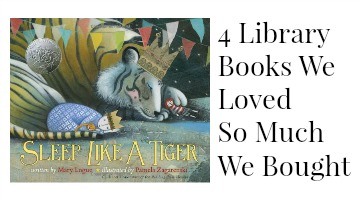 Back to the purpose of the library though. It's full of fabulous books, learning resources and activities to boost my kid's life experiences. We love that place. I'll always happily pay my taxes if I know a bit of them are going to keep book land functioning.
It's been a learning curve for my daughter to accept the fact that we only borrow the books for 3 weeks. Sometimes it's not a big deal, she's ready for a switch. But other times, there are tears. I've heard more than once, "But, Mama … I just LOOOOOOVE _________________" (insert her favorite book title). I usually coach her through it, but on occasion, we've all fallen too deeply in love with certain pictures and words.
Here are four books that made it to super love status, so much so that we returned them to the library and proceeded to buy our own copies for forever keeps!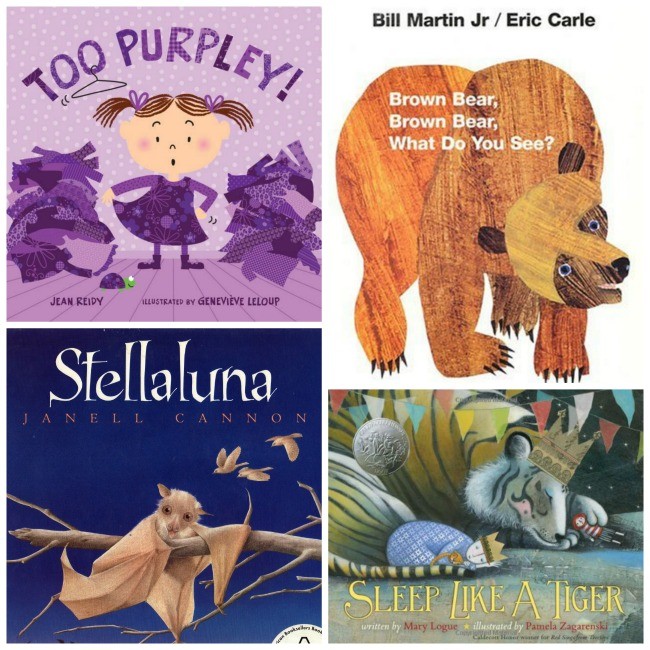 Too Purpley /// Brown Bear, Brown Bear, What Do You See? /// Stellaluna /// Sleep Like a Tiger
Too Purpley is the one that made purple my daughter's favorite color. My son thinks it's pretty funny too though. He's even latched on to a few phrases, most recently telling me that his t-shirt was "too baggy", one of the token phrases from the book.
If you haven't read Brown Bear, Brown Bear, What Do You See? you may be living under a rock. Truly, we're fans of all the Eric Carle books, but this one (and The Very Hungry Caterpillar) are our top picks.
Oh, Stellaluna. I never would have thought that I'd like a book about a bat. But I do. We all do. Not only did we buy the book, but we recently found the movie at a secondhand store as well!
Last, but not least, the book that makes me smile from ear to ear, Sleep Like a Tiger. This was my son's first book love. He has memorized the words and now reads it to himself and his sister. Actually, they take turns reading it back and forth and I just adore listening to them "read" to one another. #mamaheartmelted