We recently visited Legoland California's Waterpark, and we all had the best time!
My children are turning 6 and 4 this month, but this is truly a place for all ages, from your toddler to your big kid. There are splash pads with water spraying everywhere for toddlers, the majority of the pools are just 1ft or 3ft deep, so preschoolers and older kids can just run around, and then there are the raft slides, and big fun slides for the older kids.
Here are some things I wish we knew before going in!
Waterproof your phone
You will want to take lots of photos, so waterproof your phone! You can buy something like the case in the photo above for $5.99.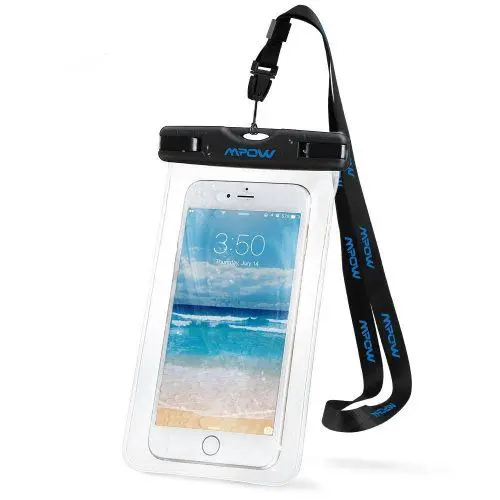 Go on a weekday
If this is an option, take it. It will be less crowded, the lines will be shorter for the slides, and there will be more places for you to put your towels down and sit on the deck chairs. We visited on the Sunday before Labor Day so it was very busy, and the lines for the big kid rides were very long.
Keep belongings down to a minimum
Legoland Waterpark does offer lockers: a small one is $8.00 for the day and a large one is $12.00. I was glad I took a small backpack, so I put our phones, wallets and keys in there, and just walked into and around the pools with the kids. Since the water only came up to my knees, I dried pretty quickly afterwards! Most parents with small kids are just standing around with their feet/legs in the water (see the second photo from the bottom) while some chose not to get in at all.
Prepare to spend money on food
I'm sure everyone knows this, but amusement park food is never cheap. Water play makes everyone ravenous, so take some snacks with you if possible to save a little cash. If not, no worries, there are two restaurants in the waterpark: one offers burgers, hot dogs, etc, the other is more pizzas, tacos and wraps. Take your pick! We chose the pizza place, and the kids had a cheese pizza (it was actually only two slices), with fries, raisins and a large milk.
My husband and I each had a small veggie pizza. The total was $37. If you have a Legoland annual pass, be sure to show it any restaurant because you receive 20% off your food! Since you have to enter the Legoland main park in order to get to the waterpark, you also have all the Legoland restaurants to choose from to eat, but that is better to do after you've dried off and changed, otherwise you'll be walking for a quite a while in wet clothes. They're also a bit more expensive.
Bring a light, small stroller or rent one
We had a double umbrella stroller with us packed with towels and changes of clothes. We took it everywhere, but it did get in the way at times. Many people rent Legoland strollers ($11 for a single, $15 for a double) because after a long day playing in the water, the kids are exhausted and have to walk back through the Legoland main park to get to the parking lot.
Legoland Expert Tips
There's really two sides to the waterpark: the waterpark and the Chima waterpark. They both have different slides and rides for different ages, and play areas for the littles, so there's a lot to do for everyone. It's not too big, and all doable in one whole day.
Zippers on bathing suits need to be covered if the child wants to go on slides. My daughter's suit had a zipper at the back of the neck, and the lifeguards asked her to cover it with a t-shirt or a life jacket in order to go on the slides. We were lucky to have a spare t-shirt for her, so we just put that over the top.
July and August are the best times to visit because of the southern California heat. It was a warm day when we visited, but it was a little windy. Kids came out of the water shivering (even though the water is heated to 80F according to the Legoland website) and while waiting in line at the top of the stairs for the taller slides, they were freezing!
You have to go through the main Legoland Park to get to the waterpark, so if you're planning on just doing the waterpark that day, be sure to prep your kids otherwise you keep hearing, "Can we please go on that ride? Can we try and win a toy over there? Can we buy some ice-cream?"
FAQs
How much is admission to LEGOLAND California?
$108/adult and $102/child
Does AAA have discount tickets for LEGOLAND?
Yes. Current AAA card holders will receive a 5% discount on one-day admission and 10% off a LEGOLAND hotel reservation when you purchase from AAA.
What is the best age for LEGOLAND California?
LEGOLAND California Resort is built for kids ages 2-12 years old but the education experiences are geared towards grades K-8.
This place is so fun, so have a great time!