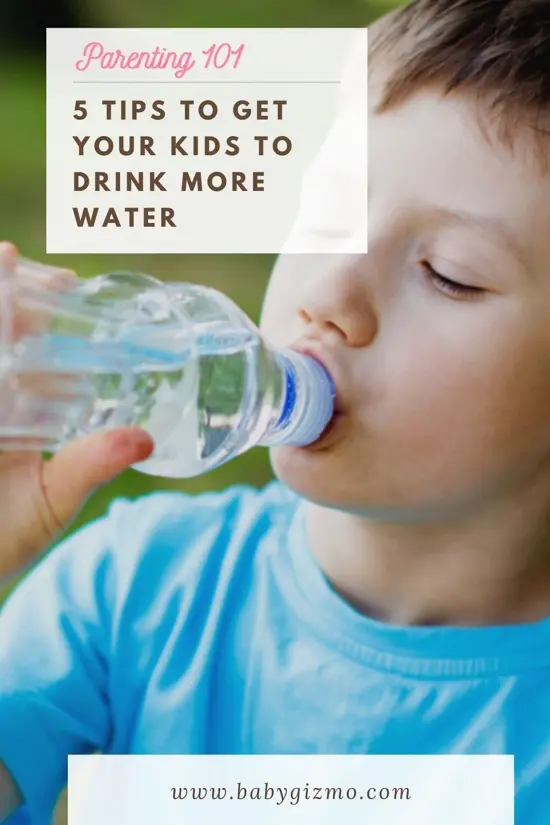 Not that it's been particularly cool where I live so far, but it's about to get even hotter now that we're heading into the dog days of summer. We're also easing towards back-to-school time and fall activity practices are starting up (hello there, two-a-days—we see you!). With the warmer weather and the time our kids are spending outside it's incredibly important they stay hydrated. How much water do kids need? Well, toddlers should drink 2 to 4 cups a day, 4- to 8-year-olds need 5 cups, 9- to 13-year-olds should drink 7 to 8 cups, and kids ages 14 and up should be drinking just as much as adults: 8 to 11 cups of water. So how do you get your kids to drink that much? Here are some tips for getting your kids to drink more water.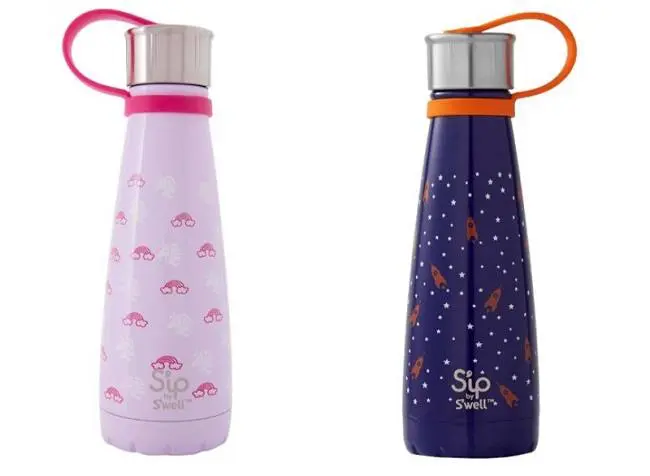 My number one tip is the one that gets me to drink more water: Pick out an awesome water bottle! I am 100% serious. I think my water bottle is super cute, which means it's always out and I'm reminded to drink out of it. By the way, it should go without saying that awesome water bottle also needs to work well: keeps the water at whatever temperature tastes right to you, doesn't sweat if that matters to you, doesn't have an unattached lid (that will matter if it's a kids' bottle), does/doesn't have a straw. You know what? Once the awesome bottle has been found, it will go everywhere. And I know this because my daughter asked for the kids' version of my bottle—too cute, I know. She liked it so much she asked for a second one for Christmas so she could have two patterns, allowing her to decide whether she's feeling princessy or STEMy. She loves to show them off and is irritated when occasions like summer camp require a less-loved bottle.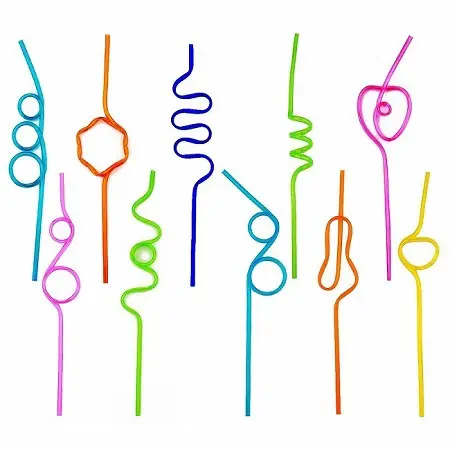 Use a straw. Whether you use a water bottle with a straw like a CamelBak eddy or Thermos Funtainer (my choice for kids and adults for car trips—hooray for multiple sizes!), or you just use a straw in cup at home, using straws seems to encourage drinking more water. Seriously! Ask around and I bet you'll hear the same thing from your friends! You can have fun picking out reusable straws for home or go wild with crazy straws.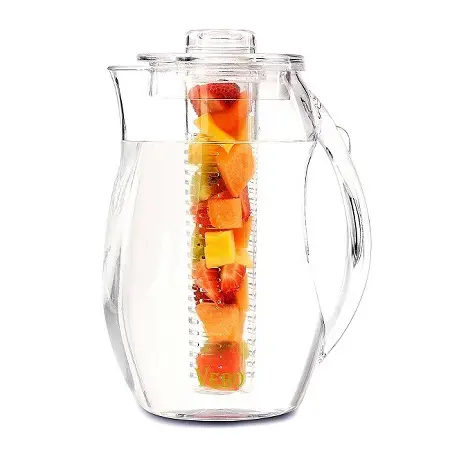 Infuse your water. One of my favorite things about popping into Pinkberry (aside from the fro-yo, obviously) is the tasty fruit water they serve up. Use the same trick at home to add flavor to your family's water. You can use infusion pitchers or water bottles, or just toss the fruit right into the water in your regular glass or bottle. You can even freeze large pieces of fruit and use them as ice cubes! Along the same lines, make a spritzer. Whether you make your own carbonated water using a Soda Stream (love mine!) or buy plain sparkling water at the store, it's easy to make a tasty, but still hydrating, treat by adding just a splash of lemonade or fruit juice to a glass of sparkling water.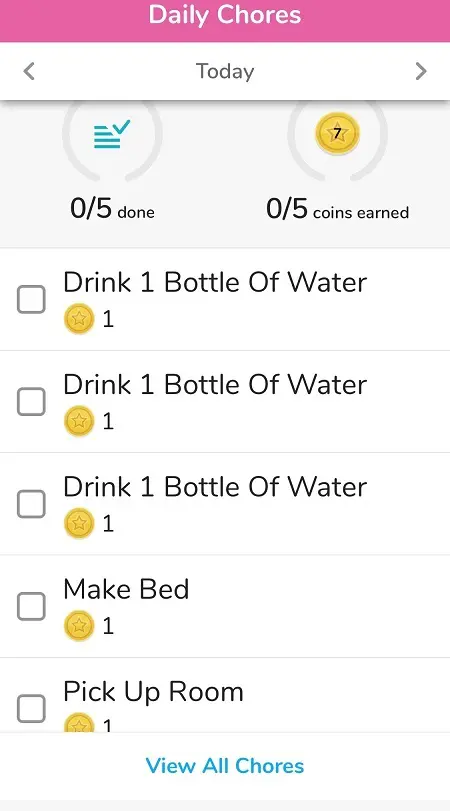 Here's another grown-up tip that might work for your kids, especially for your bigger kids and tweens: Use technology! I'm obsessed with the water tracker on my Apple Watch and my Fitbit before that. I love to watch my water tracker fill up and see myself hit my hydration goal each day. (I'm competitive, what can I say?) After finally giving into the kid's begging, my daughter now has her own activity tracker, and she can use that to track her water just like mom and dad do. Okay, to be fair, it doesn't work quite the same way as my water tracker. Instead we set her water goals up on her chore chart. (She was super-excited to get a chore chart, and I no idea why, but hey, I'll use it.) Each time she finishes a bottle, she can check it off her list. And if you're kids aren't into tech, consider the analog option and go with a physical chart. By the way, I'm not saying you should actually reward them for achieving their goal of making healthy choices and drinking water. Sometimes, it's just helpful to see progress towards a goal and rewarding to see that chart fill up or circle close, right?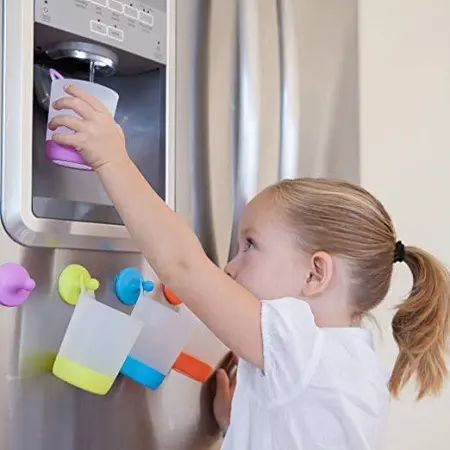 Encourage self-service! Keep cups where your kids can reach them to encourage them help themselves to water. And then take that one step further and make it easy for your kids to put the cups away until they need them again. We love these cups from Puj, which use non-damaging 3M adhesive to stick to stuff—like, say, the non-magnetic fridge where your water dispenser is, or near a faucet. And they can be repurposed into hanging storage cups when your kids are older, too! Anyway, if you're lucky enough to have a magnetic fridge (I am so jealous of you), you can attach a magnet to plastic cup and accomplish the same thing—maybe even in colors that complement your décor!
You know the best way to make sure your kids drink plenty of water, though? Lead by example. You can't expect them to make healthy choices if all they see you drink is soda and iced coffee all day, right? So find an awesome water bottle and make sure that you're getting in your recommended amount of water, too!