Here's a little mama quiz …
Q: At what age should your child first see a dentist?
A: By their first birthday, or 6 months after their first tooth breaks through – whichever is sooner
Had our pediatrician not mentioned this, I would have never known! I don't think I visited the dentist until I was at least three years old. Granted, I think that was the norm in the 80s, but it just goes to show that things are always changing and it's up to us as parents to stay abreast of the most current options for our kid's health.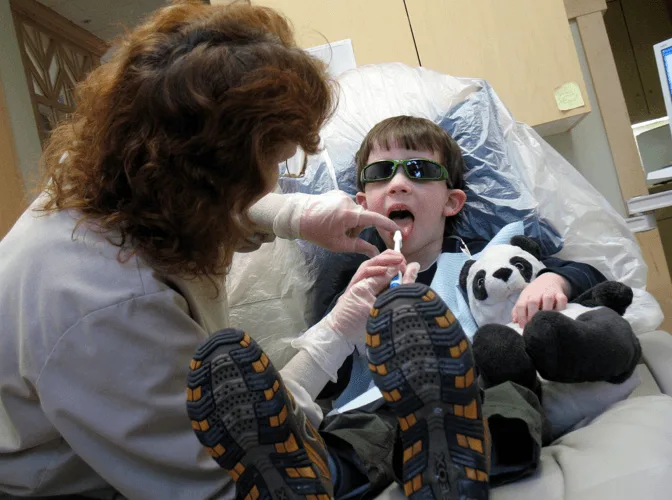 Being so young at their first visit, how can we best go about easing them into this experience? Here's 5 tips that have done our family well and a few other resources for you as you guide your child through their dental visits …
1.
Choose Your Dentist Carefully

.
You know how you interviewed pediatricians while you were expecting? The same goes for dentists. Find someone you are comfortable with, aligns with your family's medical needs and has proper training. Did you know that pediatric dentists go through 2 additional years of schooling specific to kid's dental needs? They do! So, if you have a pediatric dentist in your neighborhood, they might be the best place to start your search.
2. Be Your Child's First Dentist.
By this, I mean, don't let the dentist be the first person who looks and touches inside your child's mouth. Make it a regular habit to not only brush your child's teeth, but count them and massage their gums. Do all these things with your child reclined on your lap or on the bathroom counter so they get used to that feeling too.
3. Play Pretend Dentist.
Mouths checked, they like to become mama's dentist. It gives them ownership of the process and really helps make the dentist something fun! Just before careful if you're involving pretend or real dental accessories – nothing like a real life lesson on what the gag reflux is!
4. Be Your Child's Biggest Advocate.
For years your child will either love or hate the dentist. I'm sure we all have our particular bend even as adults. Making these first few visits a fun adventure is crucial. Remember that you call the shots as mom (or dad), so if your child is having a hard time during any check or procedure feel free to pause, regroup, comfort your child or even choose to leave and come back a different day. Most dental appointments are preventative, rarely an emergency, so the urgency to do something TODAY is void. This mama's gentle approach to the dentist gets a gold star in my book.
5. Use Your Words.
I'm always surprised at how much my children understand. Explain where you are going and why – "The dentist is one of our friends who helps keep our teeth healthy". Talk them through the steps before and during any cleaning or procedure – "Next, we're going to use some green toothpaste to scrub your teeth extra clean!". Affirm their feelings –
"I know this feels funny". Cheer them on – "You are so brave!"
What things do you do to prepare your child for a new experience like the dentist?
P.S. Along the lines of advocating, I've been reading a lot about fluoride lately since fluoride treatments are often one of the first treatment options during dentist visits. There is quite a bit of research on both sides about what is best for our kids (whether it be from fluoride in our drinking water to fluoride supplements or treatments offered by our doctors or dentists) so I thought I'd leave you with some information to dig a little deeper.
Kid's Health: Fluoride and Water
Ask Dr. Sears: Fluoride Supplements
10 Facts About Fluoride You Need to Know
My Awesome, Organic, Fluoride-Free Toothpaste Gave My Toddler Cavities