Planning a birthday party for your child? These fun and unique kids' birthday party themes should provide some inspiration!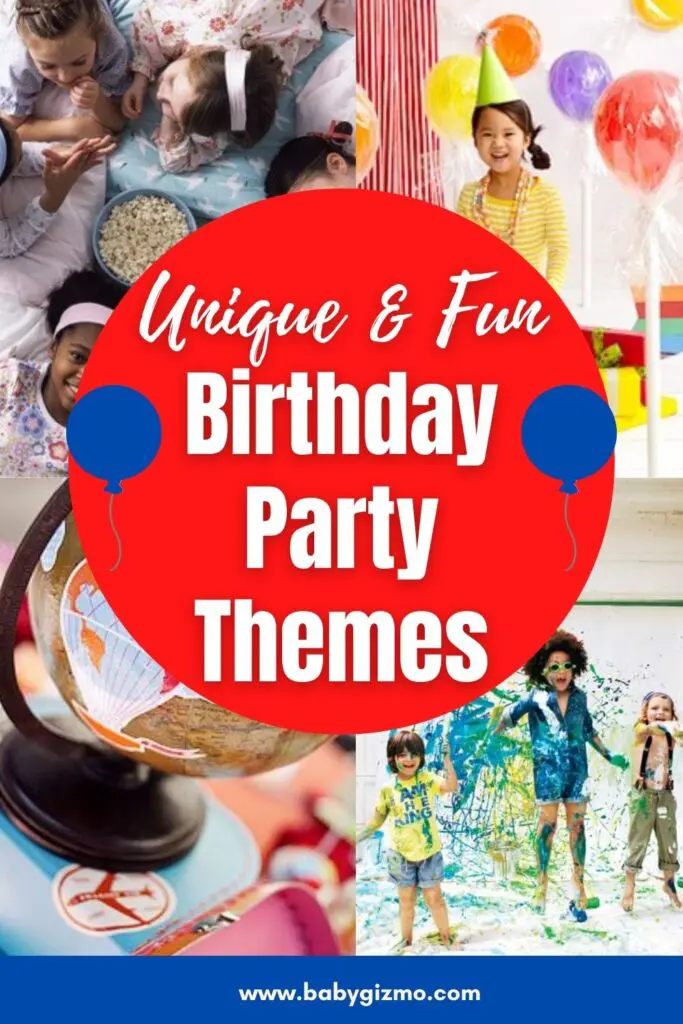 Airplane Party:
Boarding-pass invitations, individual lunches served by "flight attendants" (a.k.a. parents) in clear plastic containers, a "baggage claim" area where guests can pick up suitcase-shaped favor bags … it's all enough to sweep a little airplane lover off his or her feet. Check in at designdazzle.com to see more party photos.
Around the World Party:
Send young party guests on a trip around the world! Let them try games and activities from other countries, and stamp their passports as they complete them. Serve fun foods from different countries, such as mini pizzas and eggrolls, and finish with a globe-shaped cake. Send kids home with a trinket that's popular in a foreign country. Travel over to the Birthday Party Planner at parents.com and click on "Around the World Party" to get started.
Baseball Bash Party:
If you've got a little baseball fan, this party—complete with a concession stand, baseball cupcakes, loads of pinstripes, and more details inspired by America's pastime—will really hit it out of the park. Swing on over to thecakeblog.com for more photos to inspire you.
Candy Land Celebration:
This sweet party, courtesy of parents.com, includes balloon pops, cellophane-wrapped wall candy, and a colorful pathway inspired by the Candy Land game. Get details on how to put it together here.
Construction Zone Birthday Party:
You can really get creative with a construction-themed party: Serve food in the back of toy dump trucks. Use paper road signs, a road tablecloth (black tablecloth with yellow reflective tape down the center), construction cones, and caution tape as decor. Give each child a plastic "hard hat" instead of a party hat. Set up a work zone in a sandbox. You get the drift! Rumble over to dimpleprints.blogspot.com for more ideas on constructing your own party.
LEGO Party:
LEGO minifigure marshmallow pops, LEGO car races, construction paper-LEGO decorations, and more, make this a dream birthday party for little LEGO lovers. Learn how to build your own party at farmishmomma.com.
You could spend weeks painstakingly planning out every activity and game for your child's birthday party. Or, you could just give the kids a bunch of paint, Silly String, and some goggles and let them go crazy! That's the idea behind the Messy Party, which will earn you major cool points among neighborhood kids. Read more about it at realsimple.com.
Mystery Bash:
Party guests receive invitations asking them to come solve a mystery. Cut-out footprints lead them to the party, where they gather clues to help crack the case, enjoy mystery-themed food such as "Get a Clue cookies" (which have question marks on them) and "fingerprints" (sausage pinwheels), and take home "top-secret" favor folders that included a magnifying glass, fake eyeglasses, and more. Get more clues about this party at thedecorologist.com.
Secret Agent Soiree

:
Laser beams, labyrinth competitions, padlocked diaries as favors … could this party get any cooler? Sleuth out all the details at apartmenttherapy.com.
Spa Sleepover:
Throw your girly girl a spa sleepover with some special touches. In lieu of invitations, mail each invitee a sleep mask with a "gift certificate" good for one spa evening. During the evening, guests can make their own facial masks out of avocados and plain yogurt, get manicures at a makeshift nail station, and receive small beauty items as favors.