My four year old (yes, FOUR) lost her first tooth a few weeks ago so we recently had a visit to our house from the Tooth Fairy. Since my kid is on the younger side for loosing her baby teeth, I wasn't prepared for this! I had only one day from the time she told us her tooth was loose to when it fell out to figure out what, if anything, I wanted to do to set up a Tooth Fairy tradition in our family. After scouring Pinterest and asking friends, here are some of the cute ideas I found in case you find yourself in a similar situation as I did.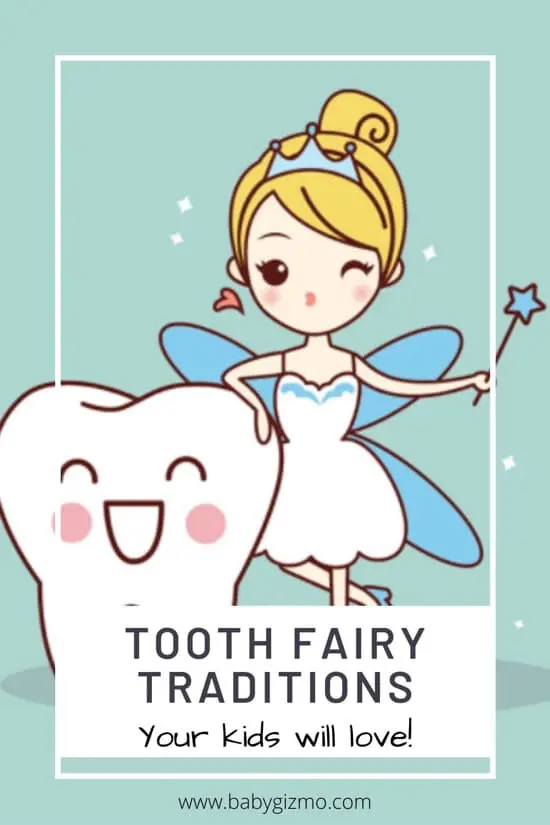 Here are 7 Tooth Fairy traditions you may like, and what I ended up doing for my own kid:
Receipt
Kids see you get a receipt in return for paying for your groceries and items, so why wouldn't the Tooth Fairy leave one? There are loads of adorable printable receipts out there to take inspiration from!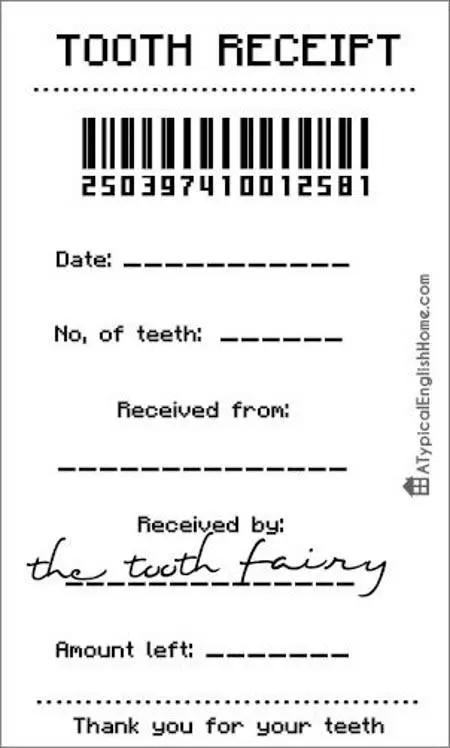 Pick a tradition from another country
For example, in Mongolia, children bury their tooth under a tree in the hopes that their new, adult tooth will grow in as big and strong as a tree. You can find other traditions HERE!
Tooth pillow pocket
This is one way to avoid losing the tooth under the pillow that's fancier than just a Ziploc baggie. If you're crafty, you'll love this simple design by The Ribbon Retreat!
Tiny letter
Their baby tooth is tiny, fairies tend to be tiny, and so why not have the Tooth Fairy write a tiny letter to the previous owner of the tooth she's picking up? This is a simple and cute way of making your kid feel special. And the message can be whatever you'd like!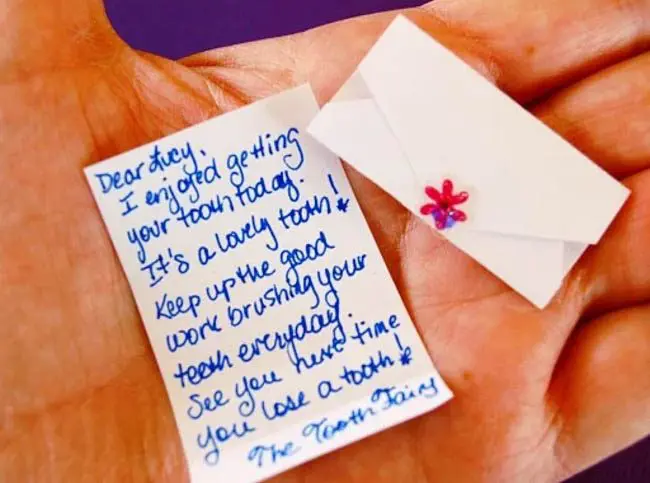 Fairy dust trail
Not only can you glitter up the money you may leave, you can leave a trail of glitter showing your kid where the sneaky fairy came and went! Just keep in mind…glitter is like the herpes of crafts and will get all over the place if you use it.
Leave a healthy tooth gift bag instead of money
It makes sense that a Tooth Fairy, who specializes in teeth, would give gifts related to healthy tooth care and encouragements for dental hygiene, right? Ideas include a fancy new toothbrush, animal-shaped flossers, and xylitol pops.
Use chocolate coins or gold coins instead
Instead of leaving a quarter, you could do something different and unique to the Tooth Fairy, like one of those dollar gold coins or the chocolate coins covered in gold tin foil!
What I did: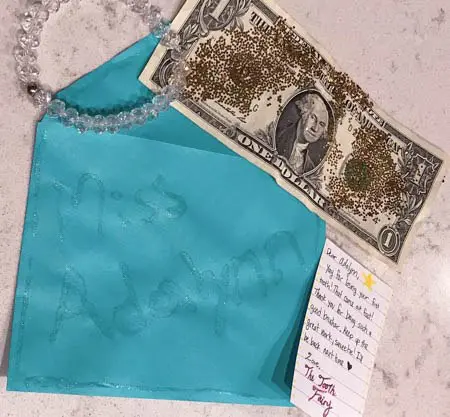 Her tooth fell out on a Sunday afternoon, leaving me no time to do anything exciting before bedtime. Since I wasn't prepared, I told my daughter that, just like her daddy, the Tooth Fairy doesn't work on Sundays and would come the next night. Then I went to Wal-Mart and got a cute, one-dollar bracelet, gold glitter, and broke a $20 so she'd get a dollar.
I cut out a little piece of paper and wrote a little note to her as the fairy that basically encouraged her to keep brushing well. Since I didn't want to worry about waking her searching for a tooth, I had her put the tooth in a Ziploc (I'm not fancy enough for a tooth pillow pocket). I snuck in and replaced that baggie with the envelope containing her note, bracelet, and a one-dollar bill I had glued glitter onto and then sprinkled a little glitter on her bed in a trail.
What I should've done:
Skipped the glitter trail. She didn't notice it until I pointed it out and then didn't really care. Some kids might love it but mine could care less. I was left to vacuum the glitter specks from her bed and we're still finding pieces weeks later.
Used glitter hairspray on the dollar instead of a glue stick and loose glitter. I made a mess preparing that dollar and the end product looked a little junky. It was only after the fact that a simple Google search revealed glitter hairspray works much easier and gives an even coat.
Emphasized that the Tooth Fairy only does this many special things on the FIRST tooth and from here on out, she gives only a quarter in place of the tooth. Set the right expectation on the first tooth and then your child won't be expecting grandeur that you can't sustain on each one afterwards.
What other Tooth Fairy traditions have you had fun with in your family?