I don't know about y'all, but since my family is eating at home so much more now, I am getting so bored with all my usual dinner recipes. So I decided to try something new—or at least new to us: stuffed peppers. Would you believe there is a whole world of stuffed peppers out there? I thought this was a pretty basic recipe, but apparently there are so many ways to stuff a pepper. Check out these eight recipes.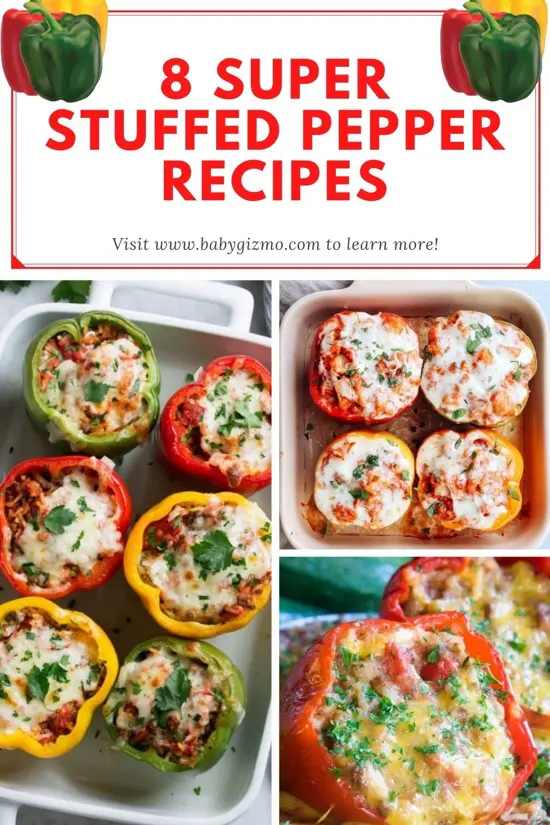 Classic: Let's start with the classic stuffed bell pepper recipe. Bell peppers, ground beef, rice tomatoes, tomato sauce, Italian seasoning, and yummy cheese. If want an even easier recipe, try this slow-cooker version.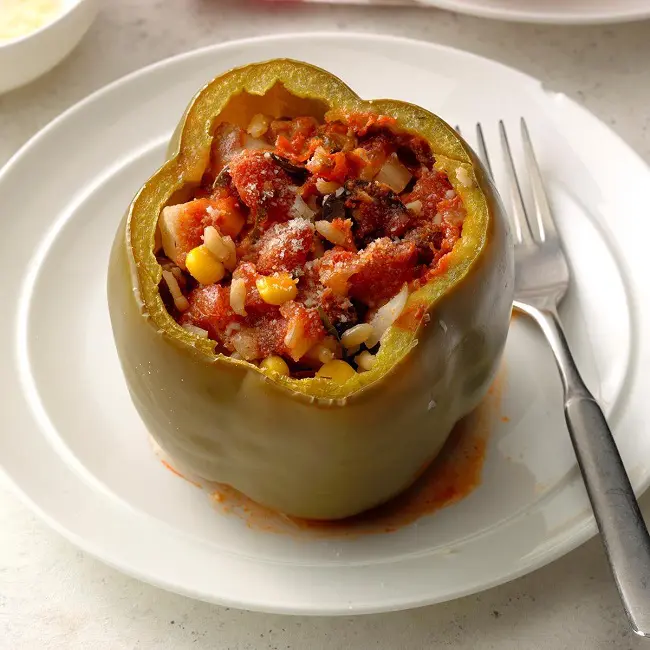 Vegetarian: If you're looking for inspiration for Meatless Monday or your family prefers vegetarian options, then this is the stuffed pepper recipe for you. It's a vegetarian take on the classic recipe.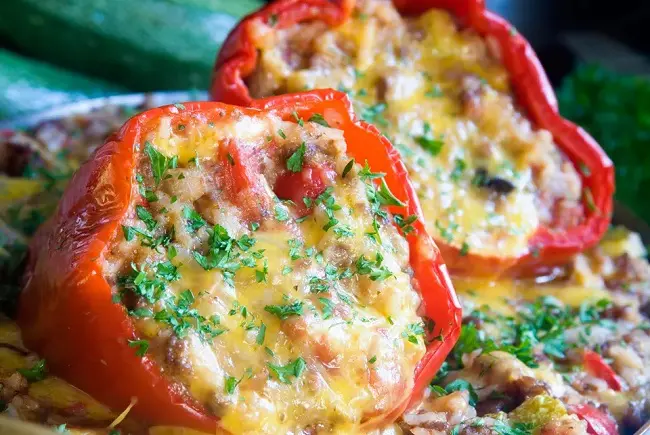 Tuna and Breadcrumbs: If classic stuffed peppers seem a little heavy for summer, try this version which is stuffed with tuna, and swaps out rice for breadcrumbs. A hint of lemon adds just the right touch.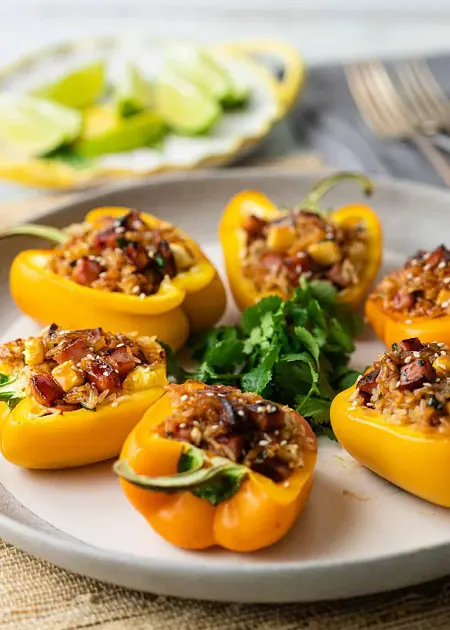 Hawaiian: This recipe first caught my attention because it uses SPAM. My husband bought a can that he is determined to use. But SPAM, teriyaki sauce, and delicious pineapple aside, this recipe also has instructions for stuffing both whole and half peppers (and turning the entire dish into a freezer meal). Since eating a whole stuffed pepper can be a pretty big portion—especially for a kid—I loved that option.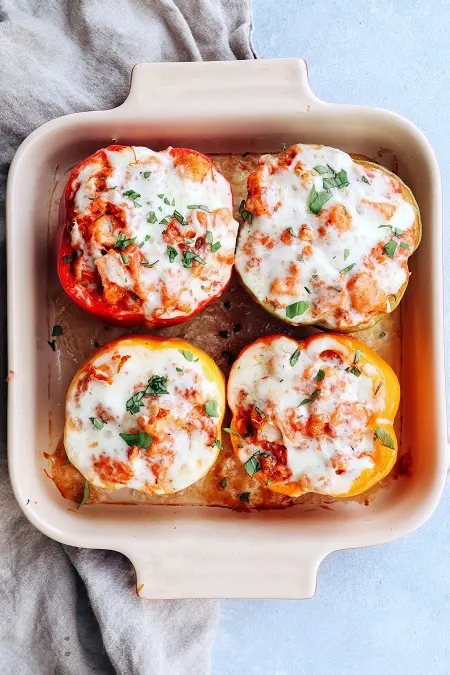 Chicken Parmesan: One of my biggest challenges in meal planning is that I can easily choose a main dish, but I have the hardest time choosing side dishes to go with it. Okay, let's be honest: I can usually choose a starch no problem, but I have a problem choosing a veggie that isn't steamed green beans or carrots. So, I'm loving this chicken parmesan recipe where the veggie's literally baked right in. Or the chicken's baked right in the veggie? Whatever, it's all right there.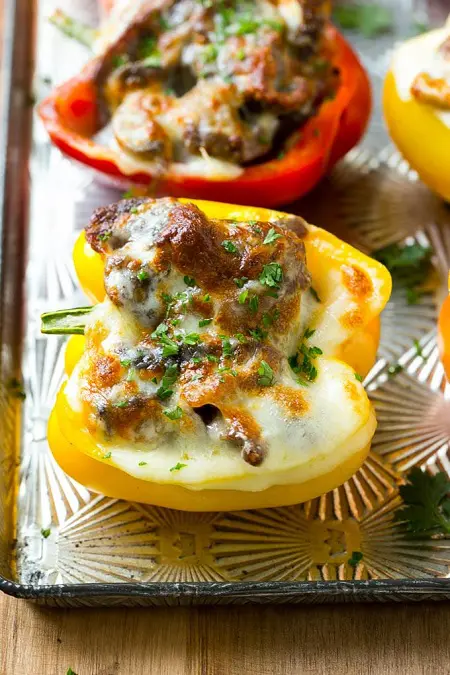 Philly Cheesesteak: These are such a fun healthy(ish) alternative to a Philly cheesesteak. Instead of peppers on the sandwich, you swap out the bread for a pepper wrapper!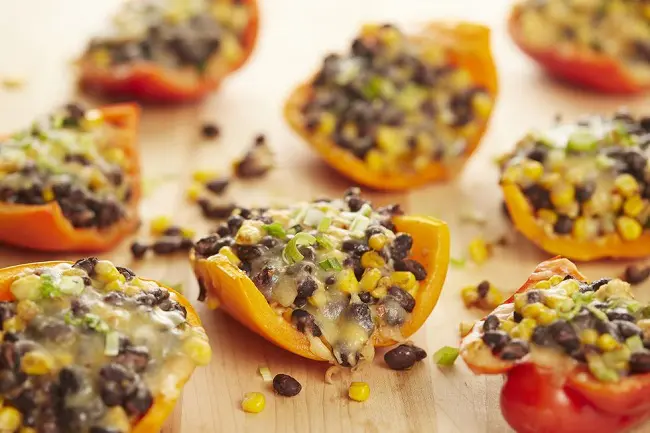 Corn, Black Beans, and Pepperjack: How about a fun Southwest twist for your stuffed peppers? Serve with tortilla chips and salsa and there's a new contender for Taco Tuesday.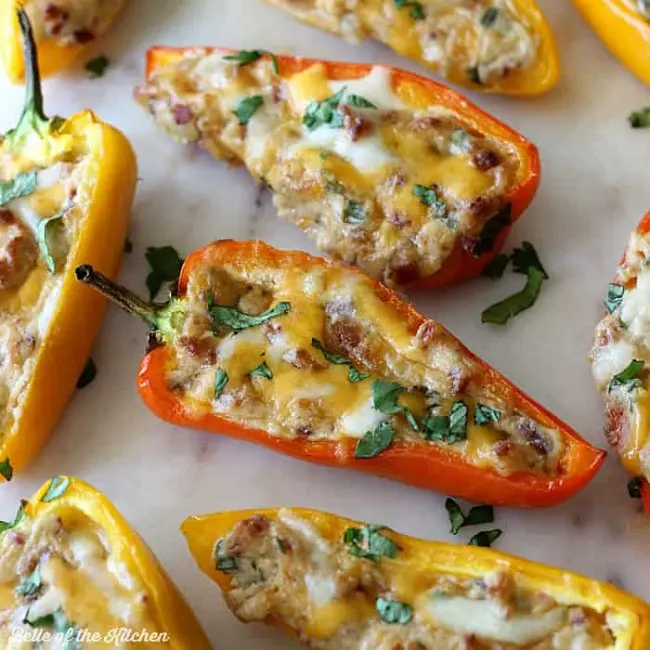 Cheesy Bacon Minis: You ever noticed how food sometimes tastes better when it's bite-sized? Whether you double this recipe to serve as a main dish, make stuffed peppers as a fun side dish, or go all out for snack time, a recipe with cheese and bacon will never do you wrong.
I don't know about you, but I think I'm all set to add a stuffed pepper a week to my meal planning!