The Guide to Babywearing Safely
Babywearing is an art that is centuries old allowing for mother and child to remain together even while the mother attends to everyday tasks. There are many benefits to both the child and the mother or caregiver.
Benefits for babies from being carried or worn:
● decreases infant crying
● soothes colic
● shown to decrease incidence of infant acid reflux disease
● promotes healthy physical development of the spine, vestibular system and vision
● more time in quiet alert state, the optimal state for learning and development
● more time for social development
Babywearing also benefits moms and caregivers:
● helps mothers avoid postpartum depression
● facilitates breastfeeding
● comfortable
● convenient
Since the CPSC recalled Infantino's bag sling and warned about all bag (or duffel) slings there has been a lot of confusion about which carriers are safe. Carriers should hold a baby just as you would in your arms. Bag or duffel slings hold a baby low at the hip which is not how any parent naturally holds their newborn. The babywearing community has been warning about these slings for years and were relieved when the CPSC took action against Infantino last year.
Modern day pouch slings and ring slings have been around for decades and are completely safe when used with the correct positioning.
While in a sling or wrap:
● carrier should mimic in-arms carrying
● the baby's head should be "close enough to kiss", above the caregiver's chest
● there should be one finger width clearance between the baby's chin and chest
● the baby should be cuddled directly against the caregiver's body
● the baby's face should be faced upwards and not pressed tightly against the body
● baby should be readjusted if any grunting or labored breathing is heard
● no part of the sling or wrap should cover the baby's mouth or nose
Go to thebabywearer.com for more in depth instructions on correct positioning for newborns and infants. Also be sure to read any instructions included with your baby carrier.
Baby carriers offer freedom while accomplishing everyday tasks, such as errands out of the house. There is a prevalent use of infant car seat carriers outside of the car here in the the US. I, myself was guilty of this practice but have since been informed of a 1995 study showing low oxygenation levels of healthy infants left in the car seat for more then 20 minutes. The study was repeated in 2009 with the same results. Based on these studies and others like them it is recommended that car seats be used in the car only and that trips last less then one hour at a time.
I prefer using shopping carts to stroller baskets when grocery shopping and since being reeducated on car seats using a sling, wrap, or soft structured carrier is the perfect solution. Our favorites are: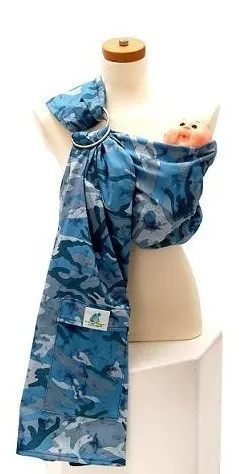 Sling: Lil' Bugger Snugger
Ring Slings are great for newborns up to toddlers weighing 40lbs or less. Lil' Bugger ring slings feature a satin nickle rings so the sling can be sized to fit both parents. They use simple styling to appeal to both mom and dads so each can feel the special bond that babywearing can bring. The sling is unpadded in a modern but natural fabric that is machine washable and creates a lightweight and breathable experience to avoid overheating. The Lil Bugger Snugger comes in a reusable fabric pouch and folds up small enough for any diaper bag. Lil Bugger includes an instructional dvd in their packaging for all first time users.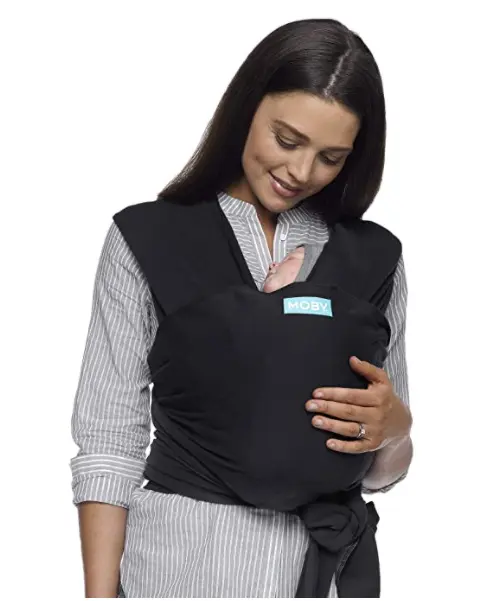 Wrap: Moby
Stretchy wraps are our absolute favorite newborn carrier. There is a learning curve to wrapping but no baby carrier will be as comfortable for you or your baby. Almost every carrying position starts with the same wrapping technique so you only have to learn one to get started. After a few practice wraps you can be wrapping like an expert in no time. Wraps will touch the ground while you are putting them on so its suggested to put your wrap on at home before going out to the store or putting your jacket on. The Moby wrap is made of a stretchy and breathable fabric making a cozy home for your newborn. Wraps are great for kangaroo care where babies and caregivers have skin to skin contact which has been shown to have remarkable benefits in preemies and newborns. The Moby includes an instruction booklet showing some available holds and website includes demo videos for all new users.
Mei Tai: Infantino Slash Wrap
Mei Tais (MT) are flexible carriers and our favorite carrier for our growing infants and toddlers. The Sash is based on a centuries-old style of baby wearing called Mei Tai. The buckle-free, wrap and tie design allows you to create a custom, natural fit for your body. This flexible style adjusts to create a comfortable fit for all body types. Plus, this carrier supports your child ergonomically with a natural seat in three different carrying positions; facing-in, hip-hugger and backpack. Includes detachable hood for sun protection and sleepy time.
SHOP Infantino Slash Wrap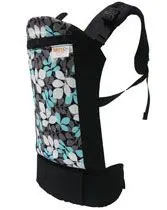 Soft Structured Carrier: Beco Butterfly II
Soft Structured Carriers are similar to Mei Tais but as the name suggest have some structure to them. This structure usually includes more padding, thicker fabrics, and buckles eliminating the need for long fabric straps. These carriers are the most convenient for putting on and off but can also be the most bulky. Our favorite SSC (soft structured carrier) is the Beco Butterfly II and is our go to carrier for toddlers 12 months and older. The Beco features heavily padded shoulder straps and waist belt. The Beco is unique with its inside panel allowing for an easy transition between front and back carry or even switching from person to person without removing the baby. The Beco is further set apart from its competitors with the included infant seat allowing for the use with newborns weighing 7lbs or more. An owners manual along with an instructional DVD are available with purchase.
– Contributed by Melissa