I think we can all agree that cannoli are a fantastic addition to any holiday dessert line up. These Italian pastries are crispy and creamy and sweet. And delicious!
The only hang up – they're time consuming to make. At least time consuming in my book. Who has time to fill individual tubes? I prefer the easier version of desserts and that's exactly what cannoli pie is. Cannoli pie is all the fabulousness of traditional cannoli with a dash of simplicity. Prep one now and plan to prep another before the holiday season is over. You will love it! Especially with a glass of warm eggnog or coffee in the evening!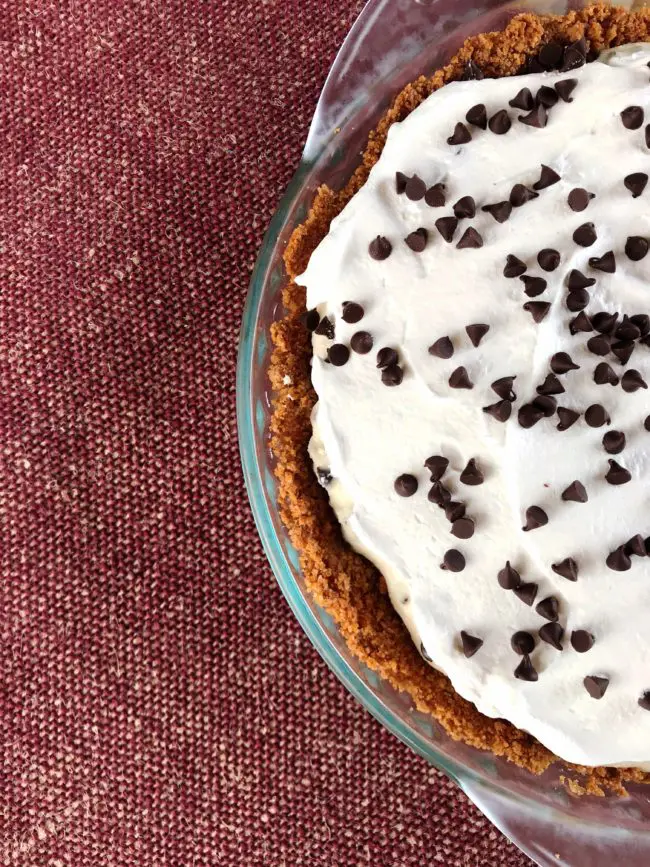 Ingredients
1 graham cracker pie crust or …

8 graham crackers, crushed
6 tablespoons salted butter, melted
1/4 cup sugar

1 8 ounce package of cream cheese, room temperature
3/4 cup powdered sugar
1 1/2 cups ricotta
1 teaspoon vanilla
3/4 cup mini chocolate chips
3/4 cup pistachios, shelled
6 ounces Cool Whip (for topping)
Directions
First, choose your level of easy 🙂 You can buy a pre-made graham cracker crust or make your own. To make your own preheat the oven to 350 degrees and spray a pie dish with nonstick spray. In a food processor, crush graham crackers. Add melted butter and sugar. Mix well and press into the pie dish. Bake for 10 minutes. Allow to cool.
For the filling, in a large bowl with a hand mixer or in a stand mixer, mix cream cheese and powdered sugar. Gently fold in ricotta, vanilla, mini chocolate chips, and pistachios. Scoop into the pie crust and smooth. Place in the refrigerator for 3+ hours.
Before serving, add a layer of Cool Whip and sprinkle with chocolate chips.