Imagine running to the grocery store and leaving with all of your essentials without so much as the swipe of a card. Well, Amazon is making this a reality by starting to open their Amazon Fresh stores which are changing the future of how we shop.
The stores (currently in three California locations) are similar to regular grocery stores, and almost look like WholeFoods but with lower prices. The main difference? The shopping carts. While you can shop in an Amazon Fresh store using a regular shopping cart and checking out at the cashier as normal, more people are flocking to them because of their high tech Dash Carts.
A Dash Cart is a cart that is able to scan, weigh, and calculate the cost of all of your items with its in-built sensors and weighing scale. But that's not all. Once you go to leave the store, it will automatically charge you for the items using the credit card linked to your Amazon Prime account. There is no need for you to bring your wallet or to wait in line and load your items on the checkout conveyor belt.
Amazed? So was I. I have visited the store twice now, and here's what you need to know.
You do need to have an Amazon Prime account already, or you will be unable to use the Dash Carts in the Amazon Fresh Store. Once you walk in, you will scan your Amazon Fresh store barcode using the square scanner on the right of the cart. This allows the cart to link to your Prime account, for two reasons: 1) if you have an Alexa shopping list on the Amazon app, the cart screen will show you what items you need and where they are located in the store, and 2) so that when you leave, it knows which credit card to charge. There are staff members by the carts to make sure you have scanned your account in correctly and are ready to shop. You can then place your phone in the phone holder on the left-hand side.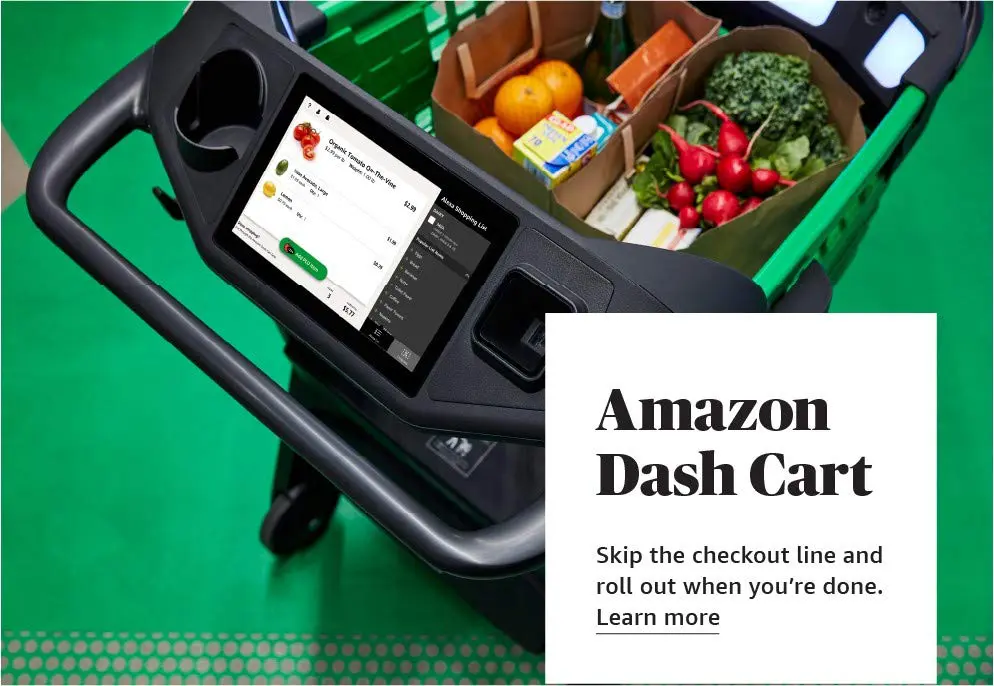 You will notice that these carts are smaller than regular ones, and that is because they are designed for just two bags of shopping. As you enter the store, the staff will mention that this is meant to be a "light shop," so this isn't your Target/Costco run quite yet. This makes the Dash Cart great for anyone needing a few items who is short on time, or just not in the mood to talk to anyone (we all have those days). They are also slightly heavier to push than a regular shopping cart, because of all of the built-in sensors. And as you can see from the photos, there is nowhere for a small child to sit, but the stores do have the child-sized shopping carts if you have a child that can push one.
How does it work? There are sensors inside the cart that scan the barcode of an item when it is put in, or taken out of the cart. For weighted items, you simply type in the item's short PLU code and place the bag in the cart for it to be weighed. A common question is "If you already have items in your cart, can it still weigh a new bag of items?" Absolutely! The cart is programmed to tally the total weight of your items, so that it weighs each new item separately. You can see a video below of me adding bell peppers to a cart that already has groceries in it.
And if you can't find something in the store, don't worry! Alexa is right there to help you find it.
Once you are done shopping, you simply head to the green checkout lane, and a "You're all set! Calculating total" message appears on the screen. You just need to press "View receipt" to make sure everything is correct, and then hit "Pay and sign out." And that's it! You're all done, without even taking out your wallet.
Want to check out more content? We got you. Tips for Organizing in the New Year